Posted: 8/16/17
Campus Enhancements Welcome TAMIU Students this Fall

When students return to Texas A&M International University (TAMIU) this Fall, they will find their campus enhanced with new features designed to amplify their University experience and learning opportunities.
Following the frequent use of the new wooden decks installed between the Dr. F.M. Canseco and the Anthony J. and Georgia A. Pellegrino Halls, TAMIU has now expanded them to provide student organizations with additional space that can be used for multiple activities such as information tables and benefit sales, said Trevor Liddle, associate vice president for Administration.
"TAMIU is working to actively incorporate outdoor spaces to support students being on campus and enjoying its natural beauty," said Liddle, "The expansion of the deck area is an example of how we're utilizing previously unusable space to provide an additional student gathering."
Outdoor sitting spaces are also a part of the new, $70.2 million Academic Building, which is currently under construction and will deliver the largest classroom addition to TAMIU's campus to date, said Juan Castillo, vice president for Finance and Administration. The building is expected to open in Fall 2019, he added.
The TAMIU Community Garden, which helps students explore sustainability, food consumption and conservation, has also moved to a new site, directly south of the Rec Center, Liddle explained.
The Community Garden is part of freshman-level UNIV 1102 service-learning courses focused on the powerful use of green spaces to grow and harvest fresh produce to promote civic engagement and responsibility.
"The TAMIU Garden has been expanded to include 12,000 square feet and will support TAMIU's Service-Learning Center initiatives and the University College curriculum," Liddle said.
As part of its effort to promote sustainability on campus, the University is also working with Schneider Electric, a global specialist in energy management and automation, to modernize campus operation systems, Liddle said.
"This includes modernizing our HVAC system, water controls as well as our interior and exterior lighting," Liddle said.
Students will also see two types of trash bins throughout campus this Fall. One will be to collect trash and another to collect recyclable items, Liddle said.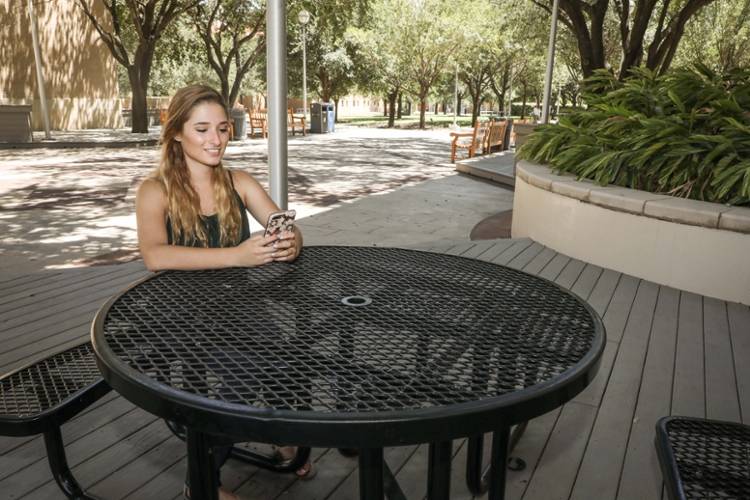 In order to enhance learning opportunities, the University has also expanded its high-tech study rooms on the first floor of the Sue and Radcliffe Killam Library, Liddle said.
"These rooms have large monitors that students can connect their laptops to for group collaboration," Liddle explained.
In the computer labs, students and faculty this Fall will see the deployment of a new lecture capture technology, said Dr. Brian Gaskins, associate vice president of Information Technology and Chief Information Officer.
"This technology allows webcams to capture lectures by faculty, enabling students to view it again at a later time," Dr. Gaskins said.
Liddle said student feedback played an important role in making all of the campus enhancements.
"There will be more projects in the future that will be considered, also based on student feedback," he said.
Registration for Fall classes is underway at tamiu.edu.  Classes begin Tuesday, Aug. 22, 2017.
For more information, please contact the Office of Public Relations, Marketing and Information Services at 326.2180, email prmis@tamiu.edu or visit offices located in the Sue and Radcliffe Killam Library, room 268.
University office hours are 8 a.m. – 5 p.m. Monday - Fridays.