Posted: 6/28/18
TAMIU Celebrates AmeriCorps Literacy Members at Special Recognition Ceremony

This year, hundreds of struggling young Laredo students were able to improve their reading and writing levels thanks to individualized attention they received from Texas A&M International University (TAMIU) AmeriCorps Literacy members.
The difference members made in the students' lives and the community was celebrated at a special ceremony Thursday, June 28 in the Sue and Radcliffe Killam Library Colonnade.
Among those present were representatives of State legislators, Laredo school districts as well as reading interventionists. 
The AmeriCorps grant is making a strong impact on young Laredoans, said Heather Blagg, program manager for the TAMIU College of Education, department of Professional Programs.
"This year, AmeriCorps members gave 35,000 hours to Laredo and our young students," she said, "About 700 children got individualized help from an AmeriCorps tutor, not to mention the hundreds more who participated in special activities like our September 11 memorial activity, Martin Luther King Day lessons in each participating school and Discover TAMIU in April."
Blagg also noted that in addition to the training and experience benefits that national service provides, TAMIU students and others who serve as AmeriCorps members and complete their commitment will collectively earn $95,000 in Segal Education Awards that can be applied to pay back student loans or pay future educational expenses.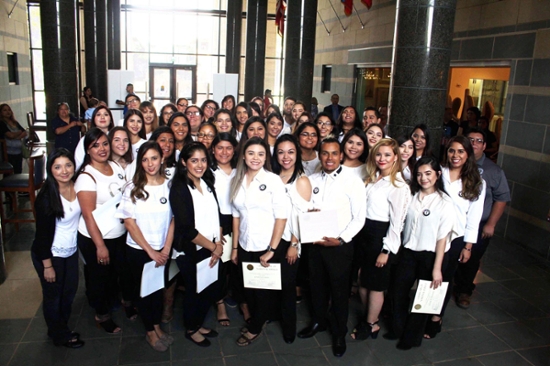 AmeriCorps Literacy members were recognized at a special ceremony for making a difference.
AmeriCorps is a federally funded program in all 50 states dedicated to community service. Established in 1993, the Corporation for National and Community Service (CNCS) funds AmeriCorps, and other programs that strengthen America's nonprofit sector. It helps address the nation's challenges through service, empowering Americans and fostering a lifetime of service.
AmeriCorps members must be U.S. citizens/nationals or permanent residents, but come from a wide variety of personal or educational backgrounds.
Members can join at any time by emailing literacy@tamiu.edu, agreeing to a background check, and meeting with lead tutors for training, Blagg said.
For more information on the program, please follow the Facebook page at www.Facebook.com/TAMIULiteracy .
Additional information is also available by contacting Blagg at 956.326.3150, emailing at literacy@tamiu.edu or visiting offices in the Sue and Radcliffe Killam Library, room 421.
University office hours are 8 a.m. – 5 p.m. Monday-Friday.
University information is also available on tamiu.edu and the University's social media channels on Facebook, Instagram, Twitter and YouTube.