Posted: 6/28/18
TAMIU College of Education Faculty Publish New Research

Two members of the Texas A&M International University (TAMIU) College of Education faculty, their colleagues, and three College of Education students have published new research.
Dr. Tonya Huber, professor, department of Curriculum and Pedagogy, and Dr. Phil Roberson, associate professional, department of Professional Programs, co-edited Inquiries into literacy learning and cultural competencies in a world of borders (Information Age Publishing, 2018).  In addition to Huber and Roberson, TAMIU faculty chapter authors included Dr. Angelique Michelle Blackburn, Heather Blagg, Dr. Randel Brown, Dr. James G. O'Meara, Andrea Pawelek, Cihtlalli G. Pérez, Dr. Marcela Uribe, Bonnie J. Villarreal, and Dr. Xuesong Wang.  TAMIU psychology graduate student Alexandra Reyes was assistant to the editor on this project.
The book features some 22 educational scholars who share knowledge and perspective on the challenges, opportunities and successes of educational efforts that transcend borders, whether geographical, lingual or theoretical.   While the book is focused primarily on the US-Mexico border and Laredo, it also reaches overseas to India and around the globe.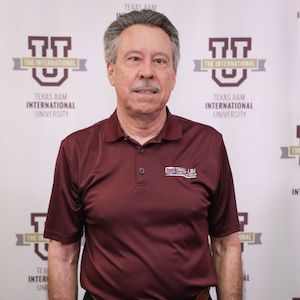 Dr. Huber also co-authored a chapter in a research handbook, Handbook of Research on Service-Learning Initiatives in Teacher Education Programs(IGI Global, 2018).   Three TAMIU graduate students in the College of Education, Elizabeth R. Sanmiguel, Lorena Cestou, and Mayra Hernández, co-authored the chapter focused on preparing globally competent educators through critically engaging in international service-learning. 
In the 602-page Handbook editors Tynisha D. Medil of St. Norbert College and Margaret-Mary Dulenti Dowell of Louisiana State provide emerging research on the methods and techniques for educators to strengthen their knowledge regarding the intersection of service-learning and field placements.
Service-learning is an educational experience in which students participate in a credit-bearing course paired with an organized community service component and engage in critical inquiry.
For additional information, contact the TAMIU Office of Public Relations, Marketing and Information Services at 956.326.2180, email prmis@tamiu.edu  or visit offices in the Sue and Radcliffe Killam Library, room 268.
University news and information is also available online at tamiu.edu and on the University's social media channels on Facebook, Instagram, Twitter and YouTube.