Posted: 7/13/18
Group of 63 Graduates from TAMIU SBDC's Small Business Management Certificate Program

A cohort of 63 current and future small business owners received their Small Business Management Certificate (SBMC) during Texas A&M International University Small Business Development Center's (TAMIU SBDC) annual graduation ceremony.
The TAMIU SBDC Graduation Ceremony was held today at the Monte Carlo Reception Hall.
The TAMIU SBDC SBMC Program is recognized as the premier course to prepare and educate current and aspiring small business owners in Laredo and South Texas, said Michael González, TAMIU SBDC director.
"The TAMIU SBDC is proud to announce the graduation of another robust cohort for this program, now ending its 9th year," González said, "We are truly proud of the accomplishments of this group and we look forward to their continued business success."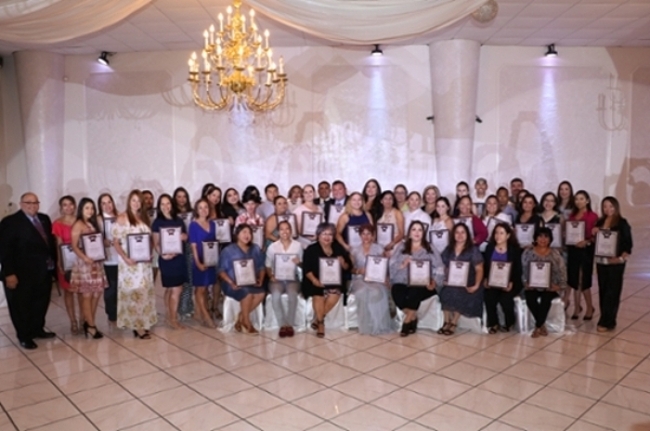 González continued, "Our current cohort is 94% Hispanic, 83% women and 25% of the cohort currently owns a business and is looking to expand."
The SBMC Program is a 10-week course held at TAMIU and helps current and future small business owners build essential business skills and knowledge on how to run a successful business.
Completion of the program helps participants enhance their management skills and provide a solid foundation for success, González said.
"As part of the Program, participants also get one-on-one professional advising from TAMIU SBDC's certified business advisors to assist them with their start-up or scale-up process of their potential or existing business," González said, "We are looking forward to many improvements for our 10th anniversary and invite anyone interested in improving their business knowledge to join our next cohort which begins in October.
For more information, visit the TAMIU SBDC website at sbdc.tamiu.edu, or call 956-326-2827.