Posted: 7/19/18
TAMIU American Sign Language Students Practice Signing at Local Grocery Store

Students enrolled in a beginner American Sign Language course were able to put into practice their growing knowledge of the language during a recent excursion to a local grocery store.
As part of their coursework, students participating in the sign language course at Texas A&M International University (TAMIU) recently held their class session at an H-E-B Grocery Store, located at 201 West Del Mar Boulevard.
During the session, Francisco Ramírez, TAMIU American Sign Language instructor, walked through the aisles with the students and taught them over 200 signs for different items found at the store. Students were given the opportunity to put their language skills into real-life practice, an activity that sparked interest among various shoppers visiting the grocery store, explained Ramírez.
"It was a nice change to be outside of the classroom and practice our language skills in the real world. The students were able to see and ask about the different items you would buy. The customers were very interested in knowing what we were doing and some even followed us around the aisles,"  Ramírez explained.
Ramírez partnered with H-E-B to engage students in a meaningful, hands-on experience that would facilitate learning. During the lesson, Ramírez focused on teaching his students the difference between items that are typically signed versus those that are fingerspelled. Fingerspelling occurs when individual letters are formed by the fingers to spell out words.
"They not only see the things we are discussing, but they see other items that are similar and can get more information on what has to be signed, and what is fingerspelled," Ramírez reiterated. 
American Sign Language courses are currently offered through the University's Continuing Education Department. The eight-week summer course delved into developing a fundamental vocabulary that allows students the opportunity to engage in basic conversation.
Course participants learned over 1,000 commonly used signs and practiced the language using lesson manuals, video instruction, and practicing as a group. The American Sign Language courses are open to the community and will resume during the Fall 2018 semester.
For more information on upcoming American Sign Language courses, contact TAMIU Office of Continuing Education at 956.326.3068, email ce@tamiu.eduor visit offices in or visit offices in Student Center 118.  
Information is also available on the University's social media channels on Facebook, Twitter, Instagram and YouTube @txamiu.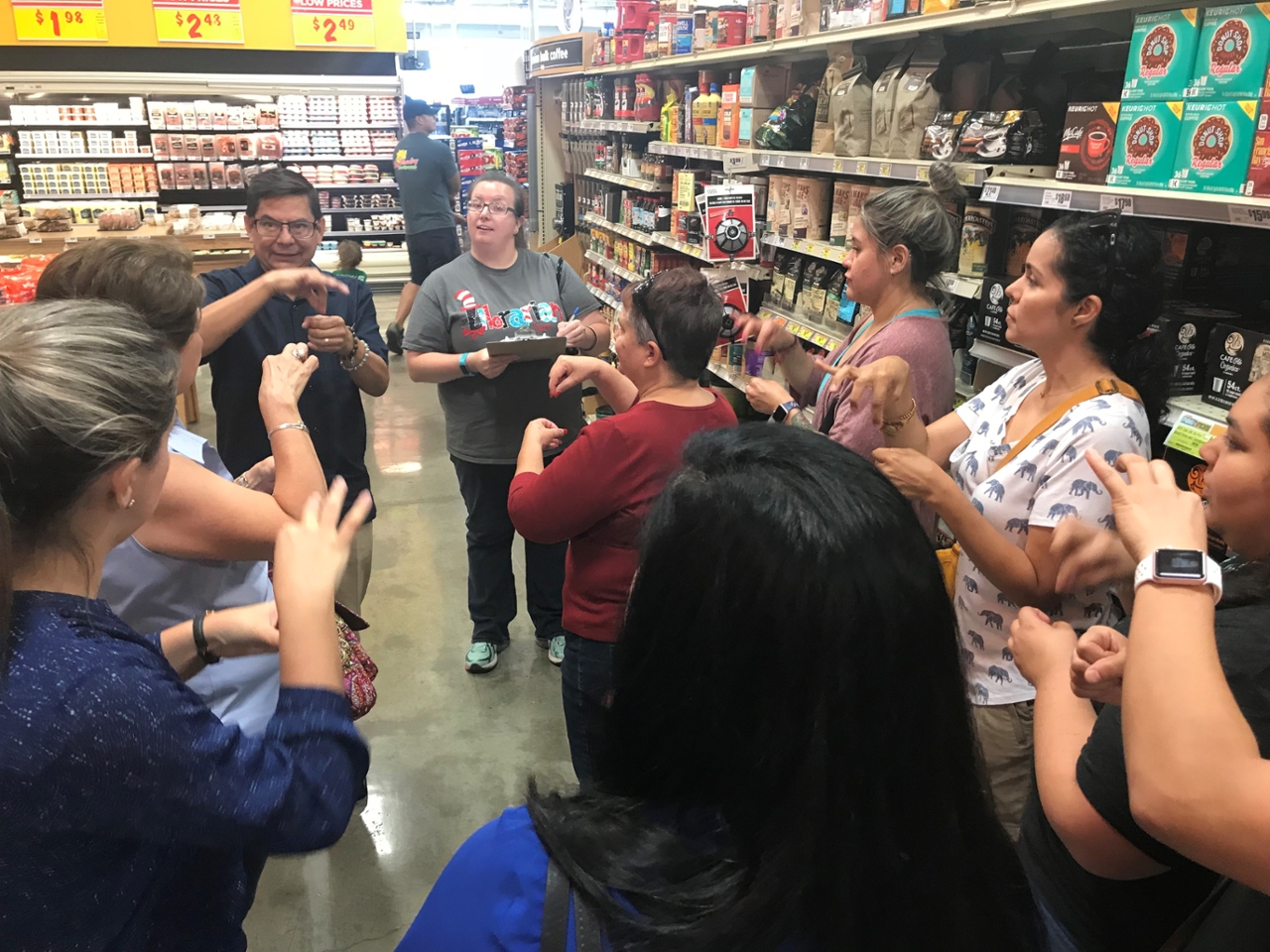 TAMIU American Sign Language students practice signing items commonly found in grocery aisles during a recent trip to a local H-E-B store. Courtesy photo by Rafael Benavides.