Posted: 8/01/18
TAMIU Students Attend Texas Voting Summit

Three Texas A&M International University (TAMIU) students recently attended the Texas Voting Summit, a two-day meeting promoting voter turnout and boosting civic engagement at universities across the state.
The Summit was hosted by Texas Votes, in partnership with the Annette Strauss Institute for Civic Life at The University of Texas at Austin, the Campus Vote Project and The Democracy Commitment.
The Democracy Commitment partners with the American Democracy Project, an initiative that endorses civic education and promotes democratic skills to university students seeking a voice in local, state, and national political discourse. Currently, TAMIU is one of 250 state colleges and universities participating in the American Democracy Project. 
University students who attended this year's Summit at the Texas State Capitol were Alejandro De León, Eduardo Guzmán and Pedro Rivera. 
The students work alongside American Democracy Project campus coordinator and instructor Lilia P. Cantú, and a University faculty and staff member task force. The task force partners with M.O.V.E., a community-based alliance from San Antonio that works to mobilize, organize, and empower individuals to vote.
During the Summit, invited students learned more about voter participation rates in Texas and practices to increase community civic participation. The Summit also covered the voter registration and election process and networking with Texas elected officials.
Summit fees and hotel accommodations were provided at no cost to TAMIU students. Additionally, each student received a travel stipend.
For Rivera, a senior political science and history major, the Summit served as a positive learning experience that will help him organize future voter registration activities.
"We're focusing on mobilizing our efforts, including how to plan events and creating comprehensive plans to reach as many students as possible," explained Rivera, "I look forward to implementing the many ideas we learned [at the summit] to promote voting participation here at TAMIU, with campus-wide events and collaboration with our student organizations."
Since returning from the Summit, the students and members of the taskforce are currently brainstorming potential opportunities to engage students in learning more about the voting process.
For additional information on the American Democracy Project, contact Lilia P. Cantú at 956.326.2803 or email lilia.cantu@tamiu.edu
More is also available from the University's social media on Facebook, Instagram, Twitter and YouTube.
TAMIU late registration information is available from the TAMIU Office of the Registrar at 956.326.2250, by email at registrar@tamiu.edu, or by visiting offices in the Senator Judith Zaffirini Student Success Center, 121.   Late registration ends Monday, Sept. 3.
Additional information is available at tamiu.edu and on Facebook, Twitter, Instagram and YouTube.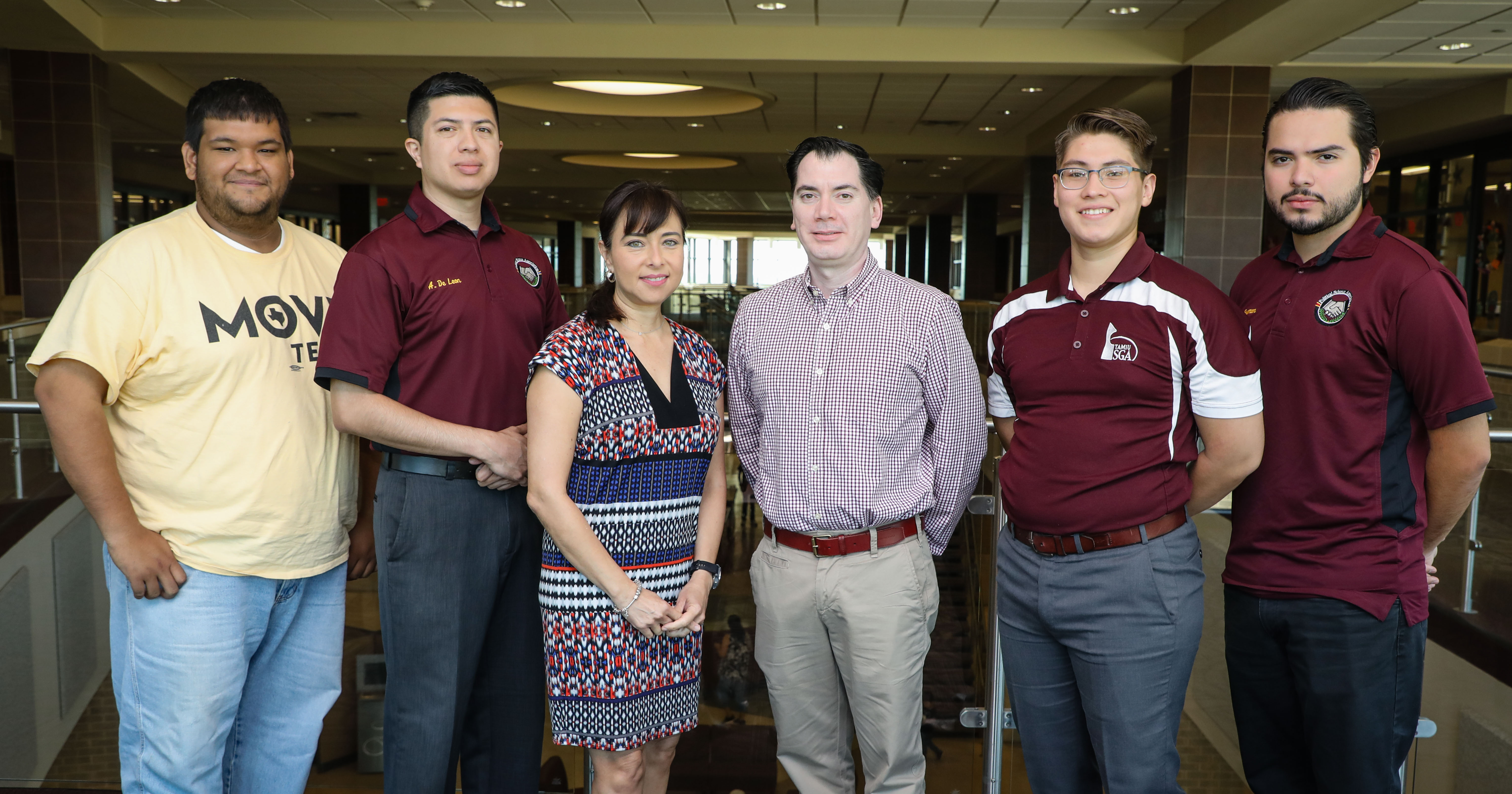 From left, MOVE Texas community partner Jesús Ochoa, student Alejandro De León, ADP campus coordinator and instructor Lilia P. Cantú, University task force member and instructor Daniel De La Miyar, and students Pedro Rivera and Eduardo Guzmán.