Posted: 10/11/18
New Sames Scholars Cohort Members Introduced at Annual Dinner

Eight high school students selected as new members of the 2018 Sames Scholars Cohort were introduced at a recent dinner held at Siete Banderas Restaurant downtown.
The Sames Scholars program is an innovative college-bound mentorship program that pairs Laredo high school students with Texas A&M International University (TAMIU) faculty mentors throughout their high school experience. It was founded by Hank and Elizabeth Sames in 2002.
Upon high school completion, the Sames Scholars program offers students a four-year scholarship to TAMIU, including tuition, books and fees. Currently, 23 high school students are being mentored by 12 TAMIU professors while there are currently 20 scholars attending TAMIU. To date, the Sames Scholars program has graduated 84 students since its inception.
New Sames Scholar Cohort members and their respective origin high schools are: United South High School: Karyme Rodríguez and Jorge Sáenz; United High School: Anthony Vásquez and Andres Espinoza; John B. Alexander High School: Nabila Guerra and Alberto Sánchez, and Lyndon B. Johnson High School, Ana Cristina Landeros and Jaime Chapa.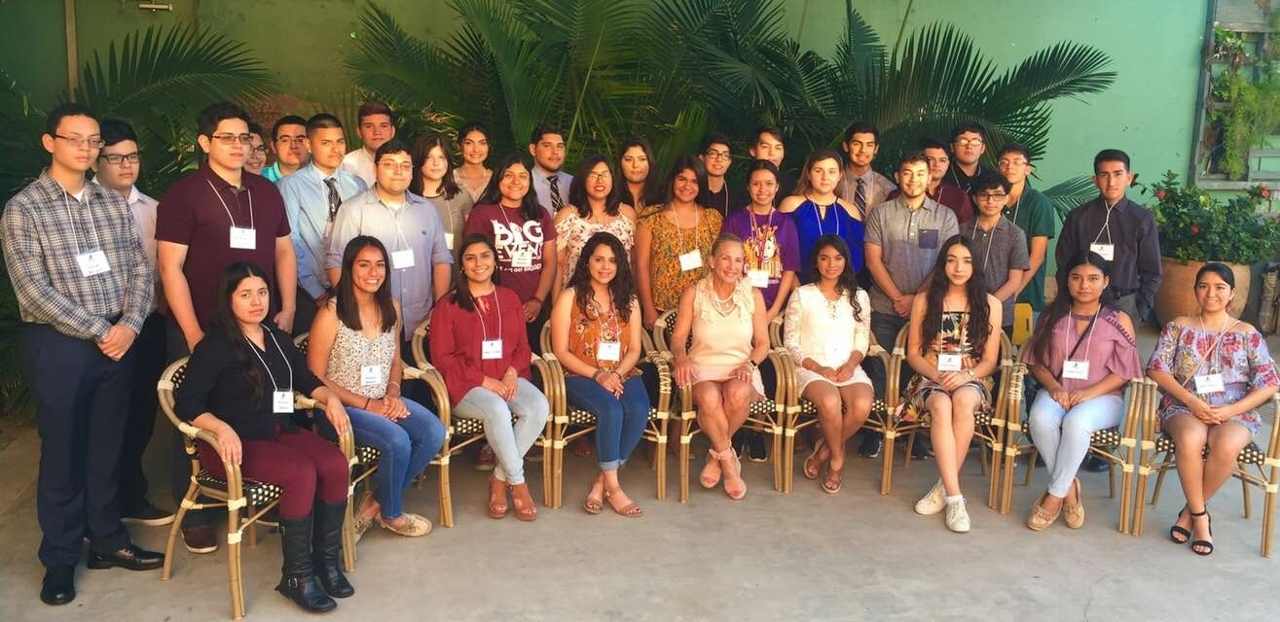 2018 Sames Scholars are pictured, front row left to right: Bianca Alonso , Rebecca Vela, Aurora Chapa, Jennifer Sánchez, Elizabeth Sames, Ana Landeros, Nabila Guerra, Magda Ramos and Italy González. Back row, left to right: Oscar De León, Albert Sánchez, Armando Cortes, Arturo Villarreal , Jorge García, Eddwin Cantú, Gustavo Luján, Kaitlyn Marquez, Jocelyn Hernández, Emma Angeles, Viridiana Martíínez, Luis Gutíerrez, Itzamara Nanci García, Charly Carreón, Fanny Aguilar , Karyme Rodríguez, Israel García, Jorge Saenz, Jorge Cantu, Erik Zamarripa, Ándres Espinoza, Jaime Chapa, Hugo Sánchez and Mark Medellín.
Special remarks were provided by guest speaker Claudia Rincón, a 2009 TAMIU Sames Scholars graduate who shared how being a Sames Scholars changed her life and that of her family.
Edwinn Cantú, a May 2018 TAMIU Art major and Marketing minor graduate, presented program founder Elizabeth Sames with a watercolor painting in appreciation for helping him achieve his degree. Graduates and TAMIU seniors shared their thoughts on program mentorship and benefits that helped them finish both high school and college, attaining a degree and career path.
Other guests attending the dinner were Sames Scholar graduate Mayra Salinas, Candy Hein and Nancy de Anda.
In order to be eligible for the Sames Scholar Program, students must meet economically disadvantaged State criteria, be first-generation college-bound in their family, meet monthly with their designated TAMIU mentor, and maintain both an 87.5% grade point average and 95% attendance in high school.
For additional information, students may contact their high school counselors or Valentina Flores, gift coordinator for the TAMIU Office of Institutional Advancement, at 956.326.2176, email valentina.flores@tamiu.edu or visit offices located in the Sue and Radcliffe Killam Library.
University information is also available online at tamiu.edu and on its social media channels on Facebook, Instagram, Linkedin, Twitter and YouTube.