Posted: 12/12/18
TAMIU Ballet Folklórico Chosen to Perform at Disney World

A total of 17 Texas A&M International University (TAMIU) Ballet Folklórico members will get the international performance experience of a lifetime Friday-Monday, Dec. 14-17 as they travel to Florida to perform before Disney World guests.
The TAMIU Ballet Folklórico, whose mission is to showcase the splendor of México's traditional dance, music, dress and history while preserving a cultural heritage, was invited to perform for Disney Performing Arts after the group submitted an audition dance video, said Nayeli López, group instructor.
"Disney Performing Arts is part of the Disney Youth Program, which offers the youth opportunities for performances, competitions, festivals and workshops," López said, "Disney Performing Arts has national core arts standards, therefore, on the audition process, they look for various things such as dance skill, level, technique, precision, energy, execution of a confident stage presence, dance uniform, and overall dance performance."
TAMIU Ballet Folklórico was accepted and officially received an invitation to perform at Disney World, she said.
"This opportunity will expose our group to the highest level of performance excellence while reinforcing life-long lessons in teamwork, discipline and artistic growth at one of the most high-profile venues in the world," López said, "We will experience what it's like to be a cast member performing for Disney park guests, and will discover the magic of the parks while we are there."
Ballet Folklórico students traveling with López are Katherine Carrera, Monica Carrizales, Cecilia Castillo, Valeria Espericueta, Juan Carlos Flores, Michelle García, Laura Izaguirre, Heidi Marchan, Stephanie Martínez, Emilio Peña, Gladys Hernández, Cecilia Pérez, Diana Saldaña, Stephanie Hernández, Rita Mercado, Ginger Sifuentez, and Jayleen Tovar.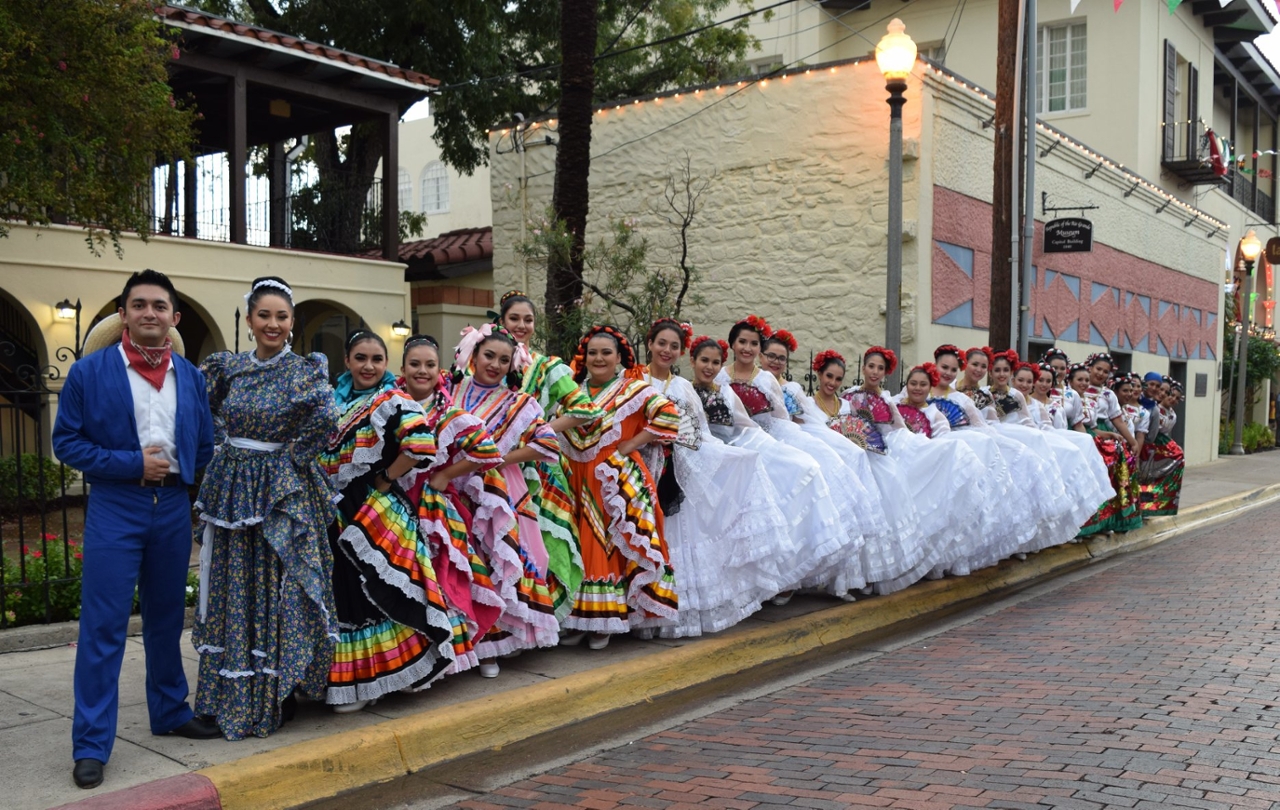 TAMIU Ballet Folklórico
López, who has taught Ballet Folklórico courses at TAMIU since 2017, said she mentioned to students since day one of her classes that some of the teams' goals were to compete statewide in Texas, perform nationally at Disney World and perform internationally in another country.
"For three semesters, students have been dedicating their time towards achieving these goals by learning how to dance Mexican folkloric dance, performing and competing at a state-wide folklórico competition, Bailes de Mi Tierra, in Round Rock, Texas this February and winning four trophies," she said, "They have also participated in fundraising and been sharpening their skills to perform nationally."
Stephanie Hernández, a Ballet Folklórico member and a senior Psychology major graduating in December, said she is excited to travel with the group.
"I am grateful for the opportunity to perform at Disney," she said, "It is great to see that the TAMIU Ballet Folklórico has been making history and has been representing our University, first at the state level, and now at the national level. This is only the beginning of the many great things this program will do and I, as well as the other Folklórico students, are excited to participate in this experience."
Another student, Gladys Hernández, a junior Elementary Education major, said she is proud of the group's accomplishments.
"I am extremely proud of TAMIU Ballet Folklórico being invited to perform at Disney," she said, "It is incredible to see this group grow and accomplish many astonishing things such as competing at the state level and now at the international level. We are very proud to be representing TAMIU and the Mexican culture."
She said going to Disney has always been one of her dreams.
"Now, because of TAMIU Ballet Folklórico, that dream is becoming a reality," Gladys Hernández said, "All of us (group members) are excited about this experience, and working very hard to make everybody at TAMIU and our close ones, proud of us."
For more information, please contact López at 956.326.2858, email nayeli.lopez@tamiu.edu or visit offices in the Sue and Radcliffe Killam Library, room 159.
The Spring Semester 2019 at TAMIU begins Tuesday, Jan. 22, 2019. Online registration is underway at tamiu.edu. University offices close for a State-authorized holiday Friday, Dec. 21 and re-open Wednesday, Jan. 2.
For more information on TAMIU, contact the Office of Public Relations, Marketing and Information Services, email prmis@tamiu.edu, or visit the Sue and Radcliffe Killam Library, room 268.