Posted: 12/12/18
TAMIU Commencement Exercises Dec. 13; Dr. Francisco Cigarroa Commencement Speaker

Nearly 800 candidates for graduation from Texas A&M International University (TAMIU)  are scheduled to participate in  TAMIU Fall Commencement Exercises Thursday, Dec. 13 at 4 p.m.in the Sames Auto Arena.
The University's Commencement Exercises occur each Fall and Spring.
The Ceremony's estimated duration is 2.5-3 hours. No tickets are required for entry. As no reserved seating is available, seating will be on a first-come, first-served basis. The Ceremony will also be livestreamed at go.tamiu.edu/gradceremony 
Commencement Speaker for the Fall Exercises is Dr. Francisco G. Cigarroa, director of Pediatric Transplantation at the University of Texas Health Science Center, San Antonio (UT Health San Antonio) and former Chancellor of The University of Texas System. 
A third generation physician, he earned his undergraduate degree in Biology at Yale University and his medical degree at the University of Texas Southwestern Medical Center at Dallas.  He completed fellowships in both Pediatric Surgery and Transplantation Surgery at Johns Hopkins Hospital in Baltimore. 
Dr. Cigarroa joined UT Health San Antonio as a faculty member in 1995 and became president of the University from 2000-2009.  In 2009, he became the first Hispanic to be named Chancellor of the UT System and led the establishment of the Dell Medical School at UT-Austin and the University of Texas Rio Grande Valley School of Medicine. 
He completed his tenure as Chancellor and now holds the Ashbel Smith Professorship in Surgery from UT-Austin. Dr. Cigarroa is a Regent's Special Liaison to UTRGV and its School of Medicine and recipient of the Carlos and Malú Alvarez Distinguished University Chair at UT Health San Antonio. In 2018, he was elected chair of the Ford Foundation's Board of Trustees, becoming its 12th Board chair.
The Student Respondent for the Commencement Ceremony is Andrea Arizbeth García, graduating Magna Cum Laude with a 3.87 GPA and a Bachelor of Arts in Political Science major with a Pre-Law minor.
Additional Distinguished Student Scholars and their respective Colleges or Schools are Max E. Barrientos, representing the A. R. Sanchez, Jr. School of Business, Erika Benavides, College of Education; Jessica Martínez, College of Nursing and Health Sciences, and Cassandra Denise Cardenas, University College.
It is recommended that TAMIU guests attending the Ceremony arrive early and review the SAA's restrictions on bags at http://samesautoarena.com/services/guide/
A digital version of the Commencement Program is available for download at go.tamiu.edu/beyond   It is recommended that Commencement visitors download and save the Program to their device in advance of the event.
For more information, please contact the Office of Public Relations, Marketing and Information Services at 326.2180, email prmis@tamiu.edu or visit offices located in the Sue and Radcliffe Killam Library, room 268.
A dedicated Commencement Exercise website is also located at http://www.tamiu.edu/commencement/
University office hours are 8 a.m. – 5 p.m. Monday-Friday.  University offices close for the holidays on Friday, Dec. 21 and reopen Wednesday, Jan. 2, 2019 at 8 a.m.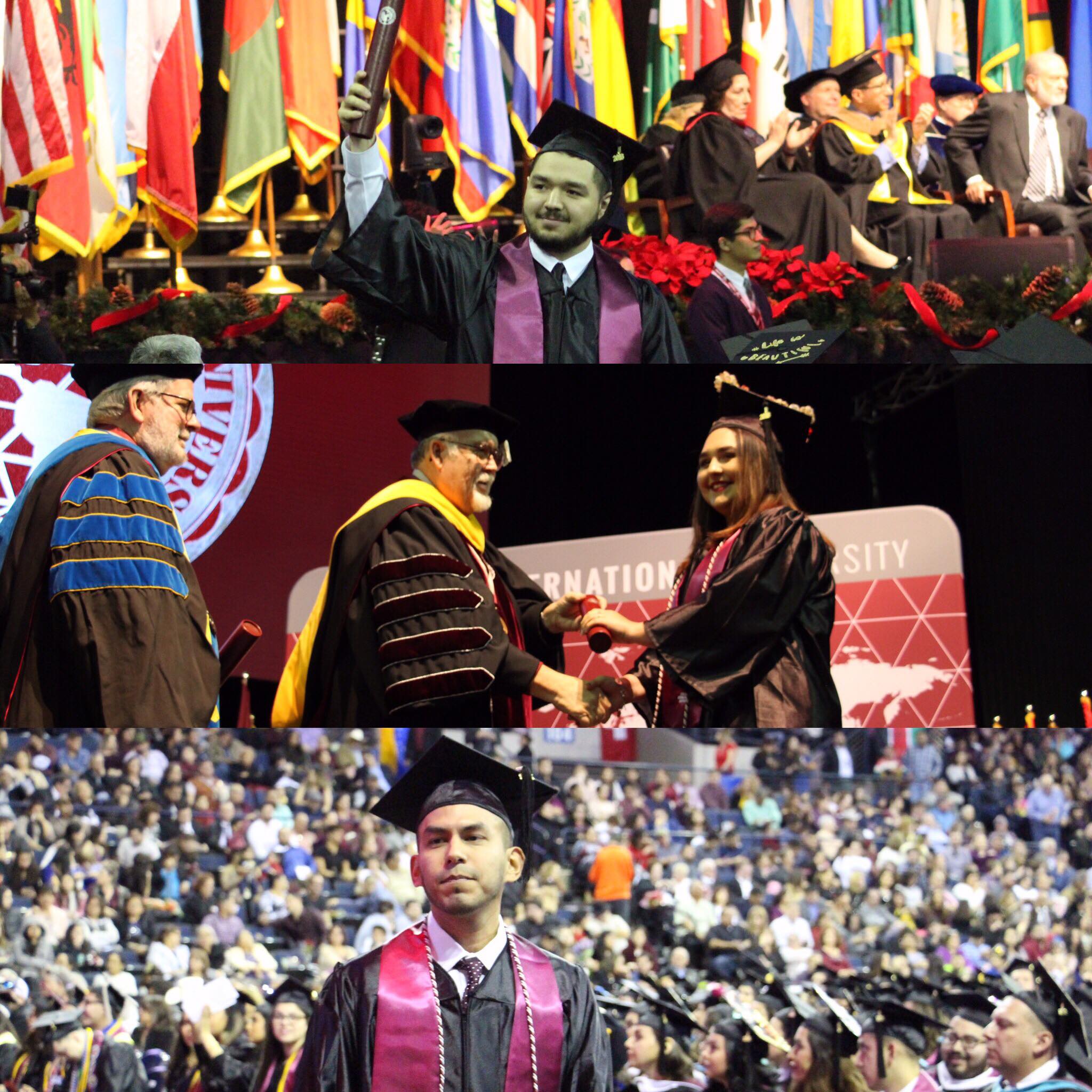 Here's a look at our Summer and Fall 2018 Commencement Exercises. Congratulations to all our graduates! Be sure to peruse our photo gallery online at Facebook @TXAMIU.