Posted: 12/12/18
TAMIU Students Travel the World, Learn Languages and Cultures

For many, the cold and sometimes misty weather the holidays bring may conjure images of quiet days sipping hot cocoa or eggnog by the fireplace.
A total of 34 Texas A&M International University (TAMIU) students are instead busy getting their passports ready to embark on TAMIU Study Abroad trips this winter.
Starting Friday, Dec. 28, a group of 20 students will travel to Italy as part of an International Leadership class led by Dr. Minita Ramírez, vice president for Student Success and Dr. Alfonso Vergaray, assistant professional in the Department of Social Sciences.
During their travel, the group will learn about ancient leadership and the influences that specifically shaped Italian leadership such as the Vatican City. They will also tour Naples, the Colosseum, Palantine Hill and the Roman Forum.
"The winter break is a perfect opportunity for students to travel the world and discover a foreign language, academics, countries and cultures," said Triana Valdez, TAMIU International Engagement director, "For some, it is also a time to volunteer in projects related to their academic learning and make a positive difference in the global community."
On Jan. 3, another group of 12 Communication Disorders students will travel to Belize with Dr. Melissa García to participate in an international service-learning project. Students in the course collaborate with teachers of the Stella Maris School for the Deaf in Belize City to develop lessons for children who have language development issues.
"This is a very hands-on service-learning program that truly impacts the students and the community as our students will visit schools and assist teachers and students abroad," Valdez said.
Thanks in part to efforts students undertake in this program, TAMIU was selected in September as one of five finalists for The Texas Higher Education Coordinating Board's (THECB) 2018 Star Awards. The Award recognizes higher education institutions that make exceptional contributions toward meeting or more of the goals of the Texas higher education strategic plan, known as 60X30TX.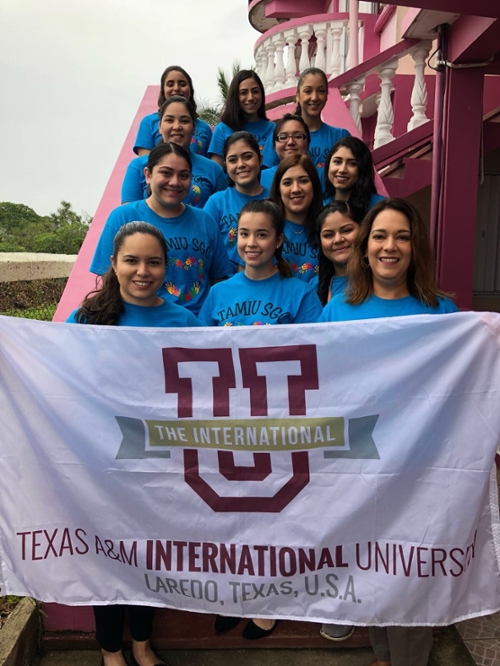 Dr. Melissa García, first row, right, is pictured with a Study Abroad group she led to Belize in the past. Students in her course collaborate with teachers of the Stella Maris School for the Deaf in Belize City to develop lessons for children who have language development issues.
Also, on Jan. 5, two Business and Accounting majors will travel to the Netherlands to learn about European Culture, Business and Entrepreneurship. The course will be offered at Arnhem Business School, a TAMIU exchange partner school.
Valdez explained that TAMIU's Office of International Engagement assists students in finding the right Study Abroad program and provides insight on financial planning and scholarship opportunities.
"We also prepare them for departure, during their travel and upon program completion," Valdez said, "In addition, we share information with parents on the Study Abroad process and programs, and serve as their contact."
She added that during winter break Jan. 5-19, Melissa Olmeda, a junior Business Administration major, will also travel to China as a participant of the U.S.-China Rising Star Study Tour, a cultural experience program.
"Also, in the Spring, 19 students will be studying abroad in South Korea, Estonia, France, Spain Hong Kong, Germany and Jordan," she said, "TAMIU is the recipient of the French Embassy's Benjamin Franklin/Generation Study Abroad Scholarship Program and four students studying abroad in France were selected as the recipients of this scholarship in the amount of $2,500."
Valdez said Study Abroad is an integral part of TAMIU's international mission and that she is excited that more students are going abroad.
"We offer a comprehensive Study Abroad program so that students can expand their horizon by discovering the world and learning different or new ways of thinking and relating to one another while earning University credit," she said, "We encourage all to take advantage of our offerings as life experiences gained while visiting foreign countries can also benefit them in future career opportunities."
For more information, please contact Valdez at 956.326.2565, email triana.gonalaez@tamiu.edu or visit offices in Student Center, room 124G.
The Spring Semester 2019 at TAMIU begins Tuesday, Jan. 22, 2019. Online registration is underway at tamiu.edu. University offices close for a State-authorized holiday Friday, Dec. 21 and re-open Wednesday, Jan. 2.
For more information on TAMIU, contact the Office of Public Relations, Marketing and Information Services, email prmis@tamiu.edu, or visit the Sue and Radcliffe Killam Library, room 268.