Posted: 1/16/19
TAMIU Planetarium Presents a Total Lunar Eclipse Watch Party Sunday, Jan. 20

A fun and educational gathering to observe the total lunar eclipse awaits this Sunday, Jan. 20 at Texas A&M International University (TAMIU).
The Total Eclipse Watch party, organized by the TAMIU Lamar Bruni Vergara Planetarium, will be from 9:30  – 11:30 p.m. on the Sue and Radcliffe Killam Library West Lawn.
Participants will be able to view the eclipse through telescopes and Peter Davis, Planetarium director, will be on hand to explain answers to favorite questions on astronomy.
The event is free and open to the public. Participants are encouraged to bring a blanket or lawn chair, especially in light of projected low temperatures this Sunday.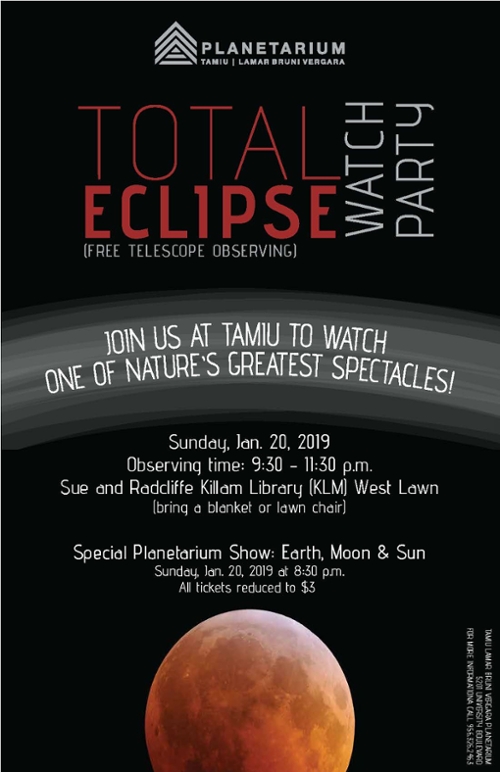 "The TAMIU Planetarium regularly organizes eclipse viewing and star gazing parties like this so that we can look into the sky and learn about the universe together," Davis said, "We encourage people of all ages to participate."
That night, the Planetarium will also show the movie, "Earth, Moon & Sun," at 8:30 p.m before the eclipse., Davis said. Tickets for both adults and children will be $3.
According to NASA, the Jan. 20 eclipse will be the only total lunar eclipse of 2019. Visible for its entirety in North and South America, this eclipse is also referred to as a "Super Blood Moon" because the total lunar eclipse will turn the moon a reddish hue. The reason it is called a super moon is because it is closer to the earth and appears larger.
Eclipses can occur when the Sun, the Moon and Earth align, NASA explains. Lunar eclipses can happen only during a full moon, when the Moon and the Sun are on opposite sides of Earth. At that point, the Moon can move into the shadow cast by Earth, resulting in a lunar eclipse, NASA explains. Normally, the Moon passes above or below the shadow of the Earth due to the tilt of the Moon's orbit, but when the Sun, Earth and Moon are aligned perfectly right an eclipse will occur.
For more information, please contact the TAMIU Planetarium at 956.326.2463 or email planetarium@tamiu.edu.
University office hours are 8 a.m. – 5 p.m. Monday-Friday. Spring Semester at the University begins Tuesday, Jan. 22. University offices are closed in a State-authorized observance of Dr. Martin Luther King, Jr. Day on Monday, Jan. 21.