Posted: 3/20/19
TAMIU Hosts $500,000 Charitable Gift Announcement from Johnson Trust

On Wednesday, Texas A&M International University (TAMIU)  hosted the equal distribution of financial gifts totaling $500,000 from the Samuel N. Johnson, Jr. 2013 Charitable Remainder Annuity Trust to five community organizations. 
On behalf of the Trust, Trustee  Jim Moore announced the gifts to the Laredo Little Theatre, Laredo Theatre Guild International, St. Edward's University, TAMIU's Theatre Department and the Webb County Heritage Foundation.
Each had representatives present and offered group and personal insight into the Trust's originators and the impact that the gifts would mean to their organization.
TAMIU president Dr. Pablo Arenaz welcomed conference guests to the Colonnade of the Sue and Radcliffe Killam Library, and reminded all of the extensive legacy that the late Johnson and his sister Betsy Gill have had on TAMIU.
"We have the Sam Johnson Experimental Theatre on campus, and classroom, scholarship and programmatic support provided by Mrs. Gill, much of it focused on the A. R. Sanchez, Jr. School of Business.  Like the other entities selected to receive these gifts, we are enormously honored and proud to carry the Johnson and Gill legacy forward," Dr. Arenaz said.
Dr. Gil Martínez, TAMIU faculty member accepting the gift on behalf of the University's theatre department, recounted how Johnson had encouraged him as a young theatre student and noted that Wednesday's gift will help to fund the department's growth.
He added that the University's theatre students will present playwright Agatha Christie's immortal "The Mousetrap" at the Center for the Fine and Performing Arts Theatre  this Friday-Sunday.
The late Johnson and his sister Betsy  were tireless local philanthropists who quietly supported the Laredo community, partnering with numerous organizations to help advance the City's and County's arts, culture, education and history.
Johnson, known as Laredo's "Mister Theatre," died in 2014.  Gill was also a keen and generous  advocate for historic and cultural preservation and the arts, and  passed away in 2018.
For additional information, contact Rosanne Palacios, vice president,  TAMIU Office for Institutional Advancement at 956.326. 2177, email rosanne.palacios@tamiu.edu, click on tamiu.edu or visit offices in the Sue and Radcliffe Killam Library, room 262.
More of the University's story is available on its social media channels on Facebook, Instagram, LinkedIn, Twitter and YouTube.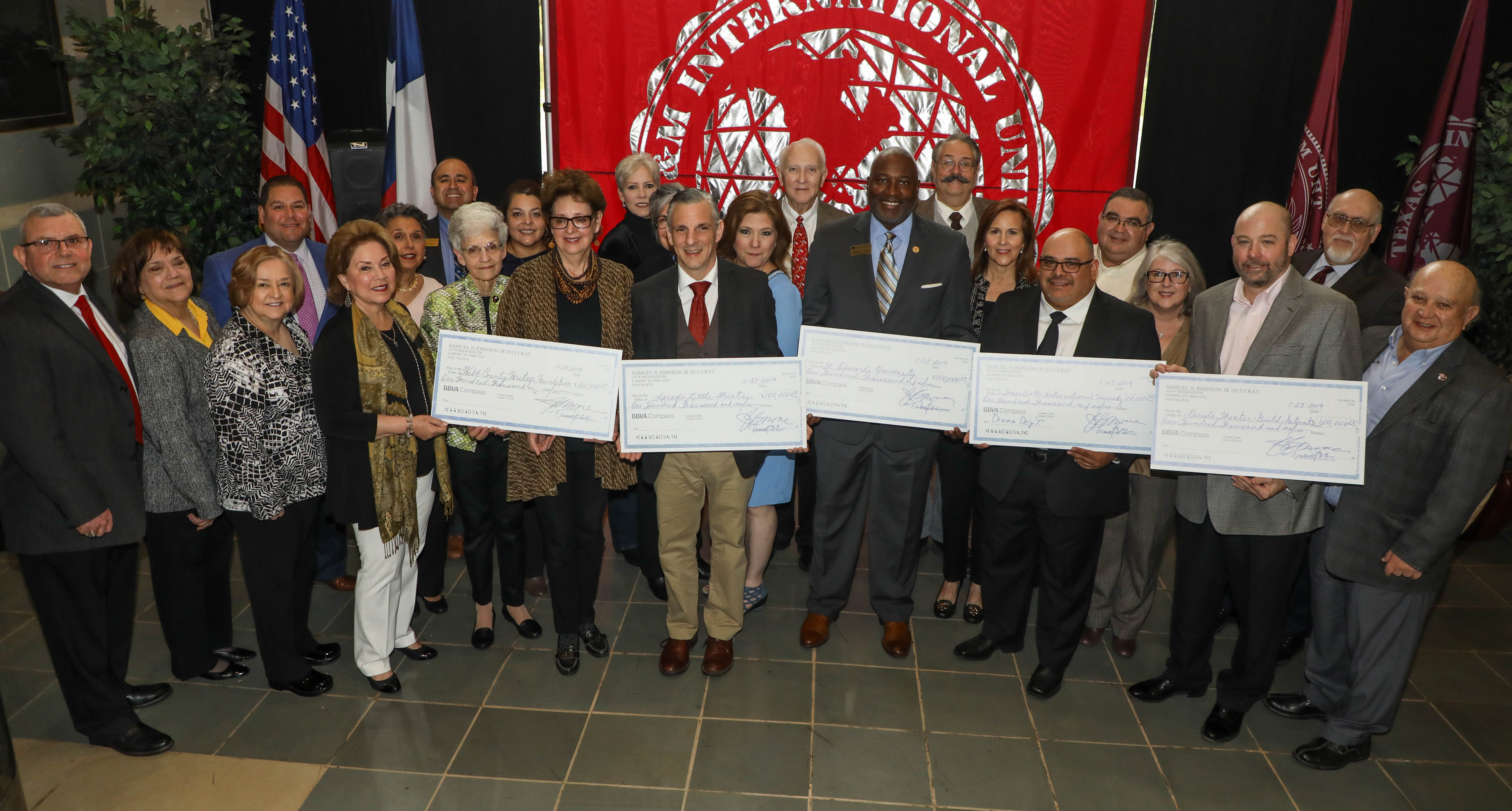 Five community organizations shared the $500,000 gift of the Samuel N. Johnson, Jr. 2013 Charitable Remainder Annuity Trust.