Posted: 9/11/19
TAMIU MACP Graduate Students, Faculty Present at National Psychology Convention

Texas A&M International University (TAMIU) graduate students and faculty members presented their research findings on mental health literacy and dating violence during this year's American Psychological Association Convention in Chicago, IL.
Four Master of Arts in Counseling Psychology (MACP) students attended the Convention and were Amanda Rodríguez, Liabette Rodríguez, Rebeca Salazar, and Ivette Soto. They were led by Drs. Ediza García and Elizabeth Terrazas-Carrillo, assistant professors of counseling psychology, respectively.
Their first research project, "Factors Predicting IPV Victimization: Exploring the Impact of Polyvictimization in a Sample of Latino College Students" explored risk and protective factor profiles for intimate partner violence victimization among individuals who have experienced multiple victimization experiences.
The program, Minds Acting Together to Enhance Resilience, or MATTER, aims to increase academic achievement and persistence in college specifically among Latino students. It was funded through a grant from the Hogg Foundation, a Texas-based group that brings awareness to mental health challenges faced today.
During the Convention, the student and faculty researchers presented preliminary results of a quasi-experimental trial of the program. Their findings have been positive, indicating significant increases in mental health knowledge and commitment to a college education.
The research team also presented results from a series of interviews to gather information about people's knowledge of mental health and mental illness in Laredo.
The second project, "A Psychoeducational Group Program to Prevent Dating Violence Among Latinos in College," presented results from the program Dating Relationships Involving Violence End Now, or DRIVEN.
The program offered eight group sessions specifically targeting Latino college students, offered psychoeducation on healthy relationships, gender roles, communication skills, and conflict management. The research findings indicated supportive attitudes toward dating violence continued to decrease after completing the program.
Additionally, in six-month follow-up interviews, participants noted that they benefited from the interactive way information was presented and getting to share their perspectives in a safe, non-judgmental environment.
The poster project was sponsored through the Society of Community Research and Action (SCRA). Every year, SCRA accepts over 100 posters to be presented at the Convention. This year, the poster received a Certificate of Excellence.
"Attending these conferences is a positive experience for our MACP students, who are in the process of earning a Master's degree. Our students get the opportunity to network with other researchers and faculty from other institutions, and get to see the kinds of opportunities there are for pursuing careers in research and practice," explained Dr. Terrazas-Carrillo.
The American Psychological Association Conference is a premier scientific and professional gathering that brings over 12,000 researchers, educators, clinicians, consultants, and students together.  
For additional information, contact the College of Arts and Sciences, department of Psychology and Communication at 956.326.2465, visit offices in the Academic Innovation Center, or visit https://www.tamiu.edu/coas/psy.
TAMIU is celebrating its 50th anniversary and its 25th anniversary at its north Laredo campus throughout 2019-2020.  A dedicated website shares the University's transformation from a hybrid upper-level university to a full doctoral degree-granting University. It includes a calendar of Anniversary events and more at tamiu.edu/50.
For more on the University's story, contact the TAMIU Office of Public Relations, Marketing and Information Services at 956.326.2180, email prmis@tamiu.edu, click on tamiu.edu, follow social media channels on Facebook, Instagram, LinkedIn, Twitter or YouTube, or visit offices in the Sue and Radcliffe Killam Library, room 268.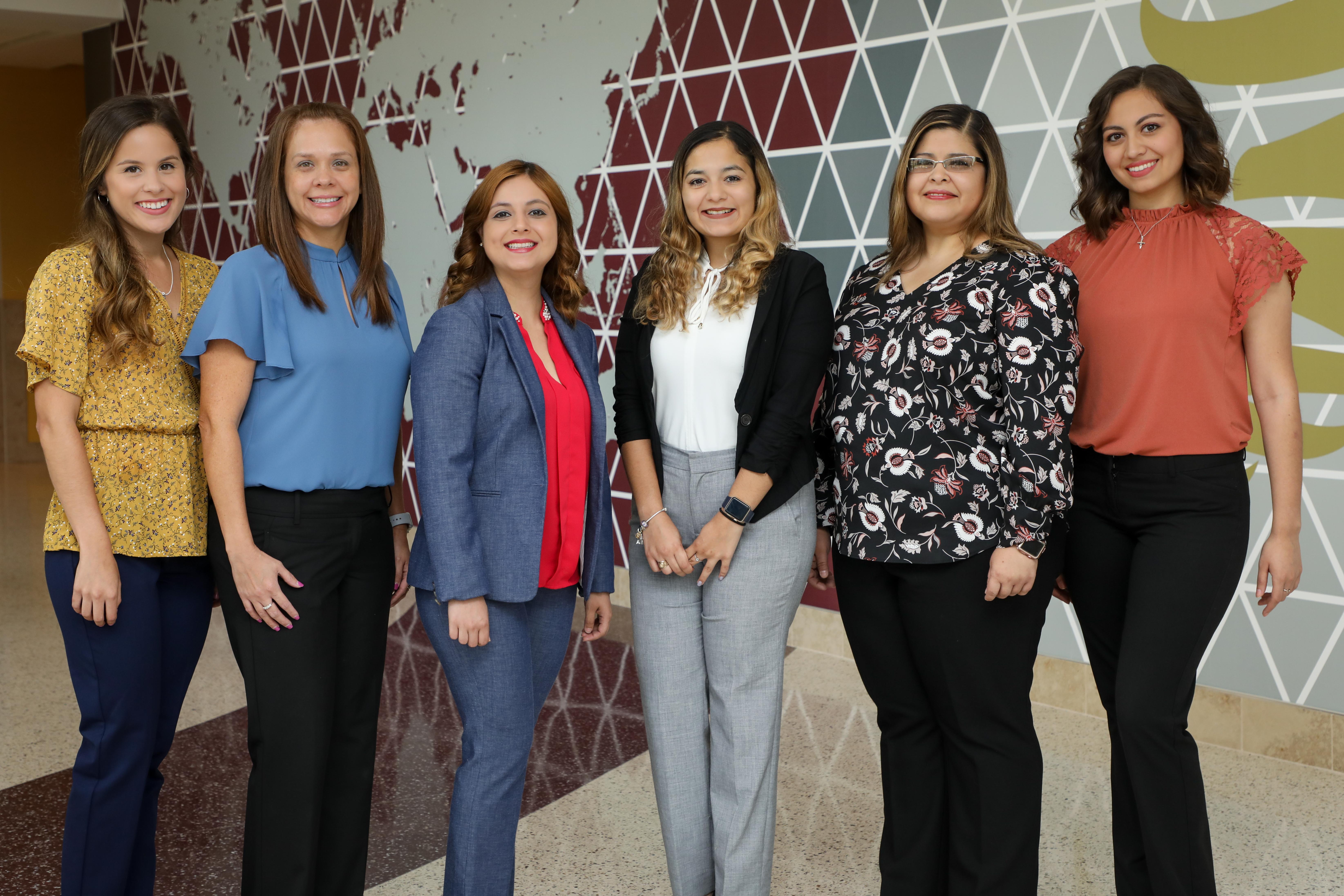 Master of Arts in Counseling Psychology students and faculty, from left, Ivette Soto, Dr. Ediza Garcia, Amanda Rodriguez, Rebeca Salazar, Dr. Elizabeth Terrazas-Carrillo and Liabette Rodriguez.