Posted: 11/26/19
TAMIU Ballet Folklórico Students Travel, Perform at Disney California

For the second year in a row, Texas A&M International University (TAMIU) Ballet Folklórico students have been invited to perform for Disney Performing Arts.
Seventeen Ballet Folklórico students will travel to Los Angeles to perform at the Disney California Adventure Park in Anaheim, CA Wednesday, Nov. 27.
After sending in their audition video, the group was one of the selected few to perform for Disney Performing Arts – a component of the Disney Youth Program that offers opportunities to aspiring performers through performances, competitions, festivals, and workshops.
"The students have been extremely dedicated this semester to learning a variety of Mexican Folkloric dance pieces, studying the states and history of these dance pieces, performing throughout TAMIU and in the Laredo community, and dedicating many hours to rehearsing their dance pieces to perform at Disney," explained Nayeli López, group instructor.
Ballet Folklórico students traveling with López are Yahaira Contreras, Angelica Favela, Ryan García, Victoria García, Erika Hale, Manelick Hernández, Karla Ibarra-Walters, Mónica Mendoza, Emilio Peña, Priscilla Rangel, Krisela Salinas, Paula Sánchez, Ginger Sifuentez, Astrid Veliz, Carmen Vielma, Rosie Zamora and Raúl Zapata.
Victoria García, a third-semester Ballet Folklórico dance student, is excited to showcase the cultural significance behind the performances.
"I think Ballet Folklórico is a great experience that taught me about the culture and history of folk dance in Mexico, and performing at Disneyland gives us the chance to share the amazing culture with the audience in California," said García.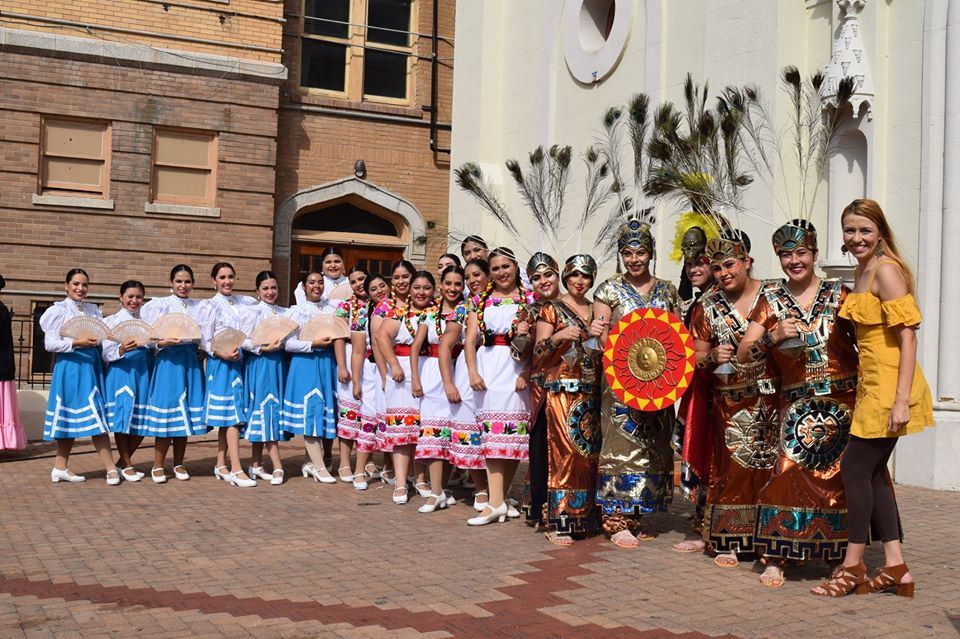 Second-semester Ballet Folklórico student and mother Karla Ibarra-Walters noted that her inspiration to dance came from her family, "[I'm] inspired by my girls, which is why I dance. Life is better dancing in my opinion," she said.
During their 30-minute performance, the Ballet Folklórico students will showcase various dances from different Mexican states and regions. The three-part dance series includes a tribute to the ancient Aztecs through elaborate choreography, costumes and the use of sonajas, a traditional musical instrument.
Then, the dance sequence moves to the Mexican state of Hidalgo, where dancers showcase their detailed footwork and show off their detailed, hand-embroidered uniforms. The performance transitions into the state of Nuevo León, which showcases upbeat, lively dances that emphasizes shoulder dance movements.
The performances conclude in the state of Colima. The dance is choreographed to mariachi music and features skirt work. Costumes typically include the use of wood machetes and sombreros.
Chosen dancers are often advanced students who have taken at least one semester of beginner Folklórico courses, but the invitation is open to any student who would like to take a course and perform, explained López, reiterating, "This is a great opportunity for the students to be recognized nationally and be able to perform in front of a large, diverse audience. This performance opportunity fulfills many of the National Core Arts Standards for creation, performing, responding, and connecting."
Ultimately, López aims to instill a sense of dedication and responsibility that will help students grow, both artistically and as individuals.

"My students enjoy dancing Ballet Folklórico and you can see it as they smile on stage and they enjoy their performance. I offer students different opportunities so they can grow not just as a dancer, or student, but also as a person," López said. 
For more information, please contact López at 956.326.2858, email nayeli.lopez@tamiu.edu or visit offices in the Sue and Radcliffe Killam Library, room 159. 
University office hours are 8 a.m. – 5 p.m. Monday-Friday.
TAMIU is celebrating its 50th Anniversary and its 25th Anniversary at its north Laredo campus throughout 2019-2020.  A dedicated website shares the University's transformation from a hybrid upper-level university to a full doctoral degree-granting University. It includes a calendar of Anniversary events and more at tamiu.edu/50.
For more on the University's story, contact the TAMIU Office of Public Relations, Marketing and Information Services at 956.326.2180, email prmis@tamiu.edu, click on tamiu.edu or visit offices in the Sue and Radcliffe Killam Library, room 268.