Posted: 1/29/20
TAMIU Faculty Publication Targets Bilingual Research

Texas A&M International University (TAMIU) Regents Professor Dr. Roberto R. Heredia and Dr. Anna B. Cieślicka, associate professor of psychology, have published their latest findings on bilinguals in their most recent publication, Bilingual Lexical Ambiguity Resolution by Cambridge University Press.
The publication is aimed at guiding both students and researchers of bilingualism and multilingualism. The research focuses on the way bilinguals resolve and understand information that poses retrieval issues.
This publication offers readers an update into the field of lexical ambiguity resolution, whose initial research is found in the classic book, Lexical Ambiguity Resolution authored by Steven Small, Garrison Cottrell, and Michael Tanenhaus.
The current publication provides an overview of what researchers know regarding bilingual lexical access. The research by Heredia and Cieślicka also uses different methods to better understand whether a bilingual speaker's lexical system is either language-selective or non-selective – two major theories that exist in determining how we access words from different languages in our own lexicon.
The research done within the publication critically reviews research findings in areas such as isolated word level, sentence processing, and neuropsychological levels. From there, the research critically evaluates in relation to various research methodologies and their use in assessing bilingual lexical access. 
While bilingual language nonselectivity remains open to research and discussion, further required sensitive experimentation is necessary to measure true online language processing, noted Heredia.
"It is our hope that Bilingual Lexical Ambiguity Resolution provides the bilingual student and researcher with the necessary tools to advance the field, both at the theoretical and empirical," explained Heredia.
Cover art for the publication was created by Analee G. Paz, TAMIU assistant professor of Communication.
Heredia has been a TAMIU faculty member since 1998. He holds his Ph.D. in Experimental Psychology from the University of California-Santa Cruz, and a post-doctoral position as a National Science Foundation Fellow at the University of California-San Diego. He has published in several fields, including bilingualism, evolutionary psychology, and figurative language processing.
Cieślicka holds a Ph.D. in Psycholinguistics from Adam Mickiewicz University in Poznań, Poland. She is the director of TAMIU's Master of Science in Psychology graduate program. Her research focuses mainly on the psycholinguistics of second/foreign language acquisition and processing, bilingual lexicon, figurative language, and neuropsychology of bilingualism. She is the recipient of TAMIU's Teacher of the Year and Scholar of the Year awards and the Alpha Delta Kappa Golden Apple Award for teaching excellence in higher education.
For additional information, contact TAMIU's Office of Public Relations, Marketing and Information Services at 956.326.2180, email prmis@tamiu.edu, click on tamiu.edu, or visit offices in the Sue and Radcliffe Killam Library, room 268.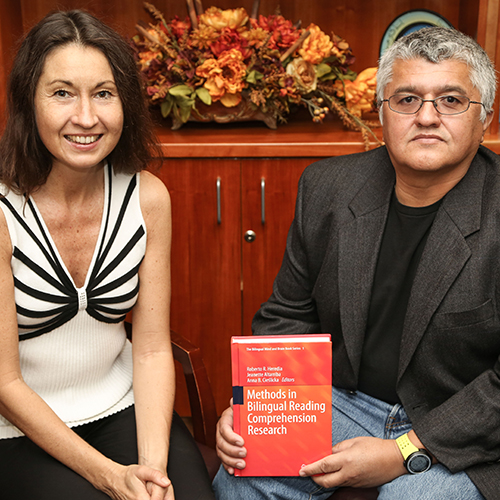 Dr. Anna B. Cieślicka and Dr. Roberto R. Heredia