Posted: 2/25/20
AEP Foundation Provides $50,000 Grant to STEM Programs at TAMIU

The AEP Foundation has provided a $50,000 grant to support the robotics program at Texas A&M International University (TAMIU).  The grant will help perpetually fund annual expenses related to the design, programming and ultimate build out of two award-winning engineering projects. 
Judith E. Talavera, AEP Texas president and chief operating officer, presented a Dustdevil-sized check to Texas A&M International University during a recognition event held Tuesday at the University. 
Talavera noted that American Electric Power, parent company of AEP Texas, created the AEP Foundation in 2005 to continue the tradition of corporate philanthropy of AEP and its regional utilities and to support and play an active, positive role in the communities where AEP employees live and work. 
"TAMIU clearly meets those criteria through the Science, Technology, Engineering and Mathematics (STEM) that will be funded by this AEP Foundation grant," Talavera said.  "The DustyTRON and DustySWARM engineering design projects have both received multiple awards in NASA's Robotic Mining Competition at the Kennedy Space Center in Florida. Both programs also were recognized for encouraging and assisting students from underrepresented groups to enter STEM fields."
AEP Texas has a long tradition of supporting education and, in particular, TAMIU. 
TAMIU president Dr. Pablo Arenaz said this generous gift is especially significant as the University continues its 50thAnniversary celebration and the University's impact on Laredo and beyond.
"Especially during this, our 50th Anniversary year, we are honored to have a partner like the AEP Foundation to share our mission and further our legacy of transformation. STEM programs here at TAMIU are thriving and the support of the AEP Foundation will enable us to provide our students with remarkable growth and learning experiences."
Dr. Tariq Tashtoush, TAMIU assistant professor of Engineering, said the funds will be used to support University engineering students as they prepare for the upcoming NASA Robotics Mining Competition. There, students will compete against 58 universities from across the United States.   
"This generous donation will allow TAMIU DustyTRON team members to design and construct their mining robot that was used to compete in NASA Robotics Mining Competition. This experience was a great opportunity for the team to participate and showcase TAMIU, the School of Engineering and Laredo as ambassadors, and it provided our engineering students with great hands-on, team-work, team management, and communication skills," said Tashtoush.
He added, "DustyTRON team has been actively promoting STEM and showcase their national achievements within the local community to involve students and teachers to pursue STEM degrees. This endeavor would not have been possible without such donations and unconditional support."
AEP Texas is part of the American Electric Power (AEP) system.  AEP maintains the nation's largest electricity transmission system and more than 219,000 miles of distribution lines to efficiently deliver safe, reliable power to nearly 5.4 million regulated customers in 11 states.
AEP Texas serves over one million electric meters in the deregulated Texas marketplace. As an energy delivery (wires) company, AEP Texas delivers electricity safely and reliably to homes, businesses and industry across its nearly 100,000 square mile service territory in south and west Texas.  AEP Texas also builds new power lines, restores service following outages and records electric usage using advanced meters for retail electric providers (REPs) throughout its service territory. The company also connects or disconnects service upon the orders of the REPs.
TAMIU is celebrating its 50th Anniversary and its 25th Anniversary at its north Laredo campus throughout 2020. A dedicated website shares the University's remarkable transformation from a hybrid upper-level University to a full doctoral degree-granting University with over 29,000 graduates worldwide that enrolls over 8,400 students. Visit the calendar of Anniversary events, explore the University's timeline, review alumni profiles and more at tamiu.edu/50. 
For more on the University's story, contact the TAMIU Office of Public Relations, Marketing and Information Services at 956.326.2180, email prmis@tamiu.edu, click on tamiu.edu or visit offices in the Sue and Radcliffe Killam Library, room 268.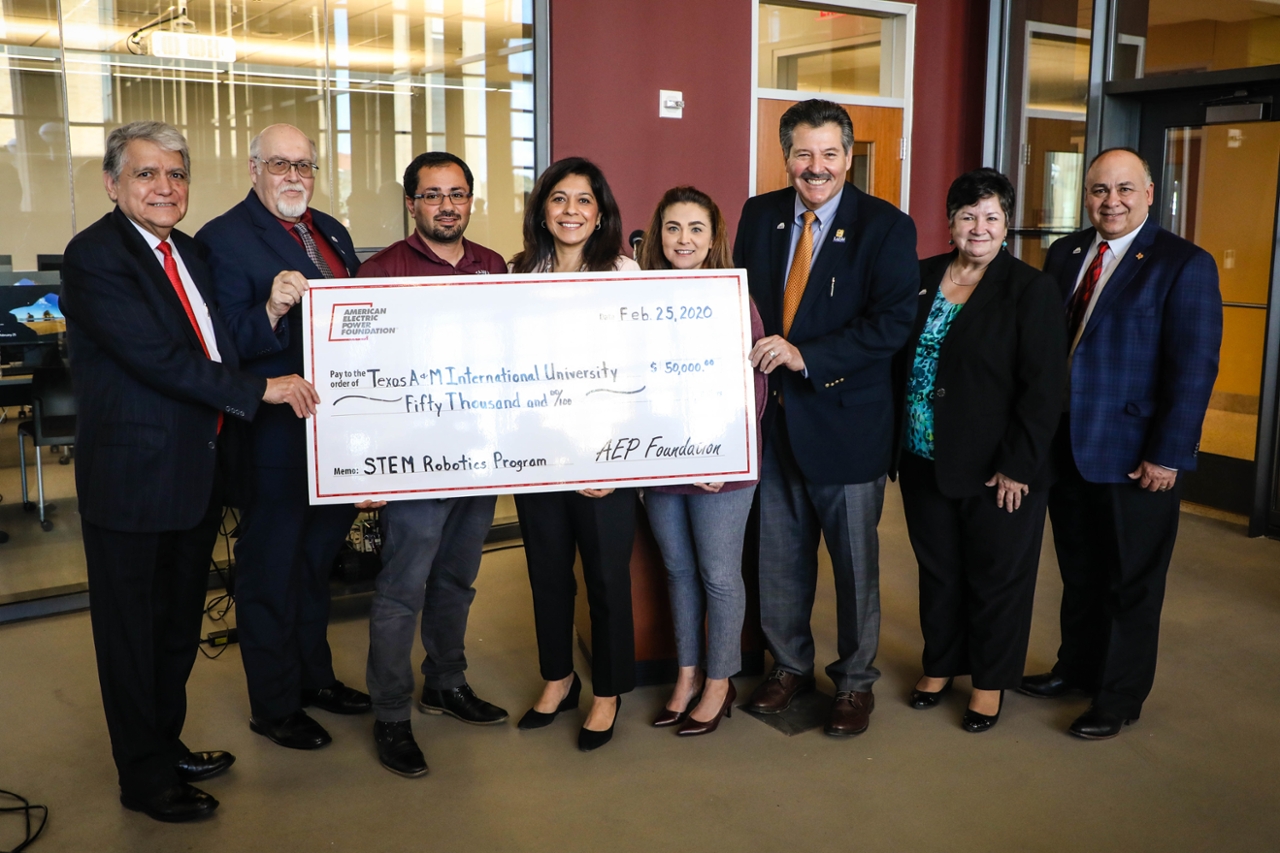 The AEP Foundation has provided a $50,000 grant to support the robotics program. From L-R: Dr. Guillermo Dominguez, director of the School of Engineering; Dr. Pablo Arenaz, University president; Dr. Tariq Tashtoush, assistant professor of Engineering; Julie Talavera, AEP Texas president and chief operating officer; Dr. Claudia San Miguel, dean of the College of Arts and Sciences; Pete Saenz, City of Laredo mayor; Olga Maldonado, AEP Texas manager for Customer Service and External Affairs; and Tony Arce, AEP Texas manager of External Affairs.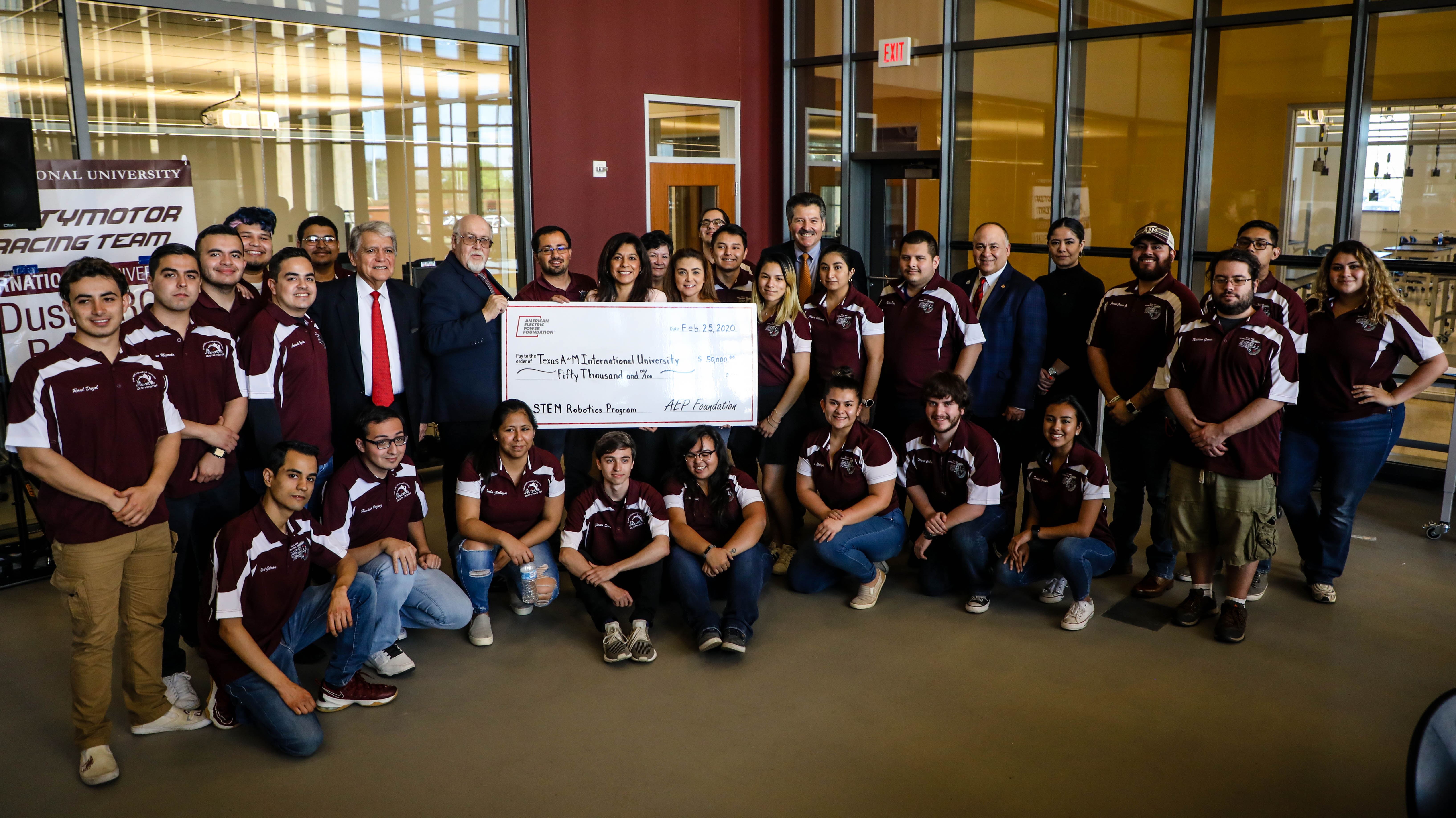 TAMIU Robotics Program students join in the photo during the AEP Foundation Check Presentation, held Tuesday, Feb. 25 at the Academic Innovation Center design lab.