Posted: 7/30/20
Dustdevil Diversity Spotlight: Dr. Jared Dmello

This is part of a series of interviews highlighting diversity at TAMIU. This week's interview features Dr. Jared Dmello, assistant professor of Criminal Justice, College of Arts and Sciences.
Working Actively to Bring About Diversity, Equity, and Inclusion Everywhere
Tell us about yourself, where are you from and what you do here at TAMIU?
I was born in Southern California, but I spent time in a few different states before coming to Texas. At TAMIU, I teach courses primarily on research methods and security studies, but I also consult with the TAMIU Louis Stokes Alliance for Minority Participation program on research to promote Hispanic and women's representation in the STEM fields.
When did you join TAMIU?
I joined TAMIU in August 2019, so I'm still quite new to the area, but I've been enjoying all the wonderful cuisine Laredo has to offer.
Tell us about your experience living here and familiarizing yourself with the Laredo community.
Admittedly, I did not know much about Laredo before moving here. I had visited Dallas a few times, but the parts that I saw of Laredo were limited to the airport and TAMIU's campus. When I visited last spring, I was immediately drawn to the beauty of the campus. However, since moving here, I have very much enjoyed the exquisite cuisine and rich culture that life in a border town has to offer. Our family dog, Jaanu, came to live with me in January, so pre-pandemic, we spent the weekends exploring new parks and paths to enjoy the outdoors.
During my first semester at TAMIU, I incorporated a PhotoVoice research study into my Senior Seminar course, in which students went out into the community and documented their thoughts and experiences of the physical and social organizations and structures present in Laredo. This project, for which I was the recipient of the national-level 2020 Ken Peak Innovations in Teaching Award from the Academy of Criminal Justice Sciences, was instrumental in helping me learn more about this beautiful and diverse City. Students collected the data based on City Council district, so as the project progressed, not only did I learn more about Laredo, but also about each of the City Council districts. I really enjoyed working with my students on this project because we were able to challenge the stereotypes that exist about Laredo, situating the similarities and differences of our geography in relation to other areas studied by criminological researchers.
Can you tell us about your research interests and how you became interested in your area of study?
I am a scholar of collective violence. My work, which relies on a highly interdisciplinary approach, focuses primarily on criminal street gangs and terrorist organizations. A key theme throughout my work is the issue of diversity, equity, and inclusion. My research interests have been shaped by two sets of life experiences.
First, I am of the generation that grew up in the post-9/11 world. As a young child, I remember watching the news with my mom early in the morning and seeing the smoke billowing from the towers of the World Trade Center. I don't think I fully understood what was happening, just that it was a very grave moment. Thus, as I continued on through grade school and higher education, topics about security and the U.S. wars in Afghanistan and Iraq were always present. I vividly remember people making racial comments toward me after the 9/11 attack, and me not understanding why I was being treated differently because of the way that I looked. Having grown up in a culturally inclusive environment, I remember thinking it was so strange that people were grouping anyone of South Asian and Middle Eastern descent into one group of "them." The Bollywood movie,  "New York," has stuck with me all these years. It shows the extreme racism and prejudicial treatment of Asian Indians/Pakistanis in the United States after the 9/11 attacks – I highly recommend this film.
Second, gang activity is quite prevalent in Southern California. I remember witnessing racial tensions and aggression during high school and seeing graffiti on buildings or under bridges while driving by. In school, we had very specific guidelines on dress code, because administrators were trying to minimize gang presence on campus. While I never directly experienced or witnessed gang violence, it always fascinated me why some people chose to engage in those activities and lifestyles. During my first master's program, I was very fortunate to meet a mentor, Dr. Gisela Bichler, who encouraged me to seek out answers to the many questions I had. She invited me to work on a research study with her looking at Los Angeles's use of civil gang injunctions as a strategy for gang abatement, and I have been studying gangs ever since.
It wasn't until I started my doctoral work where I really began to understand the systematic and institutionalized racism that was manifesting all those years as a child, and how terrorist organizations and street gangs are quite similar to one another in the sense that they each seek to force into creation a space where members feel a sense of belonging and where group objectives can be achieved.
Seeing the strong impact that racism, discrimination, and exclusion can have on an individual's life trajectory, I resolved to actively work to bring about diversity, equity, and inclusion in the world around me.
How do you feel your contributions impact TAMIU, the community and world around you?
From an academic perspective, I have been lucky enough to present the findings of my research across the world. I really enjoyed my presentation at the 2017 Illicit Networks Workshop in Adelaide, Australia, where I was able to network with many of the leaders in my field. It was very inspiring to meet these role models, many of whom created the methodologies that I routinely use in my research. It really felt like a community, and when I met many of the same people at the following year's workshop in Seattle, they remembered me, and we've remained in contact ever since.
The other international presentation that I vividly remember was the 2019 Society for Terrorism Research, in Oslo, Norway. I had just graduated with my Ph.D. and I was presenting a project looking at inter-rater reliability for risk assessment of terrorist offenders. I was so intimidated at the start of my presentation because several leading experts who I knew through social media were in the audience – I'll never forget the enthusiasm and excitement in the room during the discussion, where everyone had such positivity about our findings. Additionally, I hope to disseminate the results of my PhotoVoice study to local community leaders with evidence-based recommendations for improvement of our City.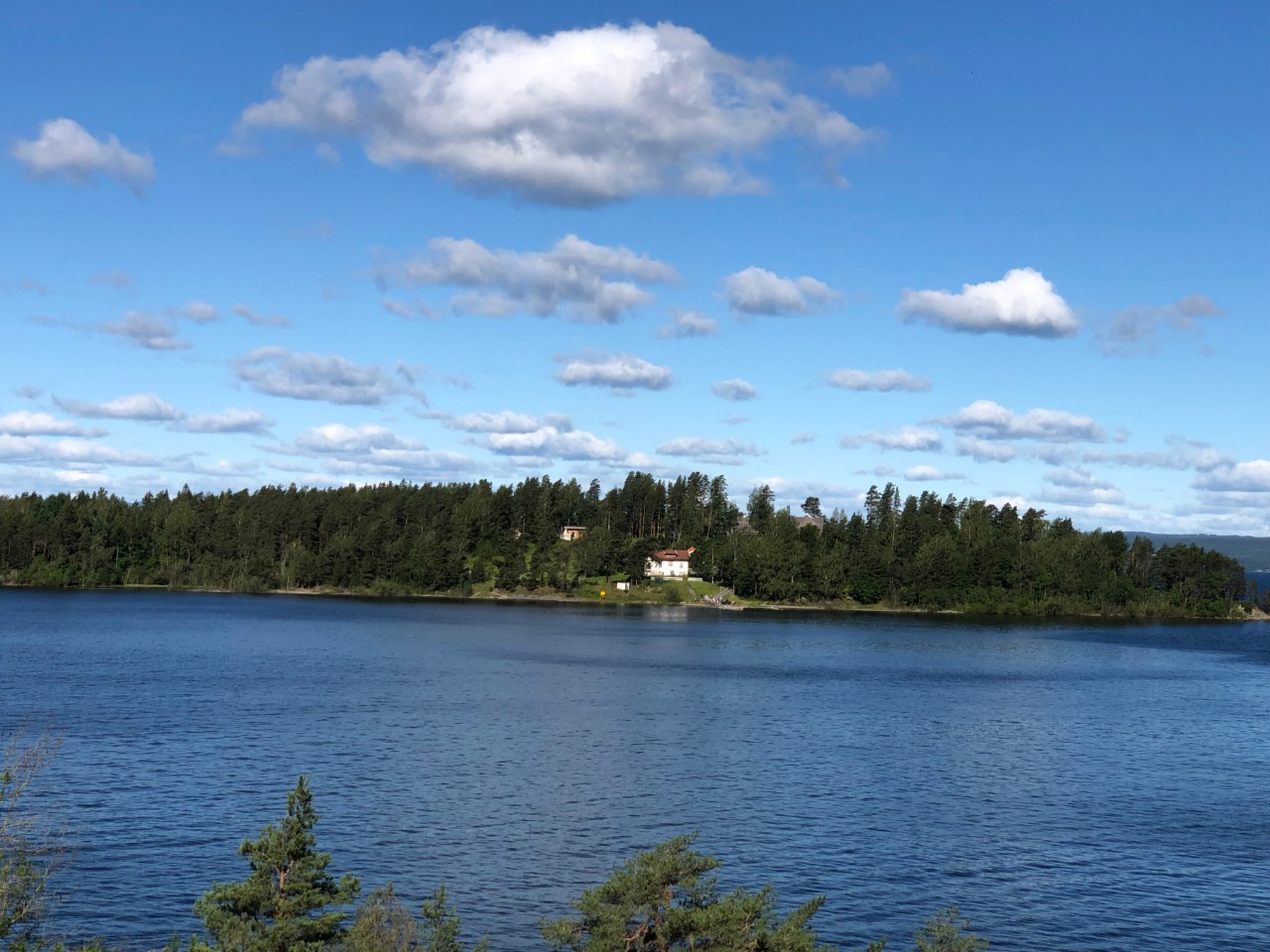 The island of Utøya, Norway. Dr. Dmello visited this site when he presented before the Society for Terrorism Research.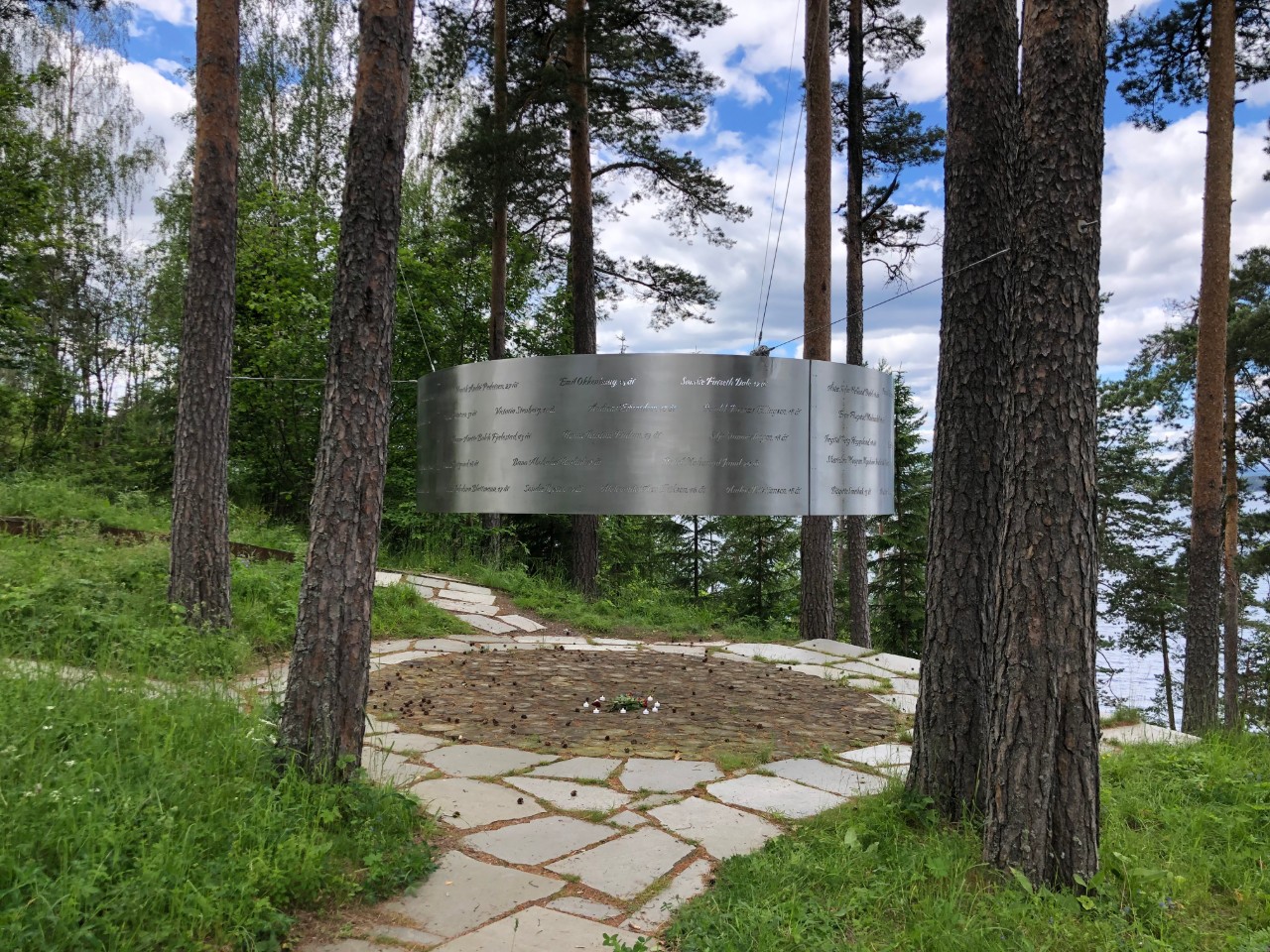 A memorial for the victims of the July 22, 2011 terrorist attacks on the island of Utøya.
Tell us about ideas that are important to you.
I strongly believe in Mahatma Gandhi's mantra: "Be the change that you want to see in the world." I strive to bring positivity into my surroundings. Since moving here, I have been very involved with the Laredo Rotary Club, where I've worked with a lot of wonderful people to improve our City and community. I organized a canned food drive, participated in a campus promotional video, and co-organized a summer collection effort for pick-ups, all to increase donations to Dusty's Food Pantry, a great program here at TAMIU that helps increase food security for our campus community! I have also been helping at TAMIU's Community Garden, an initiative through the Service-Learning Center, that provides fresh produce to the community.
I have been very lucky to have had the opportunity to leave a mark on academia and my community even as a relatively new scholar; however, there is still much work to do!
What are your hobbies?
All things Disney. I enjoy reading, spending time with my dog, listening to music, watching movies, and playing musical instruments.
Who has been your greatest inspiration and why?
My greatest inspiration has always been my parents. They moved to this country to make a better life for themselves and have worked extremely hard ever since. Seeing their determination and perseverance has also inspired me to believe that I can achieve all of my dreams if I put in the time, dedication, and effort to work towards my goals. As a child of immigrants, I learned to appreciate different cultures early on. I was very lucky to spend a summer in Qatar with my mom, where my eyes were really opened to how people live in other countries and under different systems of governance.
My parents are also people of action. Whenever someone is in need or asks for assistance, they respond without hesitation. It is because of them that I feel all of us are responsible for leaving this world better than we found it. From my parents, I learned to be extremely appreciative of the privileges we are afforded by virtue of living in the United States but also the importance of promoting equity and inclusion wherever possible. When we achieve success, it is our obligation and privilege to reach back and help the next person reach their goals, because we could not have done it alone.
What's your proudest accomplishment to date?

I think my proudest accomplishment to date was graduating with my Ph.D. As a first-generation scholar, there were so many extra hurdles and struggles to achieve that moment, but I was determined to reach that milestone. I'll never forget the pure joy I felt when I heard my advisor, Dr. Arie Perliger, introduce me to our Department as "Dr. Jared Dmello" for the first time after my dissertation defense. It was also extremely meaningful seeing the bound copy of my dissertation when it arrived in the mail. I gave a copy to my parents for Christmas and it was so wonderful to watch them flip through the pages and see the product of so many years of hard work.
Tell us what you're doing today academically, career or life-wise and what your future plans are.
I have a very active research agenda. I am currently applying for federal grants to support my research, working on my first book project, and making progress on multiple different research collaborations. I am currently analyzing the data from my PhotoVoice study and working on two network science projects, all collaborations with very well-respected scholars. The first, which will yield several publications, assesses longitudinal gang offending networks in the Commonwealth of Massachusetts. The second project investigates the changing social capital of internally displaced persons in Georgia following Russian aggression in the country.
I love conducting research because it's so exciting to produce new knowledge to answer the questions I find interesting. Moving forward, I plan to continue engaging in academic research and mentoring the next generation of scholars. I also hope to continue implementing innovative pedagogical approaches into my courses to provide students with fun and new ways to actively learn and enrich their college experiences.
What are some of the aspects of your culture or tradition that you celebrate or appreciate the most and how meaningful are they to you?
I very much enjoy watching Bollywood movies and listening to Hindi-language music and cooking Indian cuisine. I've been watching films with my parents since I was little, but my enthusiasm really developed during my undergraduate studies at the University of Hawaii at Manoa. I was taking Hindi and Urdu language courses and was very involved with a student organization promoting South Asian culture. From these experiences, I was also exposed to Hindi film, music, poetry, and dance. Since leaving Honolulu, I have never quite experienced the same level of connectedness to my cultural identity. However, I continue to enjoy movies and music coming from India, as this helps me feel connected with my heritage which traces back centuries to ancient times.
In your opinion, what are some of the notable contributions by people in the culture or traditions that you represent?
India is a country with ancient ties, so its contributions to the world are plentiful. Relevant to our academic home, India was actually the site of the first University at Takṣaśilā, dating back to approximately 500 BCE. As a mathematics enthusiast, I often remind people that Indians are credited with first describing the Fibonacci number sequence through Sanskrit prosody and with introducing the concept of 'zero' into arithmetic to signify nothingness; similarly, the trigonometric 'sine' function has ties to Indian astronomy.
Culturally, the Bollywood film industry has proliferated to all corners of the globe. I remember a friend who grew up in the Soviet Union recollected how well watched Bollywood movies were in the USSR. Similarly, today there are channels dedicated to Indian film right here in the United States – on my Roku, I am able to watch the Eros Now channel that shows movies dating back several decades! Beyond films, Indian actors have also gained prevalence in American media; actors such as Priyanka Chopra, Navi Rawat, Karan Brar, and countless more have been cast in featured roles across multiple genres.
How do you think they can continue to increase their visibility and impact here and in the world?
Although there are many stereotypes about Indian Americans tending to be "smart", I think that we have a responsibility to move the conversation past that to bring about real world change. Indian diasporic communities exist around the world, throughout Europe, Africa, and the Americas. While an ethnic minority in many countries, Indian culture is rich with activism and difference making. During the struggle for independence, Mahatma Gandhi developed and practiced satyagraha, a form of peaceful resistance, which would later inspire leaders of the American Civil Rights Movement, such as Dr. Martin Luther King, Jr. and James Bevel. Gandhi's approach demonstrates that violence does not have to be the only mechanism for bringing change; peace and solidarity can, and have, also yielded positive results. I believe that Indians should continue to harness the spirit of activism embedded in our heritage to seek out positive change in the world.
For me, it was so inspiring to see Kamala Harris (U.S. Senator of California) make a bid for President of the United States of America. Regardless of political leaning, witnessing an Indian American woman seek out the highest elected office in the land and subsequent rumblings of a potential Vice Presidential run really demonstrates how anything is possible in our country. Similarly, Piyush Jindal of Louisiana was the first Indian American governor in the history of the United States. I think that more minorities, Indians as well as other groups, should encourage and support one another in building representation in leadership roles, whether in elected office, academic ranks, or any other industry/field. Increased representation of a wide array of groups results in a more diverse worldview and that is where progress begins.
Is diversity important at university campuses, in the workplace and overall? Why?
Diversity is necessary, but not sufficient, at university campuses and in the workplace overall. However, to have a truly effective community and network, diversity, equity, AND inclusion are all needed. While it is important to ensure individuals from different backgrounds have a space at the proverbial table, it is our duty to also ensure that each voice is able to be heard and that it is given equal consideration and respect.
While no institution is ever perfect, we are quite fortunate at TAMIU to be on a campus that has taken many strides forward on these issues. The various committees to reopen TAMIU were composed of faculty, staff, and students, ensuring that all campus stakeholders are able to provide their perspectives on our University's plans for the Fall 2020 semester. Similarly, I, as a relatively new tenure-tracked faculty member, have the opportunity to serve on the University's Diversity, Equity, and Inclusion Committee to translate my passion for social justice into actions and programming that spark change and conversations on our campus.
The need for diversity, equity, and inclusion is not restricted to universities, but is applicable to society in general. From my research, I have found that racial, social, and economic inequality are the drivers of violence, such as that committed by gangs and terrorist organizations, but also for many other categories of crime. Terrorist groups often engage in violence because they feel there is no way to achieve their agendas through the established political process (i.e., they feel excluded). Other ethnic conflicts have erupted due to unequal treatment of ethnic groups within a country (i.e., lack of equity), such as is the case with Sri Lanka's civil war that spanned 25 years and is attributed to upwards of 100,000 deaths.
By working toward a diverse, equitable, and inclusive atmosphere, we can truly better all aspects of our world, and I truly believe we owe it to future generations to move forward toward such a goal. We must remember that every mile is comprised of 63,360 inches. It is not possible to revolutionize and modernize the system overnight; however, we can bring about continuous and incremental change, just one inch at a time, leading to a full mile.