Posted: 4/01/21
Dustdevil Diversity Spotlight: Lorissa Cortez

This is part of a series of interviews highlighting diversity at TAMIU. On the occasion of Women's History Month, this interview features Lorissa Cortez, TAMIU director of Equal Opportunity and Diversity.
Promoting an Open and Inclusive Campus Environment

Tell us about yourself, where you are from and what you do here at TAMIU?
I am a proud Texan originally from the Rio Grande Valley (San Benito, GO HOUNDS!) and have called Laredo home for 20 years. I completed my undergraduate degree in Anthropology at Baylor University in 2013 and earned a Master's in Public Administration from TAMIU in 2017.
I've been at TAMIU since 2013 and I currently serve as the director of Equal Opportunity and Diversity (EOD) and the Title IX coordinator. In this role, I serve to promote an open and inclusive environment, create programs which promote diversity and awareness, and ensure the University complies with all applicable policies and laws. It is also my job to ensure the University receives and investigates complaints of discrimination filed on the basis of race, color, national origin, religion, sex, pregnancy, sexual orientation, gender identity, age, disability, or veteran status.
Tell us about your experience living here and being part of the Laredo community.
I've lived in other cities and nothing compares to the Laredo experience. What I find so exciting and beautiful to see is former classmates from high school (J.B. Alexander High School) making an impact in the community. Some have pursued careers in medicine, opened local businesses, and run for office – thus, continuing to enrich the area. TAMIU has also grown immensely, and I feel honored to be a part of its history and witness its growth.
How do you feel your contributions impact TAMIU, the community and the world around you?
Through various education efforts, the TAMIU community has learned more about Title IX, the civil rights laws that protect them from discrimination, and the services provided through the EOD Office. I want the campus community to know of our presence and commitment to prohibiting and preventing discrimination or harassment against any individual. I feel my work with the EOD Office communicates the University's commitment to ensuring a discrimination-free environment, where all persons are treated fairly and with respect regardless of an individual's protected status. Such efforts are key to ensure we can continue to attract and engage a diverse campus community.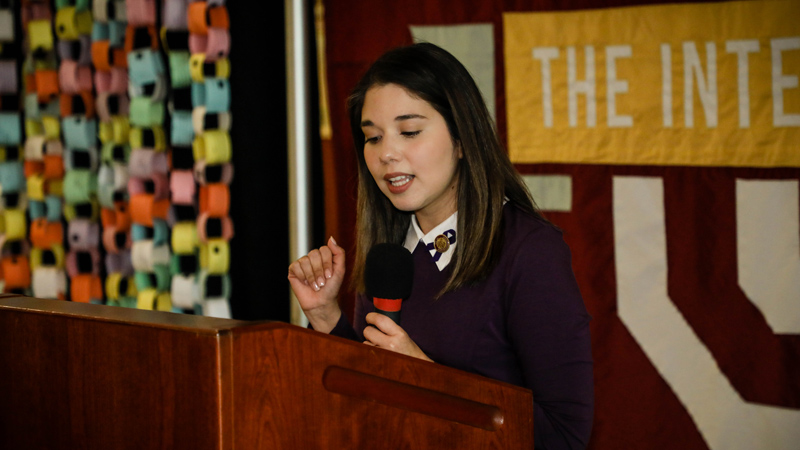 Cortez speaking at one of her campus engagements.
Can you share some of  hobbies?
I absolutely love zoos and confidently say you will not find a bigger zoo fan than me. I always make it a point to visit a zoo in any city I happen to be in.  If I was any good with animals, I would have probably been a zookeeper. I love a zoo's ability to educate and expose visitors to animals they may never get to see in person. The moment we are able to gather in public areas more, you'll find me at the zoo!
Who has been your greatest inspiration and why?
One of my inspirations has always been the late Supreme Court Justice Ruth Bader Ginsburg. Not only did she have the responsibilities of a family while attending the then male-dominated Harvard University but Justice Ginsburg was a vocal leader for gender equality, and she helped pave the way for so many in all areas of work. I also must give credit to the many women administrators across campus who have served as powerful role models and an inspiration for how I've navigated my career.
Please share with us your proudest accomplishment to date.
Most honestly, I can say that the selection for my current role as TAMIU's director of EOD and Title IX Coordinator has been my proudest accomplishment. I've had the opportunity to collaborate and grow relationships across the University, which has been very rewarding. I also feel grateful to be able to continue working with students and harnessing my creativity through unique programming.
Tell us what you're doing today academically, career or life-wise and what your future plans are?
For my career, I am fully focused on educating and supporting the TAMIU community to the best of my ability. This includes continuing to enhance my education through trainings, continuing to diversify programming, and ensuring compliance in an ever-evolving legal landscape. As for my future plans, I would like to continue growing my knowledge in the civil rights area to contribute and impact the field. It is my hope that the efforts of the TAMIU EOD Office will become a model in The Texas A&M University System and the country.
Why should Women's History Month be important to all?
Women's history should be important to all because it reminds our society of the essential roles women have assumed throughout history which have helped us gain specific rights, self-respect, and recognition. Recognizing the achievements of women can help inspire generations of girls and women to continue to strive for a more inclusive society that does not discriminate based on gender.
What advice would you share with women who are aspiring to follow your path professionally?
To any woman aspiring to follow my or any other professional calling, I say that no matter the roadblocks that may emerge before you, stay the course and be resilient. Women still, unfortunately, face barriers in the professional environment, but it is important to remain true to yourself, maintain integrity, work to break down barriers, and make a difference.