Posted: 10/07/21
TAMIU Names Recipients of Faculty, Community Awards

Texas A&M International University's (TAMIU) Fall University Convocation recognized stellar faculty and community partners this week in a ceremony at the Center for the Fine and Performing Arts Recital Hall.
TAMIU provost and vice president for Academic Affairs, Dr. Tom Mitchell, presented the 2021 Awards to University faculty while TAMIU President Pablo Arenaz presented the Senator Judith Zaffirini Leadership Medal Award, the Innovador Award, and the University's annual State of the University message.
Receiving the University's Instructional Technology Excellence Award was Dr. Jared R. Dmello, assistant professor, College of Arts and Sciences. He weaves a bright tapestry of technology that both informs and inspires, using Padlet, PhotoVoice, Top Hat …and even Tik-Tok to constantly enhance student learning and engagement. In addition, he is now a certified "Quality Matters Peer Reviewer" dedicated to improving further the quality of TAMIU's online courses. 
The Outstanding Teacher Award was presented to Dr. Hayley D. Kazen, assistant professional, University College. Known for her innovative teaching style, student-centered classroom, and global outreach, she has led her students around the world on several Reading the Globe trips. She received the 2018 Instructional Technology Excellence Award and the 2020 National Excellence in Teaching Award from the National Resource Center for First-Year Experience.
The Distinguished Teacher Award was received by Dr. Fei Luo, assistant professor, College of Arts and Sciences. Students say she is dedicated, passionate, and caring…and will work with them patiently until they succeed. A faculty observer said she "explains statistics so well…I wish I had taken Stats with her." Her scholarship is equally impressive, including co-authoring a book and publishing eight peer-reviewed articles with others under review.
Distinguished Scholar of the Year Award was earned by Dr. Deepak Ganta, associate professor, School of Engineering.  An active and highly productive scholar, he has published 24 peer-reviewed journal research articles. He maintains an active research agenda including acting as principal investigator for three externally funded grants totaling over $2 million. The Texas Engineering Experiment Station recognized him for fostering collaboration in engineering throughout the A&M System.
Dr. Arenaz presented the Senator Judith Zaffirini Leadership Medal Award to Dr. Lola Norris, associate professor, College of Arts and Sciences. The Zaffirini Award recognizes a faculty member who has exhibited meritorious service and exemplary leadership to TAMIU while researching in their area of expertise. 
"This year's recipient embodies those qualities that Senator Zaffirini laid out when she created this award.  A faculty member since 1993, Dr. Norris has long been involved in our Language, Literature, and Translation programs and continues to be an advocate and leader for them. Among her many roles, Dr. Norris' leadership truly shined during the COVID-19 Pandemic.  As president of the Faculty Senate, she was the voice of the faculty, shared their concerns and made significant contributions to the discussion of difficult topics as we traversed the Pandemic.  She was a true advocate for faculty, their concerns, and their needs throughout her tenure as president," Dr. Arenaz noted. 
Norris is a previous recipient of the University's Distinguished Teacher in 2018, received the Lifetime Achievement award from the Women's Leadership Summit, and served as president of Phi Kappa Phi.
The University's Innovador Award was created in 2019 to recognize an individual or organization making a lasting impact on education, particularly higher education in Laredo and the south Texas region.
This year's Innovador Award was presented to The Guadalupe and Lilia Martínez Foundation Trustees Bob and Shirley González.
Arenaz praised the Foundation's expansive role at the University and in the community.
"The mission of the Foundation is to assist worthy charitable organizations for charitable, scientific, religious, public safety, art, health, historical and educational purposes so those organizations can provide services with expertise.   Shirley and Bob certainly have fulfilled that mission.  They have supported TAMIU in several ways, but most importantly, because of their love of travel and their interest in providing international learning opportunities for TAMIU students, they have funded scholarships for our Study Abroad program," he said.
Their community impact is also widespread, Arenaz observed.
"The Foundation has also funded many organizations that directly or indirectly have an impact on the education of young people in this community. Among these are AHEC, the Boys and Girls Clubs, The Imaginarium, Junior Achievement, and Laredo College," he noted.
The event was offered live and also livestreamed.
For additional information, reach out to the University's Office of Public Relations, Marketing and Information Services at prmis@tamiu.edu , call 956.326.2180 or visit the University's website at tamiu.edu
Information is also available on the University's social channels on Facebook, Instagram, LinkedIn, Twitter and YouTube.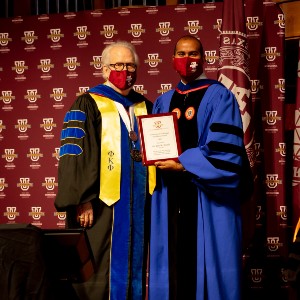 Dr. Jared R. Dmello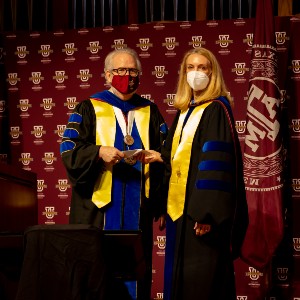 Dr. Hayley D. Kazen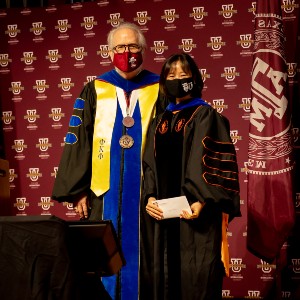 Dr. Fei Luo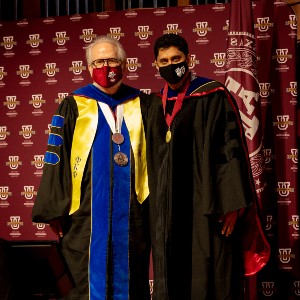 Dr. Deepak Ganta
Dr. Lola Norris