Posted: 6/03/22
TAMIU Launches Certified Public Manager Program, Partners with City of Laredo

Texas A&M International University (TAMIU) launched a Certified Public Manager (CPM) Program this week designed to enhance public servants' skills and knowledge in the area of municipal management and administration.
The CPM program, a nationally-accredited program offered by TAMIU's Master of Public Administration Program through the Office of Continuing Education, kicked off Friday at the City of Laredo Public Works Building, with its first cohort of 15 City of Laredo department directors.
A culmination of years of collaboration between Texas State University (San Marcos), TAMIU, and the City of Laredo, the program's is the beginning of the CPM-focused public service training to the City's employees, said Dr. Peter Haruna, TAMIU MPA program director.
"The CPM program opens doors to practitioners who desire skill and knowledge enhancement without seeking a full-scale graduate degree," Dr. Haruna explained, "The first cohort will complete and graduate by December 2022. This is a win-win for all of our stakeholders: City of Laredo, TAMIU, Texas State University and the entire CPM program community."
Keith Selman, City of Laredo interim city manager, said that the CPM program provides an opportunity for professional and personal growth for City of Laredo leaders.
"Continuing education is crucial," Selman said, "I am a firm believer that in order to provide the best public service to our community, we must grow individually. I am confident that our team leaders can now pursue this opportunity to grow professionally and personally through education. The partnership with TAMIU will serve as an attractive feature for aspiring professionals who desire to serve the community as part of the City team."
The program's seven tracks cover personnel administration, communication, productivity and program evaluation, managing for quality, budgeting and finance, information technology, and a capstone practicum. Program delivery will be based mainly on case study analysis and reflections on municipal best practices, Haruna said.
Short-term training programs such as the CPM program advance TAMIU's strategic plan by promoting strategic partnerships with the immediate community and other institutions, and also by facilitating skill and knowledge sharing in a cost-effective fashion, Haruna noted.
"Our gratitude goes to core CPM program faculty from TAMIU and Texas State University, who have willingly agreed to participate and deliver the CPM courses," Haruna said.
"Even though it has taken a few years to get to this point, it's worth the effort. We extend heartfelt congratulations to everyone who has played a role in successfully creating and implementing TAMIU's first-ever CPM program, especially Texas State University, City of Laredo, TAMIU Continuing Education Office and TAMIU MPA program," Haruna concluded.
For more information, please contact Dr. Haruna at  pharuna@tamiu.edu, call 956.326.2613 or visit the CPM program site at https://www.tamiu.edu/ce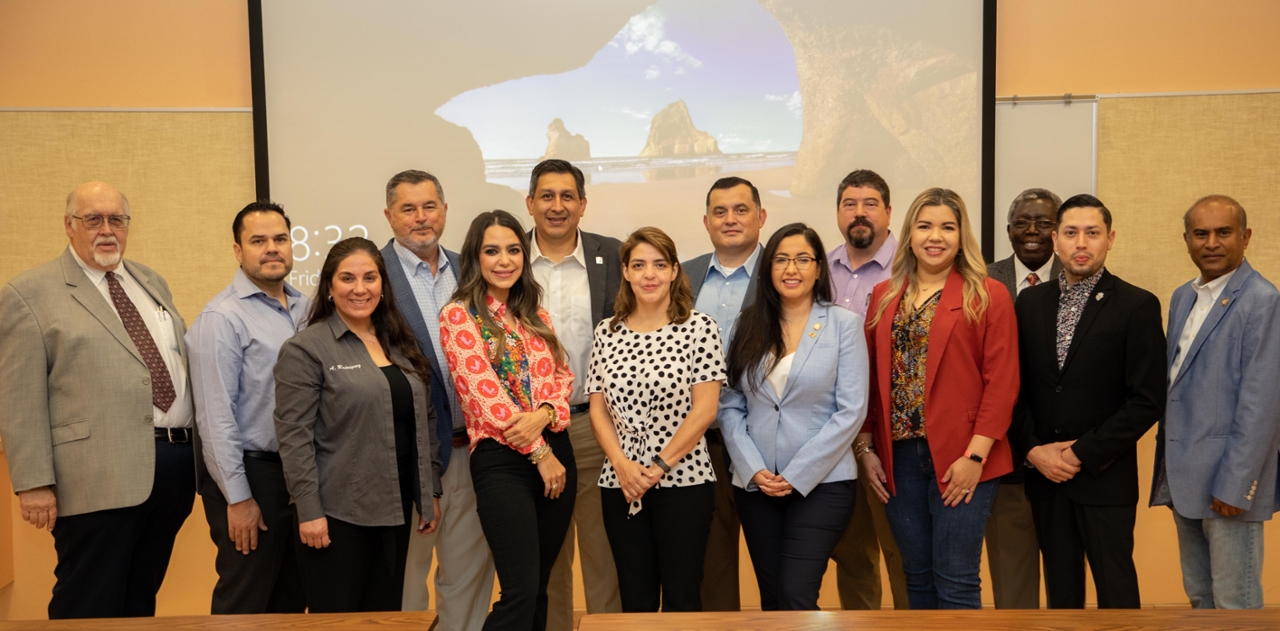 TAMIU President Dr. Pablo Arenaz (far left), and  Dr. Peter Haruna, TAMIU MPA Program director, join the inaugural class of the 2022 CPM Program.