Posted: 3/23/23
TAMIU Criminal Justice Faculty, Graduate Students Present at 2023 Academy of Criminal Justice Sciences Annual Conference

Five Texas A&M International University (TAMIU) Criminal Justice faculty members and eight graduate students recently presented their current research with paper and poster presentations at the 2023 Academy of Criminal Justice Sciences Conference.
The annual Conference was held March 14 - 18 at the Gaylord National Resort and Convention Center in National Harbor, MD.
The Academy of Criminal Justice Sciences (ACJS) is an international association established in 1963 to foster professional and scholarly activities in the field of Criminal Justice. ACJS promotes Criminal Justice education, research, and policy analysis within the discipline of Criminal Justice for both educators and practitioners.
This year, the number of graduate student participants in the Conference marked a new record for the TAMIU Criminal Justice Program, with seven doctoral and one master's student participating, said Dr. Daniel Scott and Dr. Fei Luo, TAMIU Criminal Justice Program co-directors.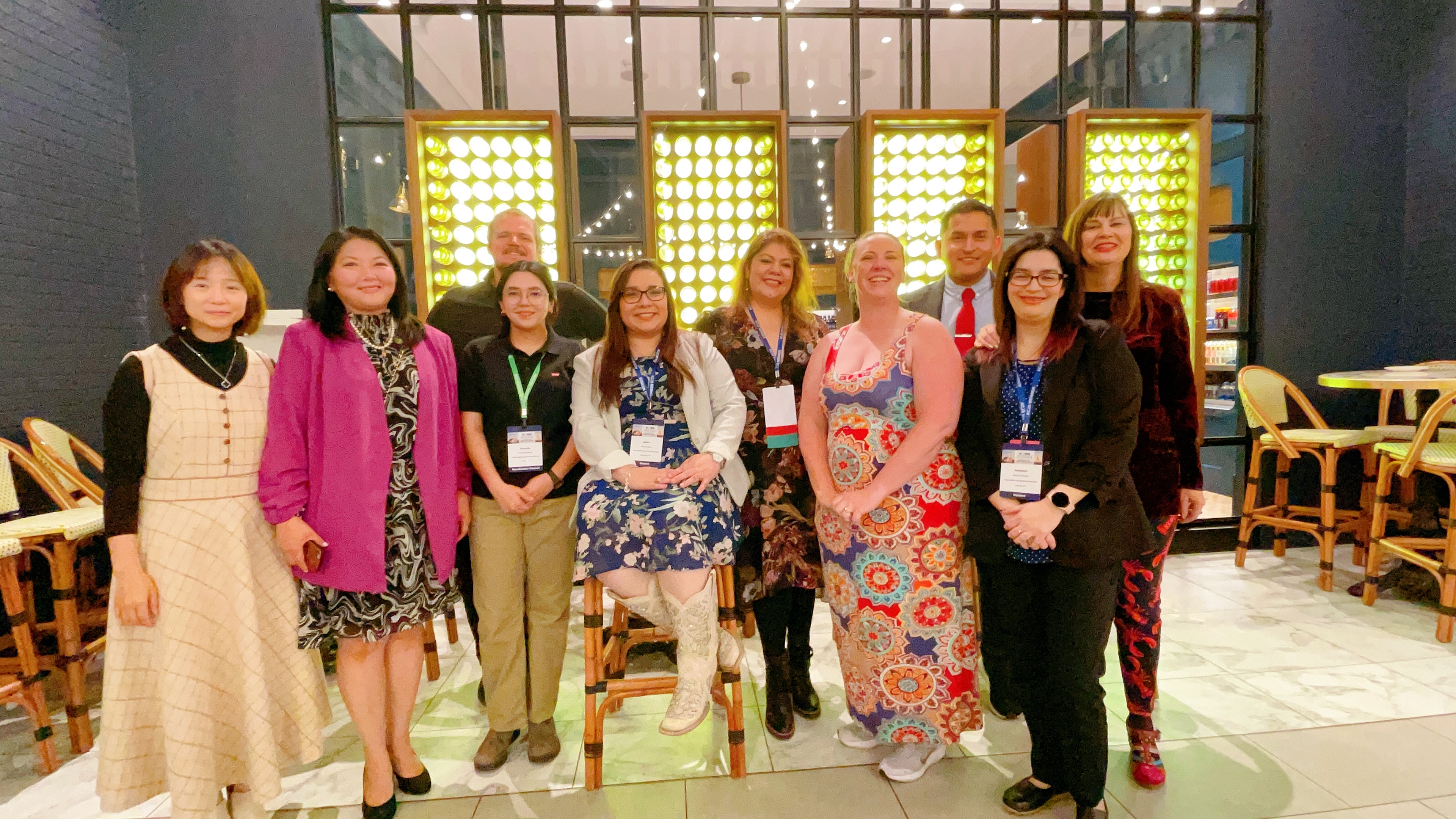 Pictured from left to right, front row, are: Dr. Fei Luo, Mika Akikuni, Priscilla Villarreal, Allica Campos, Citlaly Berenice Palau, Briana Ponce, Carlos Alvarez, Vanessa Almaraz, and Belinda Latsky-Campbell. Back row: Dr. Daniel Scott.
"This highlights the commitment of our students to the program, field, and their overall success in achieving their degree," Dr. Scott said, "It also shows how committed the faculty are to educating and mentoring students on their various research projects and interests."
Scott said participation in ACJS showcases both TAMIU graduate students' and faculty's research at the national level.
"It highlights the quality of work that both our faculty and students are achieving, and quality of education our students are receiving," he said, "Also, participation helps to put a spotlight on Laredo and South Texas and the great work we are doing at TAMIU."
Dr. Luo added that presentations like these provide students with networking opportunities and experience addressing their research questions.
"This ultimately will help guide their future work, and prepare them for their portfolio defense, dissertation defense, and future professional presentations," she said.
Presentation topics and authors included the following:
"Exploring Key Influences on Jury Decision-Making,"
Author/Presenter: Belinda Latsky-Campbell.
"Gendered Pathways Analysis of the Relationship Between Childhood Victimization and Criminal Behavior,"
Author/Presenter: Briana Ponce.
"50 Years of Terroristic Attacks in Latin America: An Exploration of Predictive Variables,"
Author/Presenter: Mika Akikuni.
"Crimen en la Frontera: A Geospatial Analysis of Human Smuggling and Drug Crime,"
Author/Presenter: Carlos Alvarez, Author: Dr. Jascha Wagner.
"Caregiver Type and Gang Involvement: A Comparison of Female and Male Gang Members,"
Author/Presenter: Priscilla Villarreal, Author/Presenter: Dr. Daniel Scott.
"Do We Really Need Female Victimization in Media for Entertainment?,"
Author/Presenter: Vanessa Lynn Almaraz.
"Ways to Treatment for Criminal Justice-Involved Individuals with SMI or Substance Abuse,"
Author: Dr. Brittany J. Hood, Presenter/Author: Allica Campos.
"Gender Sex Comparisons in Gang Involvement and Substance Use,"
Author/Presenter: Citlaly Berenice Palau, Author/Presenter: Dr. Daniel Scott.
"Does Cultural and Political Orientation Influence Police Officers' Perceptions of a War on Police?,"
Author/Presenter: Dr. Fei Luo, Author: Dr. Marcus Tyler Carey.
For more information on the TAMIU Criminal Justice Program, please contact Dr. Scott at 956.326.2626, or email daniel.scott@tamiu.edu or Dr. Luo at 956.326.2622, or email fei.luo@tamiu.edu.
Registration for Maymester, Summer, and Fall 2023 begins Monday, April 3 at 12:01 a.m. An individual's registration start date and time are based on a phased registration schedule. View the registration schedule here: https://www.tamiu.edu/registrar/registration.shtml.
University news and information can also be found online at tamiu.edu and on TAMIU's social channels on Facebook, Instagram, LinkedIn, Twitter and YouTube.