Posted: 4/11/23
Rep. Cuellar Announces Nearly $3 Million to Promote Graduate-Level Opportunities for Hispanics at TAMIU

U.S. Congressman Henry Cuellar (TX-28) announced $2,910,420 in federal funding for Texas A&M International University (TAMIU) to promote graduate-level opportunities for Hispanics through its Next Level Engineering (NLE) Project at a press event Tuesday, April 11, 2023, in the Sue and Radcliffe Killam Library Colonnade.
The Project will expand courses and institutional resources for Hispanic graduate-level students by developing a Master of Science (MS) in Systems Engineering and graduate certificates in engineering fields. An MS in Systems Engineering can lead to career opportunities in aerospace and defense, software development, engineering services, automotive manufacturing, information technology services, medical device manufacturing, and many more rewarding fields.
Cong. Cuellar said the initiative will help close a significant gap in graduate credential attainment by Hispanics. 
"Despite Hispanic graduate student enrollment increasing at a faster rate than other groups, this enrollment increase has not yet closed the significant gap in attainment of graduate credentials between Hispanic and non-Hispanic White adults," said Congressman Cuellar, "There is potential for greater earnings, job security, and employment options for Hispanic students who enroll and attain credentials beyond a bachelor's degree.Through the NLE Project, TAMIU will help Hispanics achieve that potential. I want to thank Texas A&M System Chancellor John Sharp, and TAMIU President Pablo Arenaz for their commitment to expanding educational opportunities for Hispanic Americans."
A&M System Chancellor John Sharp concurred and said Cong. Cuellar is ensuring programs of impact for System universities.
"As an appropriator, Congressman Cuellar ensures that programs of impact to Texas A&M University System universities and students are robustly funded," said Chancellor John Sharp, "This is particularly true for the Promoting Postbaccalaureate Opportunities for Hispanic Americans grant program, and I look forward to seeing the benefits of this federal grant funding for our engineering students at TAMIU." 
TAMIU president Dr. Pablo Arenaz applauded the shared vision and leadership of Cong. Cuellar and Chancellor Sharp. 
"These sorts of opportunities help to define and distinguish a university experience for its students. Cong. Cuellar has always been a stalwart University partner and a keen advocate for STEM for all, so this is a powerful extension of his legacy here. His leadership, paired with the shared vision of our A&M Chancellor John Sharp, enables us to make a profound difference in the lives of our students by expanding both theirgraduate study opportunities and the career options that will open to them," said Dr. Arenaz. 
The Next Level Engineering Project at TAMIU provides resources and program innovation to a Hispanic-Serving Institution with an 89.3% Hispanic and 76% low-income, and over 51% first-generation student population.
Dr. Mahmoud T. Khasawneh, Director of the School of Engineering and associate professor of Systems Engineering, is Principal Investigator for the Grant, and said it would truly extend the already transformational impact of the undergraduate program.
"Our graduates are already securing top-notch jobs with prestigious Fortune 500 companies and federal government agencies. Our students and graduates have an abundance of talent, we simply need to give them the spaces and resources to prosper…and that's what this Grant makes possible, opening up a chance for a graduate education in Systems Engineering," Dr. Mahmoud T.Khasawneh said. 
He said the TAMIU NLE Project will meet student needs and improve retention and competition by:
*Expanding graduate course offerings with a new MS in Systems Engineering program embedded with flexible engineering graduate certificates and work-based experiential educational opportunities.
*Establishing a mentoring program that serves 150 URM engineering students per year 
*Decreasing advising errors for undergraduate engineering students by 90%. 
*Utilizing new technology to improve student learning outcomes within engineering courses 
*Offering professional development to meet students' holistic needs and bring diversity, equity, and inclusion to the forefront within TAMIU's School of Engineering.
*Increasing the number of URM students entering and earning STEM graduate degrees by 30% over a five-year period, and
*Enhancing the Ph.D. pipeline for URM students. 
Speaking directly to Engineering students in attendance, he said the Grant affirms what he and the School of Engineering faculty consider a sacred opportunity.
"This is a sacred opportunity for our students to change their lives. We worked hard to secure this Grant because of you and for you, because the future starts right here and right now," he assured.
To learn more about undergraduate and graduate opportunities in Engineering, visit the TAMIU College of Arts and Sciences School of Engineering at https://www.tamiu.edu/coas/soen, call 956.326.2446,  or visit offices I the Lamar Bruni  Vergara Science Center, Suite 312.
Registration for TAMIU's Maymester, Summer, and Fall 2023 is now underway.
To learn more about TAMIU's Registration processes, visit the dedicated Registration Hub at https://go.tamiu.edu/registration.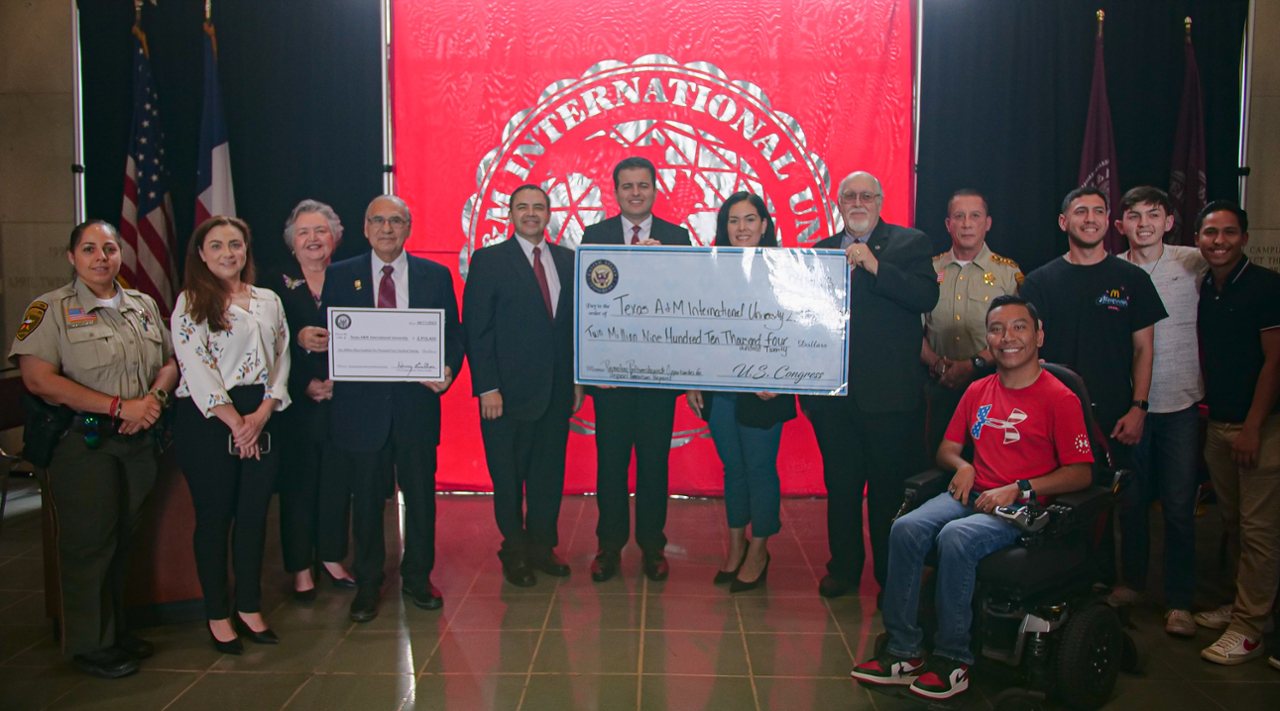 Texas A&M International University  students, faculty, administrators and friends join U.S. Congressman Henry Cuellar to celebrate the announcement of $2,910,420 in federal funding for TAMIU to promote graduate-level opportunities for Hispanics through its Next Level Engineering Project.