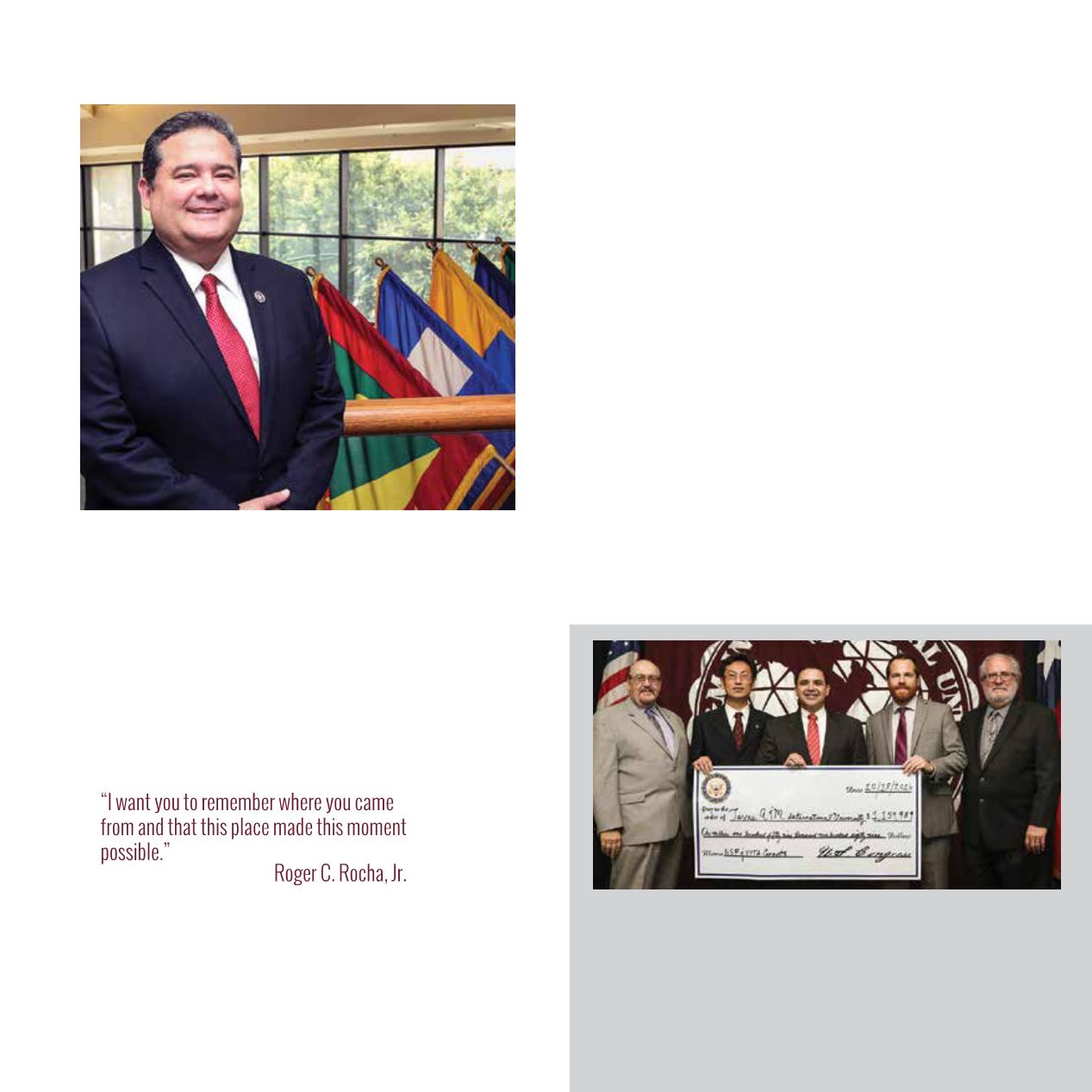 You Can Call this TAMIU Alum
It's a little daunting to walk into a room with thousands of
people and know that they are all there to here you speak. But
that's something that TAMIU grad Roger C. Rocha, Jr. ('93, '10)
Rocha is the National President of the League of United
Latin American Citizens (LULAC), a post he assumed in July
2015. As President, Rocha helps advance programs focused
on civil rights and civil participation, economic development,
education, health and housing, immigration, leadership, public
service and technology and issues of importance to LULAC
His post sees him often jetting across the country weekly
for important conferences and meetings with our nation's
leaders…and he still manages to own and operate his own
successful business, Rocha Primary Care, LLC, a licensed Home
Health Care facility that provides important medical services to
Roger has received numerous professional recognition
awards from AT&T and personal awards from LULAC such as
the Texas LULAC Man of theYear,Veterans Service Advocate,
Communitarian and Advocate of Community Service
recognition from PPEP, Inc., the LNESC recognition award for
Service and Commitment, was recognized as a Paul Harris
Fellow by the Laredo Next Generation Rotary Club,The
Leadership Award for Community Service fromThe American
GI Forum, theYoung Leaders Award from the Island of Puerto
Rico and, fromThe U.S. State Department, the Distinguished
Citizen Diplomat Recognition.
This Summer, he walked into yet another room filled
to capacity…when he returned to provide the TAMIU
Commencement Address to over 180 graduates and their
excited families. He beamed broadly, took a deep breath, and
reminded them of something that guided his path there on
campus…and does so to this day, every day:
"Yes, I want you all to savor this moment, for you have
truly earned it. But I want you to remember where you came
from and that this place made this moment possible. And this
hard-earned moment will provide you with the job, the home
and the life that you want and deserve. Never forget that this
is home," he reminded them.
For Roger Rocha to Go Beyond is an ongoing journey –
but it can often lead you to a place called home.
Congressman Cuellar ('82) celebrated the announcement of twoTAMIU
grants totaling over $1million toTAMIU. Left to right, president Dr. Pablo
Arenaz, Dr. Runchang Lin,TAMIU co-principal investigator; Cong. Cuellar,
Dr. Jack Byham,TAMIU-ledVITA program coordinator, and Dr.Tom Mitchell,
interim provost. The grants are from the National Science Foundation to
fund an undergraduate STEM scholarship program and the U.S. Department
of the Treasury's Volunteer Income Tax Assistance (VITA) Matching Grant
Program.VITA provides free tax preparation services for underserved