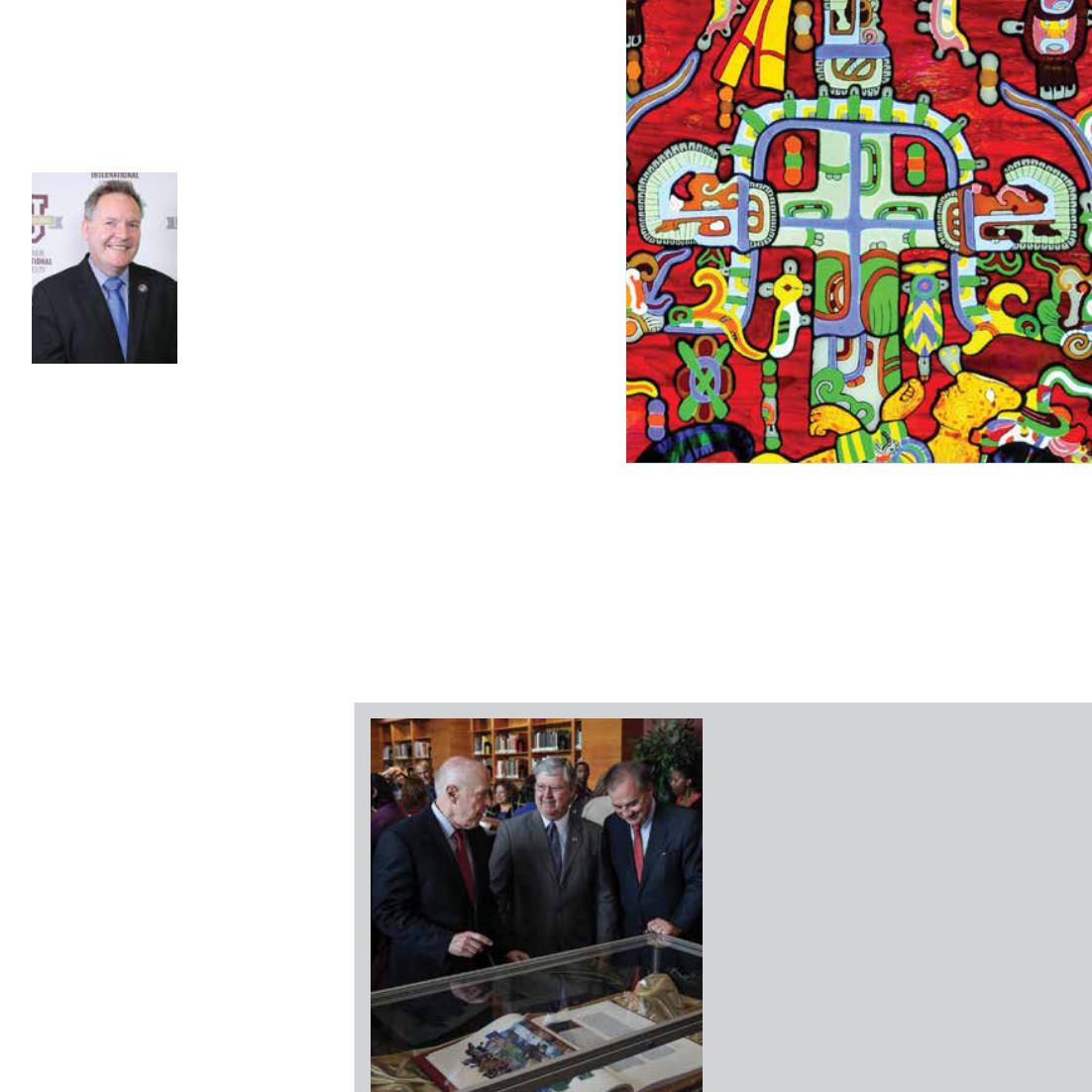 A Light of Beauty Seen with
Stained Glass Window Gift
psychologist, Elisabeth Kubler-
Ross once observed, "People
are like stained glass windows.
They sparkle and shine when
the sun is out, but when the
darkness sets in, their true
beauty is revealed, only if there
making, the remarkable window
Quiros, depicts K'inich Janaab
Pakal, the legendary Mayan ruler
of the city of Palenque, México
from 615-683 AD. It recreates
the famed sarcophagus lid of
Pakal's tomb, studied by archaeologists after its 1948 discovery at the Temple of the
Inscriptions.The completely handmade window uses classic stained glass techniques
and fusing, creating a dynamic and engaging, multi-layered, multi-dimensional image.
It boldly recreates the color and vivacity of the five-ton, 12-foot original. It was
completed at Quiros' studio in Fayetteville,TX.
A retired rancher, Quiros has dedicated the window to the memory of his late
daughter, Susana María Quiros Jacomini and her young family, who sadly perished in a
plane crash in 2008.The window is now at home in TAMIU's Center for the Fine and
Texas A&M International University
Dean of the College Education Dr. James
O'Meara, originally from Australia.
The Texas A&M University System
Board of Regents appointed Dr. O'Meara
to his new post in September.
With 15 years as a collaborative
college leader and 14 years of
international teaching experience,
O'Meara joins the University from the
National Louis University of Chicago, IL
where he was Associate Dean.
O'Meara said he is excited about
"Among all the places I have visited,
Laredo stands out for its record of high
achieving students and schools," he
said, "As the Dean of the College, I am
excited about working with our world
class faculty who are preparing our
future leaders to rise to the challenges
of our increasingly global society."
O'Meara earned his Ed.D. in
Curriculum and Instruction from the
University of Ballarat, Australia. He
also holds a Master of Arts in Distance
Education from the Open University
Milton Keynes, United Kingdom, and
his Bachelor of Education from the
Visionary Bible Gift First
A visionary legacy gift toTAMIU
has made the University the first public
university in Texas home to a Heritage
Edition of The Saint John's Bible.
The Bible gift, one of only 299
available worldwide, was made possible
by The Matias De Llano Charitable
Trust. It is a massive seven-volume
treatment true to the scale, beauty and
artistic intent of the original manuscript,
long considered a work of sacred art.
The Saint John's Bible is now part