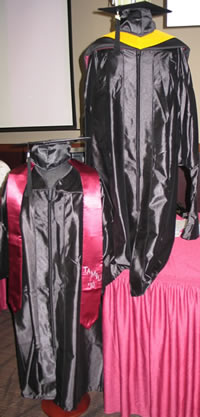 Fall 2015 Regalia Information
It is suggested that candidates wear dark clothing and black shoes.
Cap & Gown
Cap, Gown and Hoods may be purchased at the university bookstore (ZSC 115).
Bachelor Package $ 34.98
Cap $ 6.98
Gown $ 22.98
Tassel $ 5.98
Master Package $ 37.98
Cap $ 6.98
Gown $ 25.98
Tassel $ 5.98
Master Hood $ 33.98
Ph.D. Package $ 47.98
Cap (regular) $ 6.98
Gown $35.98
Tassel $ 5.98
Ph.D. Hood $ 42.98
TAMIU Stole: (pending price)
Order Deadline: November 18, 2015
Late Fee after deadline: $25.00
If you have any questions, please call Mitzi Lara or Candie Rios at (956) 326-2984 or by email at bookstore@tamiu.edu.
International Patches
If you're an international student, international faculty member or a TAMIU student who has studied abroad and received TAMIU academic credit, please consider ordering a special international patch to incorporate in your upcoming Commencement Exercise. This is a great way to recognize your home country or to share your affinity for your country of study. For additional information, please contact the Office of Student Affairs, Student Center 226, at 956-326-2282 or via e-
mail at iss@tamiu.edu.