TAMIU's updated Master Plan
Welcome to an opportunity to look into the future of Texas A&M International University.
We are pleased to present TAMIU's updated Master Plan which will serve as a blueprint for the future of one of Texas' fastest growing state University.
The updated Plan documents the existing facilities and grounds, identifies facilities for the future, and projects future enrollment based on the academic programs offerings that are planned.
We have been fortunate to have the leadership of our legislative team, community donors that have all  helped us to construct this remarkable campus.
We have developed  a beautiful, very well landscaped, maintenance-friendly and technologically advanced facility that supports a dynamic learning environment predicated on student success in the global marketplace.
Thank you for your input and interest in TAMIU. Your comments are welcomed.
Sincerely,
Mr. Juan Castillo
Vice President for Finance and Administration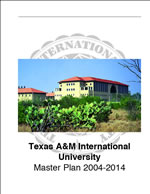 Click on image to open. (7mb PDF)