Posted: 11/06/15
TAMIU Student Researchers Get Third, Top Awards at A&M System Conference

  Texas A&M International University (TAMIU) students garnered 14 awards and placed third overall in The Texas A&M University System's 12th Annual Pathways Student Research Symposium held last week at Texas A&M University-Corpus Christi.
   Dr. Jeff Brown, TAMIU dean of Graduate Students and Research, said Symposium participation offers TAMIU students important research experiences.  73 students participated, traveling by bus to Corpus Christi.
   "Symposium participants compete in separate categories for undergraduate, master's and doctoral level research. The Pathways Symposium provides students an opportunity to present research in a poster or oral format, while interacting and discussing research with faculty, judges, and others. It also provides participants a broader exposure to the TAMUS community.  Our students did a wonderful job and represented TAMIU admirably.  In fact, some were approached on the spot about joining doctoral programs," Dr. Brown explained.
     Categories, Awards Received by Students and TAMIU Faculty mentors included:
Doctoral Business/Computer Information
First: Mohammed Hendijani Zadeh (Dr. Haibo Wang) – Use of Ensemble Classifiers for Bankruptcy Prediction Problem; Second: Efrain Medina (Dr. Wang) – The Effect of Unemployment, Government Expenditure on Education, and Standard of Living on Crime, and Third: Zagdbazar Davaadorj (Wang) – An Integrated-Dynamic Mode of Entry Model: An Extended Approach.
Masters Mathematics
First:  Hongsong Feng (Dr. Runchang Lin) – A Finite Difference Method for the Fitzhugh-Nagumo Equations.
Masters Life Science
Second: Aldo Vasquez (Dr. Michael Kidd) – Designing Genetic Markers for a Regional Endemic Species of Edgewater Mussels.
Masters Business/Computer Information
Second: Parvateesh Gutti (Dr. Haibo Wang) – Mitigation of Hazardous Materials Risk Across Cross-Border and Third: Kartheek Srungaram (Dr. Wang) – Overview of Reliability and Security Issues in Wireless Sensor Networks.
Masters Social Science / Humanities
First: Jonathan Briseño (Dr. Elizabeth Terrazas-Carrillo) – Factors Contributing to the Adjustment of Southeast Asian International Students Attending a Predominantly Bicultural Border University and Third: Rebecka English (Dr. Terrazas-Carrillo) – Exploring Predictors of Cultural Frame Switching on English-Spanish Bilingual's Personality.
Undergraduate Mathematics
Third: Deyanira Morales (Dr. Selina Mireles) – An Investigation of Elementary Students' Mathematics Misconceptions.
Undergraduate Environmental Science
Second: Barbara Montoya (Dr. Mónica Mendez) – Identification of Arsenic Tolerant Bacteria from Slag-Contaminated Soil Along Chacon Creek in Laredo, TX, and Third: Martha Chapa (Dr. Mendez) – The Effect of Triclosan on the Growth of a Plant Growth Promoting Rhizobacterium.
Undergraduate Education
Second:  Ana Cruz (Dr. Weam Al-Tameemi) – Examining the Success of STEM Students in Writing Intensive Courses and  Second: Victoria Lomas (Dr. Sumalai Maroonroge) – Laredo, We Have a Problem.
    For additional information on Graduate Programs and Research opportunities at TAMIU, contact Dr. Brown at 956.326.2596, email jbrown@tamiu.edu, click on http://www.tamiu.edu/gradschool/ or visit offices in the TAMIU Student Center, Suite 124.
    To visit the Pathways Symposium website, go to: http://pathways.tamucc.edu/index.html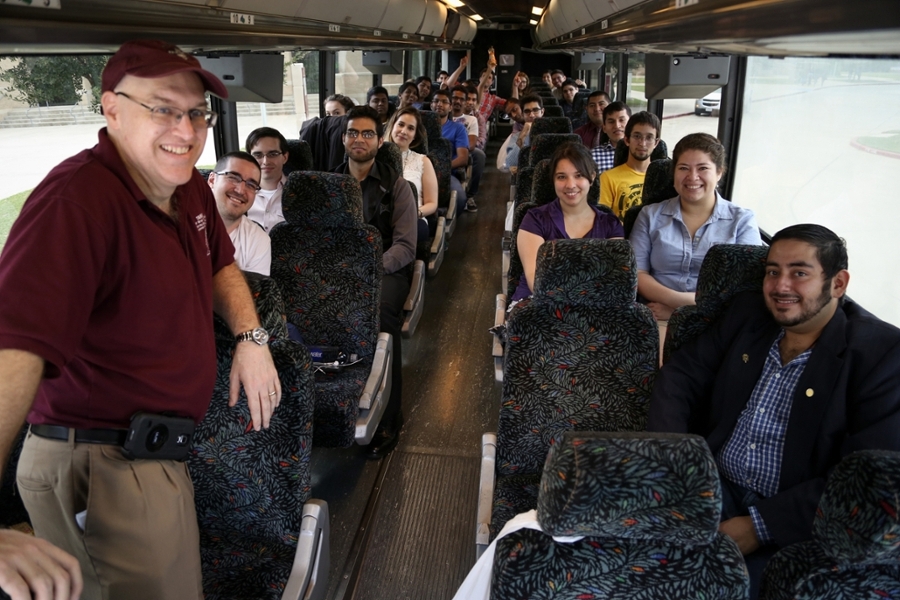 TAMIU students off to Pathways Conference in Corpus Christi.