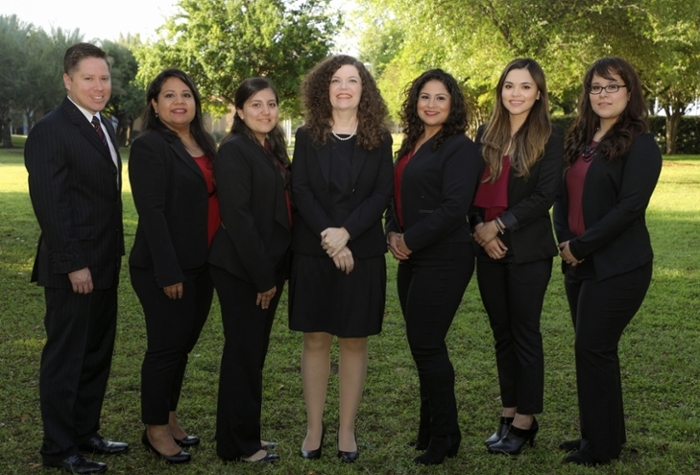 From left to right: Director Guillermo Gonzalez, Executive Assistant Virginia Morales, Associate Director Rebecca Soto,
Dean Jennifer Coronado, Admissions Counselor Michelle Gonzalez, Outreach Coordinator Carolina Rios, and Admissions Specialist Carla Sandoval
At TAMIU, the Graduate School acts as the intellectual and academic heart of the University as we strive to train and educate the next generation of researchers, scholars, teachers, business professionals, and nurses. Faculty members will offer you courses leading to one of twenty-five graduate degrees in humanities, business, education, health, physical, biological, and social sciences, and a doctoral in International Business. Our small classes encourage faculty/student interactions and provide you with opportunities for both professional and personal mentoring, a feature found in the top graduate programs in the country. It is one of a few institutions to offer a Ph.D. in International Business and has dedicated much time and effort to the success of the program. TAMIU also offers a collaborative doctoral programs in Hispanic Studies. To learn more about Texas A&M International University, please visit our page for prospective students or our graduate degree programs page to learn more about all of the graduate programs offered at TAMIU.
Important Dates & Upcoming Events:

June 2, 2017 Application Fee Waiver Date

Submit your application on ApplyTexas.org on June 2, 2017 to have your application fee waived. If you applied for a previous term and failed to complete your application on time, submit a Change of Entry Term Form to graduateadmissions@tamiu.edu on June 2, 2017 to have your application fee waived.
Program Updates
Master of Science in Nursing Administration
It is now possible to earn an MSN in Nursing Administration in 12 months through our new online program! The first cohort is set to start June 2018. Make sure you do not miss this wonderful opportunity, so submit your application by the early admission deadline, November 30. For more information, contact the Nursing Department at (956)-326-3114 or visit their wepage.
Sanchez School of Business
The A.R. Sanchez, Jr. School of Business has added a new GRE exemption to their catalog. Please visit the following page to see if this applies to you!

TopManagementDegrees.com ranks MPA program in Top 50 Online Master's Degrees in Public Administration
The MBA program ranked No. 18 among the Top 50 Most Affordable MBAs
Students say TAMIU's Graduate Programs are Top Notch
The Chronicle of Higher Education names TAMIU among the nation's fastest growing public master's institutions
Like us on Facebook, follow us on Twitter, or join us on LinkedIn
Texas A&M International University (TAMIU) is committed to assisting all members of the TAMIU community in providing for their own safety and security. Information regarding campus security, personal safety, and fire safety is available at
http://www.tamiu.edu/clery.pdf.
Please contact our recruitment team if you have any questions about applying to our programs at
graduateschool@tamiu.edu
Office Hours:
Monday, Tuesday 8:00-5:00
Wednesday, Thursday 8:00-7:00
Friday 8:00-3:00