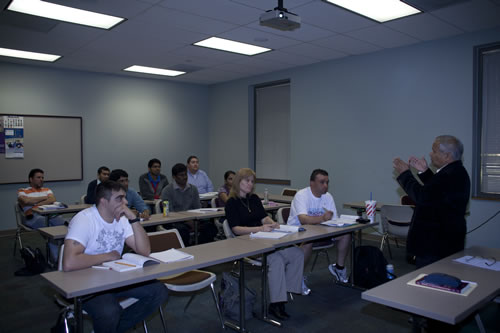 At TAMIU, the Office of Graduate Studies acts as the intellectual and academic heart of the University as we strive to train and educate the next generation of researchers, scholars, teachers, business professionals, and nurses. Faculty members will offer you courses leading to one of twenty-five graduate degrees in humanities, business, education, health, physical, biological, and social sciences, and a doctoral in International Business. Our small classes encourage faculty/student interactions and provide you with opportunities for both professional and personal mentoring, a feature found in the top graduate programs in the country. It is one of a few institutions to offer a Ph.D. in International Business and has dedicated much time and effort to the success of the program. TAMIU also offers a collaborative doctoral programs in Hispanic Studies. To learn more about Texas A&M International University, please visit our page for
prospective students
or our
graduate degree programs
page to learn more about all of the graduate programs offered at TAMIU.
Need to change semesters or defer admission? Submit a Change of Entry Term form.
*New fee required if submitting after 4th class day of Summer and 12th class day of Fall/Spring.
Important Dates & Upcoming Events:

Summer II - First Class Day, July 11

Fall 2016 - First Class Day, August 23

*For more information please click on the academic calendar button located above these dates.*
Preferred

Admission 

Application Submission Deadlines
Program/College
Fall                       

Spring
Summer         

College of Arts and Sciences
1-Apr
1-Nov
30-Apr
Counseling Psychology
30-Apr
N/A
N/A
College of Education
30-Apr
Domestic: 30-Nov
International: 1-Oct     
30-Apr
School Counseling
1-Jul
1-Nov
1-Mar
Sanchez School of Business
30-Apr                    
Domestic: 30-Nov
International: 1-Oct
30-Apr                  
PHD International Business Administration     
21-Mar
N/A
N/A
Canseco School of Nursing
30-Apr
N/A
N/A
Students may still submit applications after the abovementioned deadlines have passed, but students are more likely to only be granted admission on a provisional status (if applicable), as most application review committees meet according to the dates specified above. Additionally, individuals applying after these deadlines will be required to submit a late graduate application fee.
TopManagementDegrees.com ranks MPA program in Top 50 Online Master's Degrees in Public Administration
Like us on Facebook, follow us on Twitter, or join us on LinkedIn
Texas A&M International University (TAMIU) is committed to assisting all members of the TAMIU community in providing for their own safety and security. Information regarding campus security, personal safety, and fire safety is available at
http://www.tamiu.edu/clery.pdf.
Office of Graduate Studies & Research
Zaffirini Student Success Center 206
Texas A&M International University
Laredo, Texas 78041-1900
Phone: (956) 326-3020
Fax: (956) 326-3021 
Please contact our recruitment team if you have any questions about applying to our programs at
graduateschool@tamiu.edu
Summer Office Hours:
Monday-Thursday 8:00-6:00
Friday 8:00-12:00