Posted: 8/19/16
TAMIU to Offer 'Great Minds, Great Times' with New Signature Courses

Next spring, incoming freshmen students at Texas A&M International University (TAMIU) will be part of an innovative opportunity setting the stage for their future. "Signature Courses," a mandatory series of special, focused courses taught by select, seasoned TAMIU faculty members, will begin.
TAMIU interim president Dr. Pablo Arenaz said the initiative is one of the most exciting recent additions to the University's programs.
"This is a bold, new offering that we think has tremendous relevance and promise for our incoming students.  It will really help to set the tone for their development and progress going forward. It offers them a singularly transformative experience in their first year that will guide their undergraduate and possibly life journey," Dr. Arenaz said.
Dr. Catheryn Weitman, Dean of University College, and program coordinator, said Signature Courses are a relatively new addition to higher education.
"We've dubbed our program 'Great Minds, Great Times,' and indeed Signature Courses are one of the more intriguing initiatives on today's University campuses.  They provide first year students and transfer students with less than 30 hours an opportunity to dive into a compelling and interdisciplinary course with expert and passionate faculty.  Together, faculty and students begin to make connections and integrations, and to ask the big questions that are the hallmarks of learning. They expose themselves to different ideas, perspectives and disciplines, and experience future success. In our fast-paced international world, complex problems require interdisciplinary solutions.
"Signature Courses offer fascinating insight, spirited discussion and help to open the door wide for new students to approach their educational journey here, and become lifelong learners. For faculty, they provide an opportunity to thoroughly mine and explore an area of research expertise with students that is not often defined in a traditional classroom setting," Dr. Weitman continued.
Signature Courses offer up a broad spectrum of topics designed to both intrigue and prompt discovery, Weitman added.
"Our faculty has created an energetic and expansive inventory of courses that will inspire, inform and engage.  We will look at themes that endure and themes that emerge. For example, we have a course that will look at the role of food in culture, identity and politics.  We'll look at the gender pre-sets in big marketing, and we'll travel back in time with Aristotle to define love, friendship and justice.  We'll project ourselves into the future, and try and posit a pathway to environmental sustainability," she explained.
She said students are especially encouraged to step outside of their usual areas of interest and explore the unknown with Signature Courses.  She noted other universities maintain that Signature Courses leave a lasting impression and set the groundwork for college-level expectations.
"For example, we would suggest that a student whose interest is business to instead embrace a subject they would not traditionally associate with business – perhaps a look at the historic use of art to advance political movements," she said, cautioning, "the topic, however, is not as important as the processes learned through exposure to Signature Courses."
TAMIU faculty members submitted a course proposal to be a part of the Signature Course Fellows faculty that was peer-reviewed before final selection of the Spring 2017 courses was made. Selected courses will be offered once each Spring.
Weitman said the University drew its inspiration for the courses from some of the nation's top campuses, including Duke University and The University of Texas at Austin, both pioneers in Signature Courses.
"We wanted to bring that experience to our University.  We've established a strong Study Abroad tradition here at the International U and we feel that Signature Courses will help to inform and encourage additional exploration of cultures, ideas and self-awareness.  We visited with our counterparts at UT-Austin and they were especially helpful in our development of Signature Courses here," Weitman said.
While Signature Courses will indeed open doors to exploration, she said the primary goal is for students to look within, explore new horizons, and become critical thinkers who value new ways of looking at ideas and concepts.
"The primary goal of Signature Courses will be to help students to develop habits of mind and study, to look at context and to better understand the importance of analytical thinking.  These are the foundations of all student success efforts on this campus and all around the world," she concluded.
For more on TAMIU Signature Courses, contact Dr. Weitman at University College, 956.326.2801, or click on http://www.tamiu.edu/uc/signaturecourses/index.shtml
The first day of classes for the Fall Semester 2016 is Tuesday, Aug. 23, 2016.
Please visit www.tamiu.edu/registrar/registration for assigned registration dates, email registrar@tamiu.edu, call the Office of the Registrar at 956.326.2250 or visit offices in the Senator Judith Zaffirini Student Success Center, Suite 121.
Additional TAMIU information is available at tamiu.edu and on social media sites on Facebook, Instagram, Twitter and YouTube.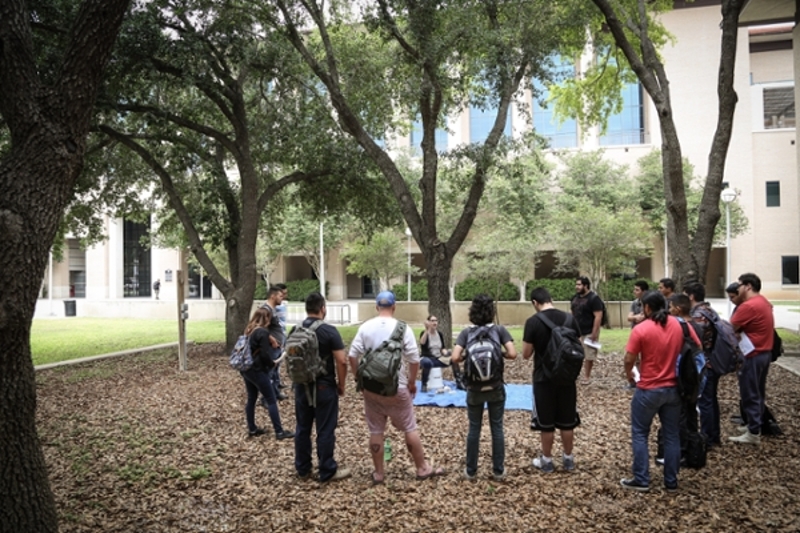 Signature Courses are a relatively new addition to higher education.  TAMIU adds them next Spring.