Posted: 6/14/17
In New Video, TAMIU Student Veteran Shares Voice, Dream for Fellow Brothers and Sisters in Service

A Texas A&M International University (TAMIU) student veteran is helping to make sure that his Armed Forces brothers and sisters are aware of the higher education opportunities and services available to them at TAMIU. 
Joe Garza, a senior TAMIU psychology major, is featured in a Texas A&M University System video initiative, "Veteran's Voices: Their Stories, Vets on Campus," which shares the multi-layered perspective of the A&M System's many student veterans. 
The United South High School graduate enlisted in the Marine Corps after high school at age 17.  He completed 13 years with the Marine Corps, and then said he felt the need to begin a new challenge. 
"I made the choice to fight a new battle at home, and get a degree to better serve my brothers and sisters coming back from war as a counselor," Garza explained.
The full-time student is a student worker in TAMIU's Office of Veterans Affairs.  He also serves as President of the TAMIU Student Veterans Association. He said he's happy to be their voice, and sometimes ear for occasional venting.
"I know what they're worried about.  I was nervous and scared coming back to the University, but here at TAMIU, they fully embrace the veteran culture on this campus.  The opportunity and the support they provide is just enormous…and getting bigger all the time," Garza noted. 
On average, TAMIU enrolls about 100 student veterans each semester, said TAMIU   Veterans Affairs coordinator Eric Aguilar. Aguilar recommended Garza for the A&M System project.
"Joe is really engaged here on campus and his perspective and experience is really helpful to his fellow student veterans.  As a veteran myself, I'm encouraged to see him committed to serving others," Aguilar observed.
The video was directed and shot by award-winning TAMIU videographer Rolando Santos from the University's Office of Public Relations, Marketing and Information Services. 
It is featured on a dedicated site on The Texas A&M University System website, and has been widely shared on social media.
The TAMIU Office of Veterans Affairs assists students who have served in the United States Armed Forces and who are now attending college using any Federal or State Veteran Education Benefits. It assists the dependents and/or spouses of deceased or disabled veterans through Dependents Educational Assistance or Hazelwood.
Services include information regarding educational benefits from the Department of Veterans Affairs, applying for GI Bill benefits, certifying enrollment to the VA for payment for semesters attended, and assistance in resolving pay problems.
Offices are located in the Senator Judith Zaffirini Student Success Center, room 121K.  Information is available online at http://www.tamiu.edu/veterans/ by email at veteransoffice@tamiu.edu, or by phone at 956.326.2254.
TAMIU summer office hours are from 8 a.m. – 6 p.m. Mon-Thurs and from 8 a.m. – 12 noon on Fridays.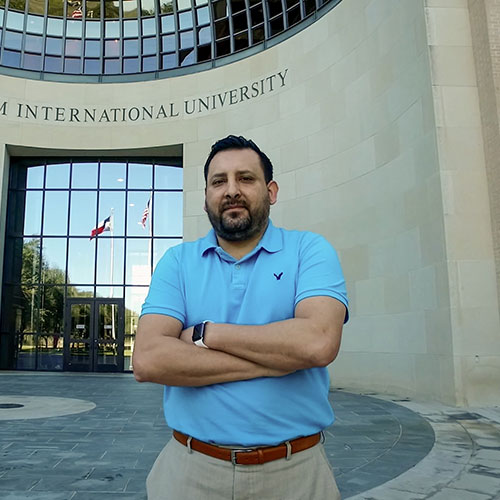 Joe Garza is President of the TAMIU Student Veterans Association.