Posted: 5/29/20
TAMIU Takes Novel Approach to Welcoming New Students at Home

This Friday, incoming freshmen at Texas A&M International University (TAMIU) will have members of the University community welcome them to the TAMIU Class of 2024 community…at their own front door.
TAMIU Orientation Staff and Student Success Mentors will deliver TAMIU Welcome Packets to some 200-plus students at their homes Friday, using 12 vehicles and routes across the City to begin to bring the University experience home to students.
TAMIU program director for Student Orientation, Leadership and Engagement, Dr. Nicholas Hudson, said the outreach effort is a novel solution to the challenges of the day.
"Clearly, we would traditionally welcome students on our own campus with a series of Orientation activities and events.  This year, in light of our ongoing response to the COVID-19 Pandemic, we had to revisit our plans, but still provide our students with one of their most important initial University experience: Orientation.  So while we're taking our Orientation into the virtual world, we still want to offer a real-world first 'Welcome' to our new students -- by meeting them at home and respecting all social distancing and gathering guidelines," Dr. Hudson explained.
The special surprise Welcome Packets for new students will include online Orientation information, a T-shirt and TAMIU "swag,"  a $15 gift card for lunch at a local restaurant, and a lawn sign for the student that proudly proclaims "TAMIU Bound."
Hudson said the creative initiative will be taking place over the next few Fridays, with the goal of reaching some 1400 incoming freshmen before the start of the Fall Semester.
"These are admittedly challenging times for all students, but we wanted to reach out and share our Dustdevil spirit and let our TAMIU Class of 2024 know that we're online and by their side…and ready to go beyond with them this Fall at TAMIU,"  Hudson concluded.
Registration for Summer and Fall 2020 courses is now underway at TAMIU. The Summer Session, offered completely online, begins Monday, June 1.
An online catalog containing a list of all undergraduate, graduate and doctoral degree programs is at http://catalog.tamiu.edu
As part of its response to the COVID-19 pandemic, TAMIU's campus is closed only to the general public. Entry to campus continues for students, faculty, staff and those having legitimate reasons to be on campus. Online and virtual services at the University continue, practicing all CDC Guidelines on gathering, masking and social distancing and with most staff working remotely.  Office hours are subject to change and it is recommended that phone or email contact be made first to determine the office's schedule of operation.   An online directory is here.
The University's dedicated COVID-19 website is updated daily and includes information on office schedules and services, an expansive FAQ, quick links, student resources, official information links and much more.
Texas A&M International University freshman student Jared Nava (center) holds his brand new "TAMIU Bound" lawn sign. A lawn sign and welcome packet were brought to him by New Student Orientation Leaders Yamile Vasquez (left) and Daniel Perez (right).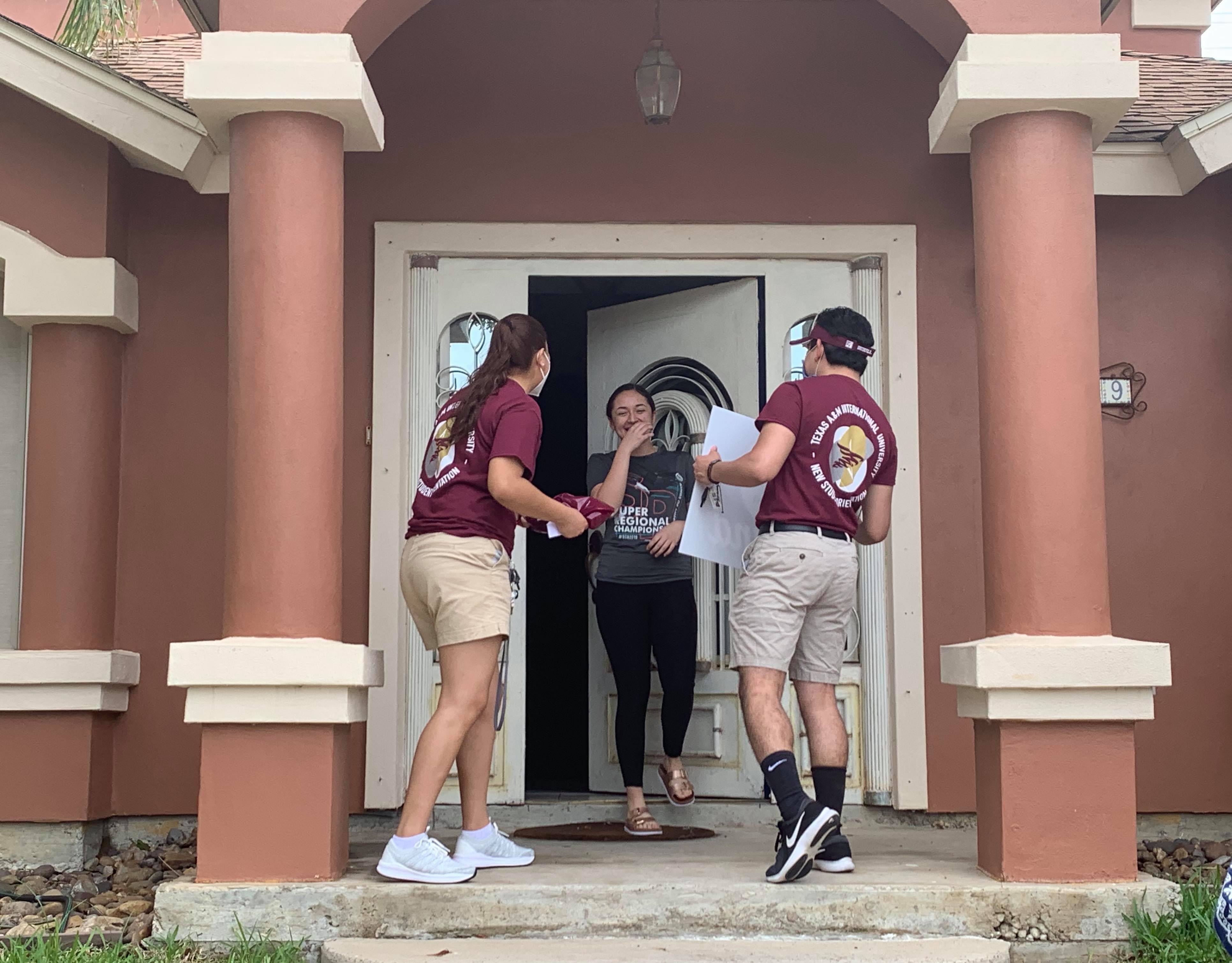 Texas A&M International University freshman student Maria Espericueta (center) was in for a surprise after New Student Orientation Leaders Yamile Vasquez (left) and Daniel Perez (right) brought a welcome packet and lawn sign to her home.