Posted: 6/24/21
Two Cherished TAMIU Nursing Faculty to Retire

Two much-cherished Texas A&M International University (TAMIU) College of Nursing and Health Sciences faculty with combined service and teaching of over 90 years in Nursing will retire this summer. 
TAMIU Dean of the College of Nursing and Health Sciences' Dr. F. M. Canseco School of Nursing shared news of the retirements of Dr. Rose Saldivar, clinical assistant professor and  coordinator of the Dr. F. M. Canseco School of Nursing's Family Nurse Practitioner (FNP) program and Linda Flores, lead instructor.
"Both are truly remarkable core faculty known for their strong advocacy for and support of our students.  Their commitment assures the academic and professional success of our graduates.  Their firm guidance, education, preparation and training helps each  graduate to realize their own healthcare mission to honor the communities they all so proudly serve.  Their service to education, coupled with their professional service as nurses, has provided our students and graduates remarkable career insight," Dr. Torregosa said.
Dr. Saldivar joined the Dr. F. M. Canseco School of Nursing in 2000. She is both a certified Family Nurse Practitioner and a Psychiatric Mental Health Nurse Practitioner. She has taught in both the graduate and undergraduate nursing programs. Most recently, she coordinated the continued participation of FNP students in multiple City and TAMIU COVID- 19 vaccination drives. She was named this year's recipient of the prestigious DAISY (Diseases Attacking the Immune System)  Award for her leadership in empowering nurses. 
Prior to joining TAMIU, she served her profession as a family nurse practitioner.  In total, her years of service to nursing as a profession and educator exceed 40 years.
Her Doctor of Nursing Practice was earned at the University of Wisconsin - Milwaukee.  Her MS in Nursing was completed at Texas A&M University-Corpus Christi and her BS in Nursing at the University of Texas Medical Branch. She holds additional certification from the UT Health Science Center in San Antonio.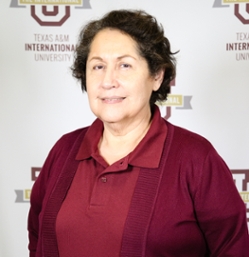 Flores has an equally storied career started in 1969, spanning some 52 years in multiple healthcare settings.  Prior to joining TAMIU in 2006, she served in various capacities at the former Mercy Regional Medical Center, including home health services coordinator, patient educator, charge nurse, and director of education.  At Laredo Independent School District, she served as a school nurse. At United Independent School District, she was a school nurse and director of Health Services. 
In addition to her TAMIU service as a lead instructor on topics as varied as Health Assessment, Nutrition and Child Health,  Flores has also served as TAMIU's RN to BSN coordinator. She holds her BSN from Houston Baptist University, her FNP from the UT Health Science Center, San Antonio and her MSN from Texas A&M University-Corpus Christi.
Torregosa said Saldivar and Flores'  service and  teaching impact will be long-appreciated.
"We have a saying here in our TAMIU Nursing program.  'If you want something done, get a nurse.' Dr. Saldivar and Ms. Flores have been getting things done here for over 37  years.  Their commitment, drive and impact will live on in our graduates," Torregosa concluded.
The School of Nursing's recognized programs include a traditional BSN program, an online RN to BSN, a Masters in Nursing Administration (online), and the new MSN Online Family Nurse Practitioner (FNP) Program.
For additional information on TAMIU Nursing programs, visit www.tamiu.edu/conhs or call 956.326.2574.
TAMIU's Fall 2021 plans are focused on a return to a full and vibrant on-campus experience for all students, faculty and staff at its 300-acre northeast Laredo campus. Classes begin Monday, Aug. 23, 2021.
For more information, contact the Office of the University Registrar at 326.2250, email registrar@tamiu.edu or visit offices in the University Success Center, suite 121.