Posted: 11/10/22
Final TSF Performance of 'Macbeth' at TAMIU

One more rare, live opportunity to see and hear the immortal words of the world's playwright, Shakespeare, was offered at Texas A&M International University's (TAMIU) Center for the Fine and Performing Arts Thursday, Nov. 10 at 8 p.m.
That's when the second and final performance of "Macbeth, by the traveling cast of the Kilgore College-based Texas Shakespeare Festival's (TSF) Roadshow was presented free of charge.
The group performed "A Midsummer Night's Dream" on Wednesday.
TAMIU assistant professor of English Dr. Kaitlyn M. Culliton, who spearheaded a grant to help bring TSF to the University, said she believes their appearance was an opportunity to once again celebrate the magic of live theatre with the world's most-famous playwright.
"We've all been through a lot over the past two-plus years.  The opportunity to join as a community, and celebrate the shared experience of live theatre with two celebrated works from the world's playwright is absolutely magical. We're excited to bring this experience to TAMIU for the first time -- and to share it not only with our students, but with the community we love," Dr. Culliton said. 
She noted the selection of the two works performed attests to the broad spectrum of Shakespeare's ability to continue to challenge, entertain, inform and dazzle audiences through time.
"We know all Shakespeare is seminal, but these two works may offer symbolic bookends to the broad library bookshelves that would host his works.  Wednesday's performance of 'A Midsummer Night's Dream,' was a lovable comedy of conflict among lovers and an interconnecting play within a play… all set in a forest inhabited by manipulative fairies with their own set of intrigues.
"Thursday's performance of 'Macbeth' offers a  tragedy that still has an unerring power to inform our times. It looks at the detrimental effects, physical and psychological, upon those who seek power.  In Macbeth, we see power propel those who seek it into rage, madness and death. While it is Shakespeare's shortest tragedy, it is long on impact," Culliton explained.
The TAMIU performances have been made possible by TAMIU's College of Arts and Sciences with grants from and support by Shakespeare in American Communities, a program of the National Endowment for the Arts, in partnership with Arts Midwest; Humanities Texas and the Texas Commission on the Arts.
 The seven-member cast performed multiple roles in both plays. "Macbeth" was directed by Meaghan Simpson, TSF Artistic Director, while Wednesday's "A Midsummer Night's Dream" was directed by Matthew Simpson.
After their TAMIU performances, the TSF Roadshow headed to Odessa for a week-long residency at Odessa College, playing to many West Texas schools.  Other Texas tour cities include: Kilgore, Longview, Tyler, Henderson, Rusk, White Oak, Mesquite, TX, and Shreveport, LA.
For additional information on the TSF Roadshow, visit texasshakespare.com/the-roadshow. For more on the Texas Shakespeare Festival, go to texasshakespeare.com
University information is available online at tamiu.edu and on its social media channels on Facebook, Instagram, LinkedIn, Twitter and YouTube.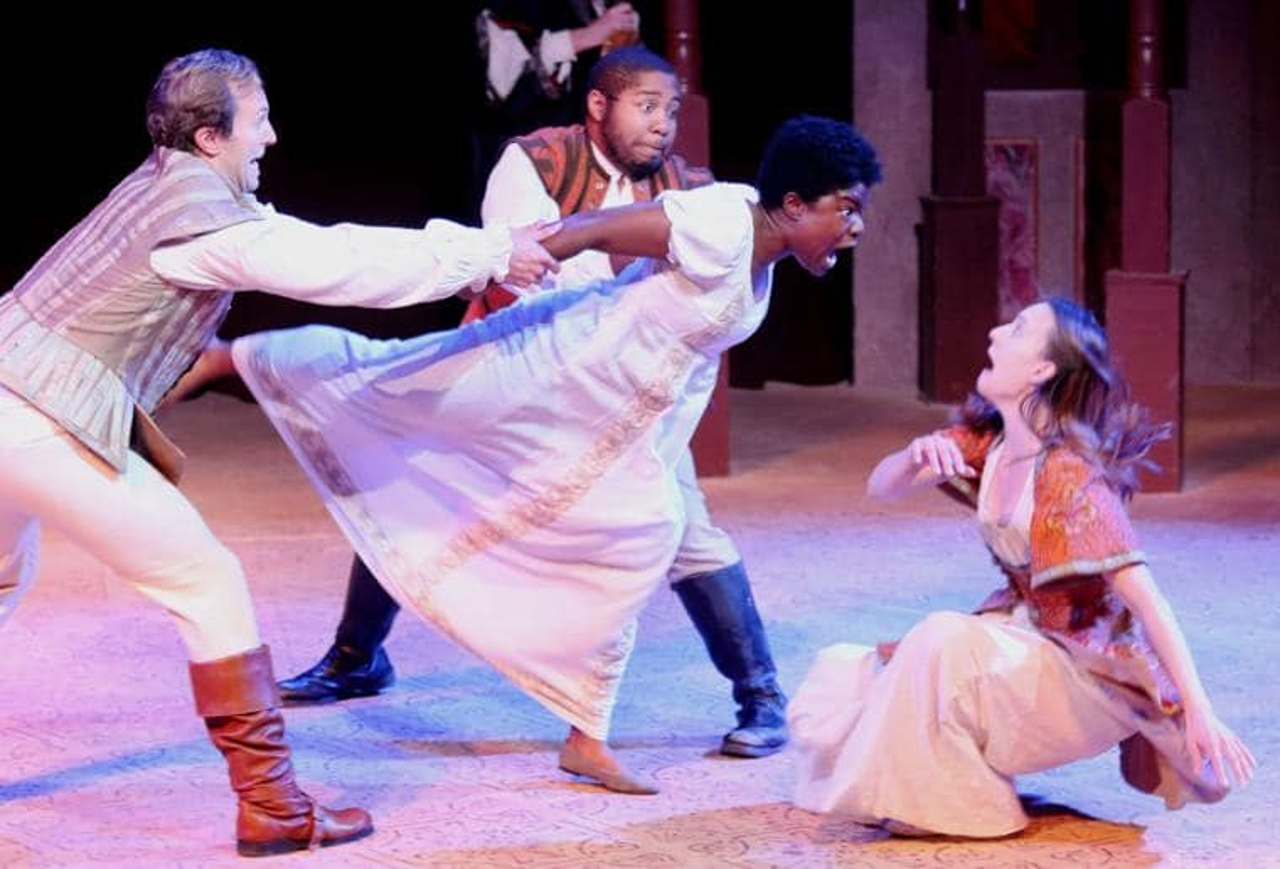 KGNS Live Event: Coverage on the upcoming performance begins at 3:35 (time stamp).