Disposition and Construction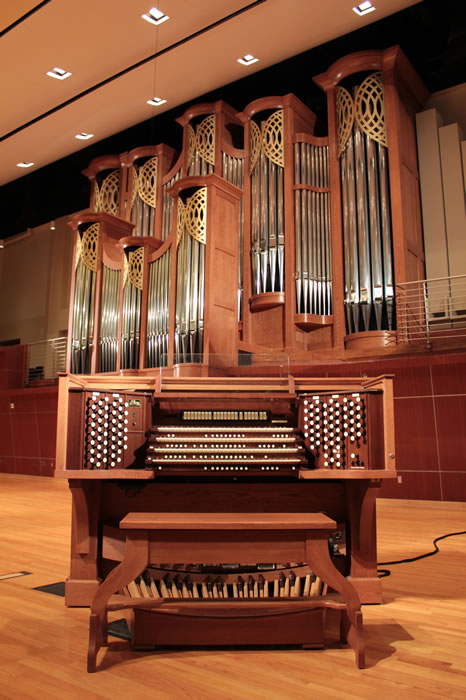 Sharkey Corrigan Organ
Kegg Pipe Organ Builders, Hartville Ohio
52 stops, 69 ranks, 4003 pipes
POSITIV  Manual I  (2.75" wp)
  8'  Principal
  8'  Gedeckt (wood)
  4'  Octave
  4'  Koppelflute
2⅔' Quinte TC (from 1⅓')
  2'  Octave
1⅓' Quinte
      Sesquialtera II-III
  1'  Mixture IV
16'  Holz Regal
  8'  Krummhorn
       Tremulant
       Positiv 16-UO-4
GREAT  Manual II  (3.5" wp)
16'  Violone
 8'   Principal
 8'   Violone (ext)
 8'   Rohrflute
 8'   Harmonic Flute
 4'   Octave
 4'   Spitzflute
2⅔' Twelfth
 2'   Fifteenth
1⅗'  Seventeenth
1⅓' Full Mixture IV
  ⅔' Sharp Mixture III
16'  Contra Trompete
  8'  Trompete (ext)
16'  Tromba (solo)
  8'  Tromba (solo)
  4'  Tromba (solo)
       Zimbelstern (5 handbells, adjustable speed, volume and delay)
       Tremulant
CONTINUO  Manual II  (duplexed from Positiv)*
  8'  Gedeckt
  4'  Koppelfute
  2'  Flute
  2'  Principal
1⅓' Quinte
SWELL  Manual III  (4" wp)
16'  Bourdon
  8'  Principal
  8'  Bourdon (ext)
  8'  Salicional
  8'  Voix Celeste
  8'  Flauto Dolce (Solo)
  8'  Flute Celeste (Solo)
  4'  Octave
  4'  Flute
2⅔'  Nazard
  2'  Piccolo
1⅗'  Tierce
  2'  Plein Jeu V
16'  Basson
  8'  Trompete
  8'  Hautbois (ext)
  8'  Vox Humana
  4'  Clairon
       Tremulant
       Swell 16-UO-4
SOLO  Manual IV  (5" wp)
  8'  Solo Diapason
  8'  Gamba
  8'  Gamba Celeste
  8'  Flauto Dolce
  8'  Flute Celeste TC
  8'  Clarinet
  8'  English Horn
16'  Tromba
  8'  Tromba (ext)
  4'  Clarion
16'  Tuba TC (ext)
  8'  Tuba (18" wp, separate enclosure)
  4'  Tuba (ext)
       Tremulant
PEDAL  (5" wp)
32'  Subbass (56 pipes)
16'  Open Diapason (wood)
16'  Violone (Gt)
16'  Subbass (ext)
16'  Viole (44 pipes)
16'  Bourdon (Sw)
  8'  Octave
  8'  Violone (Gt)
  8'  Subbass (ext)
  8'  Viole (ext)
  8'  Bourdon (Sw)
  4'  Choralbass
  4'  Cantus Flute (Gt Harmonic Flute)
2⅔'  Mixture IV
32'  Trombone (full length, 68 pipes)
32'  Harmonics (derived)
16'  Trombone (ext)
16'  Trompete (Gt)
16'  Basson (Sw)
  8'  Trombone (ext)
  8'  Trompete (Gt)
  4'  Clarion (ext)
  4'  Clarinet (Solo)
  4'  Krummhorn (Pos)
Inter-manual couplers
Great to Pedal 8, 4
Swell to Pedal 8, 4
Positiv to Pedal 8, 4
Solo to Pedal 8, 4
Swell to Great 16, 8, 4
Positiv to Great 8
Solo to Great 16, 8, 4
Solo to Swell 8
Swell to Positiv 16, 8, 4
Solo to Positiv 8
Great / Positive Transfer (including keys, pistons and couplers)
All Swells to Swell
* The CONTINUO division also has its own small one-manual console, including blower control and transposer switch that will lower the played pitch by one half-step for use with historical instruments. This console is used in place of the large main console for chamber work.
Construction of the Organ
The following video link shows a three week time-lapse of the construction process of the Sharkey Corrigan Organ.