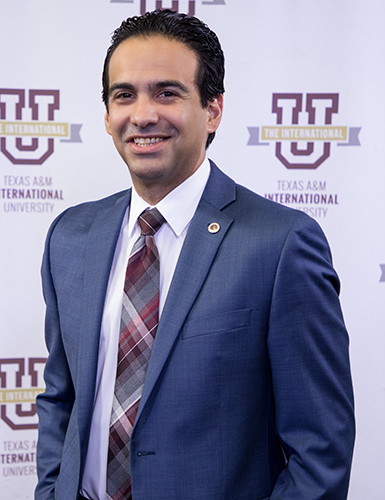 Juan Gilberto García, Jr.
Vice-President for Enrollment Management
Oversees:
Welcome Message from the Vice-President for Enrollment Management
Greetings,
Stepping into the role of Vice-President of Enrollment Management here at Texas A&M International University (TAMIU) is a profoundly nostalgic experience for me, as this University holds a special place in my heart.
More than two decades ago, I was in your shoes, contemplating the pivotal decision of where to embark on my higher education journey. The very reasons that guided me to TAMIU then are the same reasons that guide my belief in the transformative power of TAMIU now.
A Breathtaking Campus: I realized I was somewhere extraordinary when I set foot on our 300-acre campus. Today, as it was back then, our campus is a testament to academic excellence and natural beauty. The meticulously designed spaces, state-of-the-art facilities, and tranquil surroundings provide the perfect backdrop for students to flourish in their pursuit of knowledge and personal growth.
The Ideal Size: With a student body numbering around 8,500, TAMIU maintains a delicate balance between the intimacy of a close-knit community and the vibrancy of distinct interactions. This mid-sized environment fosters meaningful connections among students and faculty, enabling collaborative learning, meaningful mentorship, and a sense of belonging that often eludes students at larger institutions.
A Family of Support: Something that resonated most with me during my time here was the profound camaraderie that enveloped the campus. Our dedicated faculty and staff, attuned to the unique demographics of our student body, consistently work to create an inclusive and supportive atmosphere. This familia bond transcends the classroom, empowering students to navigate challenges and celebrate achievements together.
I am enormously proud to lead the Division of Enrollment Management—a dedicated team of individuals who are experts in their fields and share a true passion for helping to shape the future of our students. We have meticulously crafted processes and systems to ensure that each student's academic and social journey is nurtured, preparing them to be strong, responsible, and productive members of our global society.
TAMIU maintains its commitment to being accessible, affordable, and exceptional.  Be a part of our community, which will empower you to carve your path, embrace your passions, and fire your potential to truly GO BEYOND.
With great anticipation…VAMOS!!!
Juan Gilberto García, Jr.
---
Mission and Goals:
The Division of Enrollment Management is dedicated to cultivating an environment of respect, integrity, service, and excellence. Through motivation, accessibility and support, we empower our diverse student population to develop their greatest potential that continues beyond graduation.
Goal 1: Increase enrollment of a diverse student population
Goal 2: Support student learning
Goal 3: Effective and innovative use of technology
Goal 4: Improve efficiency and customer service
Goal 5: Invest in staff success
---


Phone: 956.326.2273
Location: Senator Judith Zaffirini Success Center 224