Information for Partners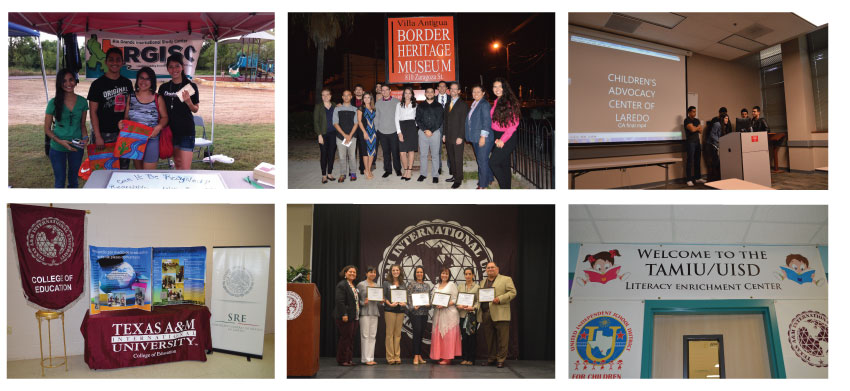 At TAMIU, service-learning is defined as an experiential learning pedagogy used in credit-bearing courses that engage students in relevant community service. Service-learning courses support student learning by integrating academic content and service activities. As part of the experience, students create meaningful connections by engaging in structured reflections that encourage academic, personal, and civic growth.
What is the purpose of a service-learning partnership?
Community partners have an important role in our service-learning partnerships. The goal for developing a partnership is to increase capacity for the organization and to support the learning of TAMIU students. Students in service-learning courses engage in meaningful service with Laredo organizations and tie this service to their academic learning.
How is a service-learning partnership different from volunteer opportunities?
In practice, service-learning might look like community service; however, service-learning students create a connection between their service with their course content.  Their service hours are integrated into a course curriculum, which fosters their learning.  This is not a principle of community service. Our service-learning students typically complete 10 hours during the semester, providing your organization with constant support.
What are examples of service-learning programs?
Service-Learning Center creates partnerships that provide constant support for organizations throughout the semester. In addition, our goal is to foster positive relationships to create long-term and sustainable partnerships. An example of this is our project: EDCI 4310: Spanish Language Arts, which partners with the Mexican General Consulate of Laredo to provide tutoring to their Plazas Comunitarias program.  Students in this course provide tutoring sessions every Saturday for 10 weeks and apply their teaching skills as they practice their academic Spanish.  This partnership has been in place for 3 years, providing Plazas Comunitarias with an average of 10 service-learning students per semester and 100 service hours. 
What would be my commitment to become a Service-Learning partner?
Developing a service-learning partnership requires planning before the semester to meet your organization and course learning goals. Remember that our service-learning students are limited to complete 10 hours during the course period, which means that students can participate between September – November during the Fall semester, and February-April in the Spring semester. The Service-Learning Center staff works with the faculty teaching the course, the community partner, and the students to ensure a successful experience for all.
If you are interested in becoming a Service-Learning partner, please contact us at servicelearning@tamiu.edu or (956) 326-3135. We would love to hear from you!
Service-Learning Center has worked with the following community organizations:
Bethany House of Laredo/ Luz de Esperanza Program
Big Brothers Big Sisters of South Texas
Boys & Girls Club of Laredo
Canseco School of Nursing
Convention and Visitor's Bureau
Children's Advocacy Center
Communities in Schools
Dr. Erik's ENT Clinic
Farmer's Market
General Consulate of Laredo & Holding Institute
Lamar Bruni Vergara Environmental Science Center
Literacy Volunteers of Laredo
PILLAR
Regent Care Center
Rio Grande International Study Center
TAMIU Offices