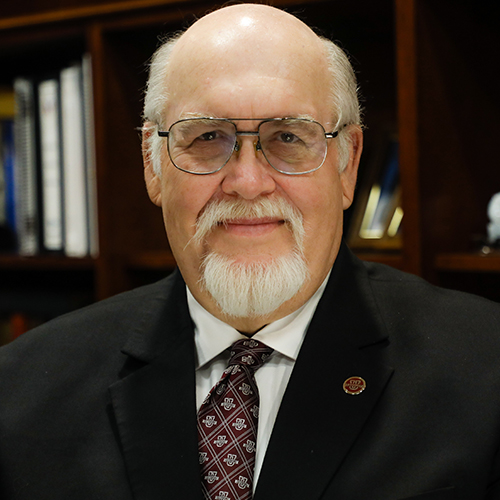 Dr. Pablo Arenaz is the sixth president of Texas A&M International University (TAMIU) and was affirmed by The Texas A&M University System Board of Regents in November 2016.
He holds his Ph.D. in Genetics and Cell Biology from Washington State University and an M.S. in Biology from the University of Nevada at Reno (UNR). His B.S. in Education was also earned at UNR. He conducted postdoctoral research at Temple University's School of Medicine, Fels Research Institute. His academic appointments have included assistant, associate and full professor of Biology.
Prior to joining TAMIU as Provost in 2008, Dr. Arenaz served as Vice Provost for Graduate Studies and Dean of the Graduate School at The University of Texas at El Paso (UTEP). Other UTEP posts included Vice Provost, Associate Vice President for Academic Affairs and Associate Dean for the Colleges of Science and Engineering. His special UTEP appointments included program director for the Minority Biomedical Research Support Program, Alliance for Minority Participation and Border Biomedical Research Center.
He has been active in securing research grants in excess of $35 million from the Carnegie Corporation of America, Howard Hughes Medical Institute, National Institutes of Health, National Science Foundation, and the National Institute of General Medical Sciences, among others.
The author or co-author of 25+ publications and over 115 abstracts, his research interests have been tightly focused on cell cycle regulation of DNA repair gene expression, with particular interest in the observable physical characteristics associated with the so-called "mutator" phenotype and its relationship to cancer.
He is fascinated by the ever-growing intersections between science and business, and is personally committed to encouraging students of all ages to broaden their STEM experience and take on research opportunities no matter their chosen higher education degree journey.
Originally from Las Vegas, Nevada, Dr. Arenaz' family traces their ancestry to the Basque Country of northern Spain.
He has been married to Norma Arenaz for 29 years. The couple has four children: Jonathan, Cristina, Rebekah and Pablo III.