Posted: 5/21/20
TAMIU SBDC Wins 2020 Small Business Development Center Excellence and Innovation Center District Award for Third Year

Texas A&M International University Small Business Development Center (TAMIU SBDC) has been named the recipient of the 2020 San Antonio District Small Business Week Small Business Development Center, Excellence and Innovation Center Award (District and Region).
This is the third consecutive year the TAMIU SBDC has been selected as district winner and its first time as regional winner.
The award, announced by the SBA San Antonio District Office, honors a Small Business Development Center for excellence in providing value to small businesses and advancing program delivery and management through innovation.
The announcement also named TAMIU SBDC client and instructor Alma Leticia Santos as the 2020 SBA Small Business Financial Service Champion of the Year, a District Award. The recognition is given to individuals who assist small businesses through advocacy to increase usefulness and availability of accounting or financial services.
Dr. Steve Sears, TAMIU A. R. Sanchez, Jr. School of Business dean, said the Sanchez School of Business is proud of the recognition the TAMIU SBDC has received.
"Through the years, the SBDC has worked diligently with small businesses in the Laredo community and surrounding region in meeting their needs in making them the most successful they can be in their work," he said, "Along with this most recent recognition of Ms. Santos, the SBDC has reached out to our small business partners to assist them in their needs during the COVID-19 Crisis with a plan to help all businesses transition the way they interact with their clients in new ways."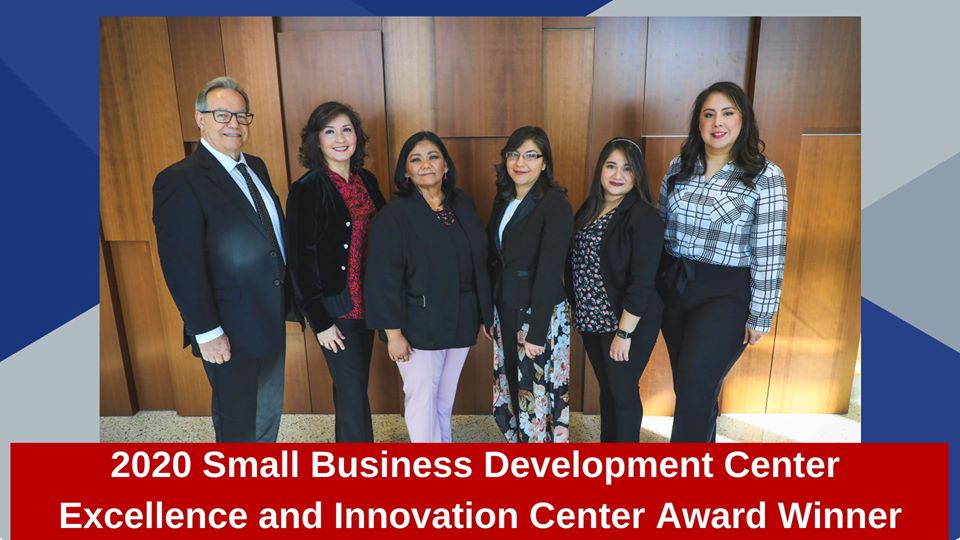 Among innovative events TAMIU SBDC has offered are its mobile business and food truck event, OSHA training, and cybersecurity training.
TAMIU SBDC's flagship offering is the Small Business Management Certification Program (SBMCP).The SBMCP is a 10-course series aimed at providing foundational knowledge in the start-up and scale-up of small businesses.
Over the past five years, the TAMIU SBDC has graduated over 695 small business owners from the SBMCP program, many going on to significant small business success in the community.
The award recognizes the Laredo market the best market in the 55 counties served by the SBA San Antonio District office.
The TAMIU SBDC has an over 30-year history of serving Laredo and South Texas including the counties of Webb, Jim Hogg and Zapata. It offers professional, confidential one-on-one advising to business owners looking to start or expand their business.
In light of the current COVID-19 pandemic and for the safety of its clients and the community, the TAMIU SBDC offices are currently closed. The TAMIU SBDC, however, will continue to offer virtual, professional, confidential, one-on-on advising to business owners.
The SBDC advising staff provide management advising in a variety of areas including accounting, financing and loan packaging, capital acquisition, business planning, marketing, human resources, economic development, strategic planning, and financial analysis in various stages of the business life cycle: pre-venture or early stage, startup, expansion, growth and exit.
Existing and new clients of the Center in need of assistance are encouraged to visit sbdc.tamiu.edu or call 956.326.2827 to schedule an appointment.
As part of its response to the COVID-19 pandemic, TAMIU's campus is closed only to the general public. Entry to campus continues for students, faculty, staff and those having legitimate reasons to be on campus. Online and virtual services at the University continue, practicing all CDC guidelines on gathering, masking and social distancing and with most staff working remotely.  Office hours are subject to change and it is recommended that phone or email contact be made first to determine the office's schedule of operation.   An online directory is here.
The University's dedicated COVID-19 website is updated regularly and includes information on office schedules and services, an expansive FAQ, quick links, student resources, official information resources and much more.