Posted: 8/24/22
Partnership TAMIU: An Alliance for Good Holds MOA Signing Ceremony

Local community-serving agencies gathered to sign a Memorandum of Agreement (MOA) affirming their commitment to Partnership TAMIU: An Alliance for Good.
In a ceremony held Wednesday, Aug. 24, nine organizations signed MOAs establishing service opportunities that assist the agencies while enhancing Texas A&M International University (TAMIU) student learning.
Signing community agencies included Altus Hospice, Catholic Charities Diocese of Laredo, Casa de Misericordia, Diocese of Laredo, Girl Scouts of Greater South Texas, Laredo Main Street, Mercy Ministries of Laredo, Next Gen America and Voz de Niños.
Signature partners sign three-year MOAs with TAMIU for exclusive collaborative efforts.
These established partnerships affirm the University's commitment to serving and improving their local community, and distinguish the TAMIU student experience, noted Mayra Hernández, TAMIU Student Conduct and Community Engagement director. 
"The greatest gift we can give others is our time. Through community engagement, we share valuable time with each other while strengthening the quality of life in our community. Our mission is to develop life-long advocates and stewards to continue the mission of going beyond and truly making a difference in our community," said Hernández.
In tandem with the signing ceremony, a Volunteer and Community Service Fair was held. A total of 20 local community agencies were present to meet with University students interested in serving their community and earning volunteer hours. 
Launched in Fall 2014, Partnership TAMIU is a nomination-based community engagement agreement designed to enhance existing relationships between TAMIU and external agencies. 
These efforts help community partners to meet its agency's mission and goals, promote the exchange of resources between the University and community agency, and exhibit a commitment to social responsibility by addressing issues of public concern. 
Each year, the University hosts both The Big Event and Make A Difference Day – two community-oriented efforts that bring together the combined efforts of TAMIU student volunteers to provide community service.
Previous volunteer projects have supported entities like the Ruthe B. Cowl Rehabilitation Center, the Santo Niño neighborhood, the Laredo Housing Authority, the South Texas Food Bank, Volunteers Serving the Need, local City parks and more.
The University also recognizes volunteer contributions through the President's Volunteer Service Award (PVSA). A member of the certifying organization for the Corporation for National and Community Service, the University can award students, faculty, staff, and the general community one of the highest volunteer honors. 
Learn more about this recognition and its requirements at https://go.tamiu.edu/pvsa.  
For more information, contact the Office of Student Conduct and Community Engagement at 956.326.2265, email scce@tamiu.edu or visit offices in the Student Center, Suite 226.
For a special online preview of the Fall semester plans at TAMIU, visit a dedicated website at https://go.tamiu.edu/fallpreview
Late registration ends Friday, Aug. 26. For detailed information on TAMIU's Fall 2022 Registration, visit https://news.tamiu.edu/fall22.  
Find University news and information online at tamiu.edu and on TAMIU's popular social channels on Facebook, Instagram, LinkedIn, Twitter, and YouTube.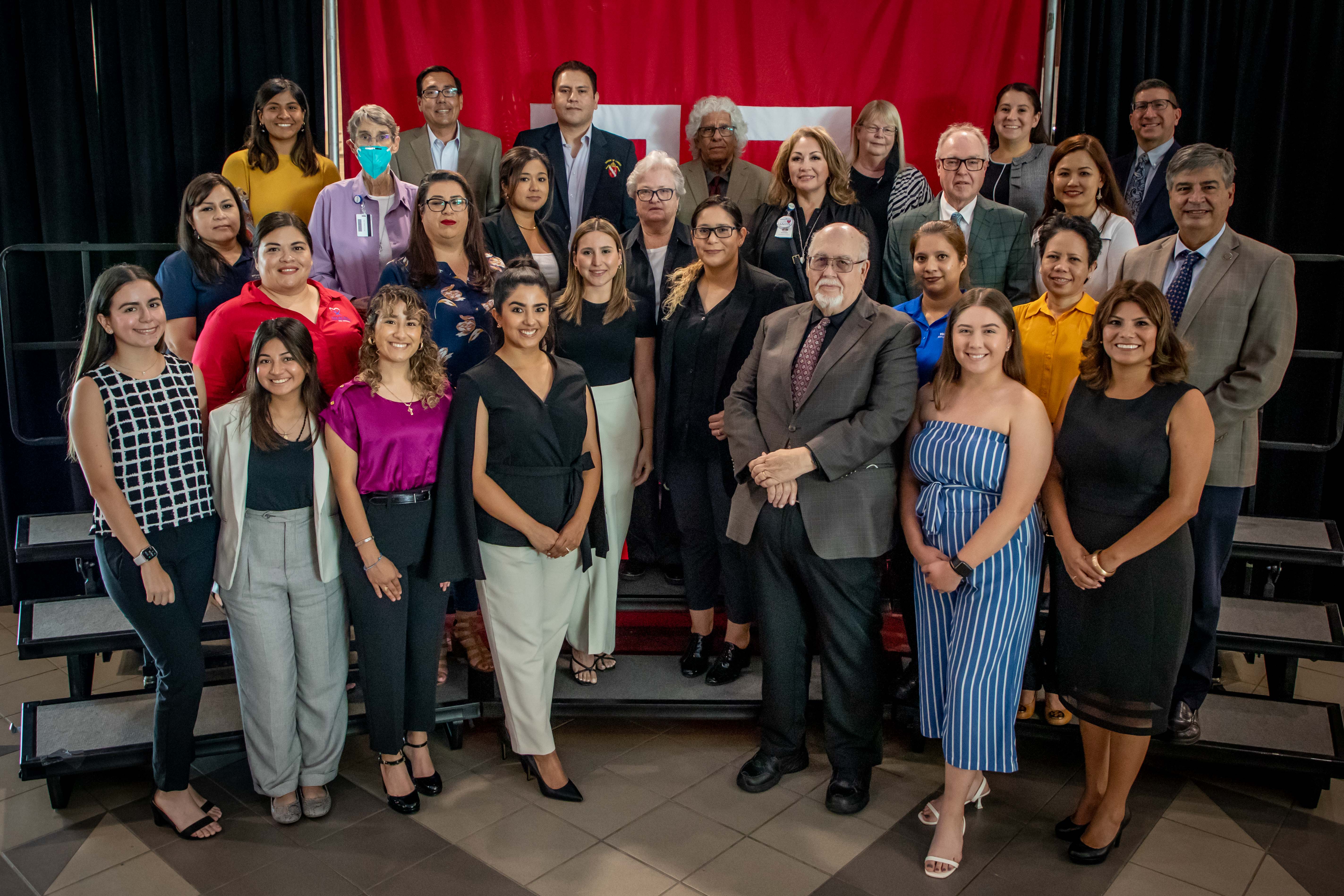 A total of nine local agencies signed MOA's with TAMIU as part of Partnership TAMIU: Alliance for Good. Pictured in the photo are TAMIU representatives and agency leaders.