Posted: 8/17/23
TAMIU MACP Students Present at National Convention in Washington, D.C. 

Twelve graduate students from the Texas A&M International University (TAMIU) Master of Arts in Counseling Psychology (MACP) program recently attended the 131st Annual Convention of the American Psychological Association in Washington, D.C.  
Students were led by Drs. Elizabeth Terrazas-Carrillo and Ediza García, associate professors of counseling psychology, respectively. 
Students in attendance included Dulce Alonzo, Samantha González, Bridget Holguin, Jacqueline Merkley, Karen Morales, Rebecca Pérez, Kiara Rodríguez, Elizabeth Sandel, Denise Santos, Ana Silva, Stephanie Treviño and Briana Vielma.
The students and faculty members presented five poster presentations during the Conference. 
Their first research project, "Predictors of depression, anxiety, and traumatic stress related to the COVID-19 Pandemic among Latinx college students," focused on the mental health effects of the COVID-19 Pandemic on college students and the potential relationship between traumatic stress and socioeconomic concerns related to the Pandemic.
A second project, "Latinx university educator perspectives on fostering resilience," examined five Latinx university educators' perspectives on coping with adversity, cultural influences, and self-development.
The third project, "Challenges encountered by English-Spanish bilingual service providers working with survivors of intimate partner violence," explored the challenges encountered by bilingual service providers, including difficult workloads, a lack of bilingual clinician training, and clinical burnout. 
A fourth project, "Female toxic relationship behaviors among Latinx college students," sought to understand the emergence of la toxica, or the toxic woman, in Latinx media and focused on its definition and potential impact on gender construction among Latinx college students.
The fifth project presented, "A Spanish-English bilingual certification for master's level students," aimed to understand the experiences of master's level therapists participating in a Spanish-English bilingual certification program as they progressed through their training program. 
Dr. García noted the importance of participating in these research and presentation opportunities and connecting with the larger psychology community.
"Students develop their presentation skills and are exposed to the field of psychology and obtain a greater understanding of the different areas one can study and specialize. Our students are also exposed to Latino role models to inspire their continued commitment to evidence-based practice and research," García emphasized. 
The American Psychological Association Conference is a premier scientific and professional gathering that brings together researchers, educators, clinicians, consultants, and students. For more information on the American Psychological Association convention, visit https://convention.apa.org/. 
For additional information, contact the College of Arts and Sciences, department of Psychology and Communication at 956.326.2465, visit offices in the Academic Innovation Center, or visit https://www.tamiu.edu/coas/psy. 
Registration for Fall 2023 at TAMIU is currently underway. For more about TAMIU's Registration processes, visit https://www.tamiu.edu/reghub/.  
Classes begin Monday, Aug. 28, 2023. Late registration ends Friday, Sept. 1.
University news and information can also be found online at tamiu.edu and on TAMIU's social channels on Facebook, Instagram, LinkedIn, Twitter, and YouTube.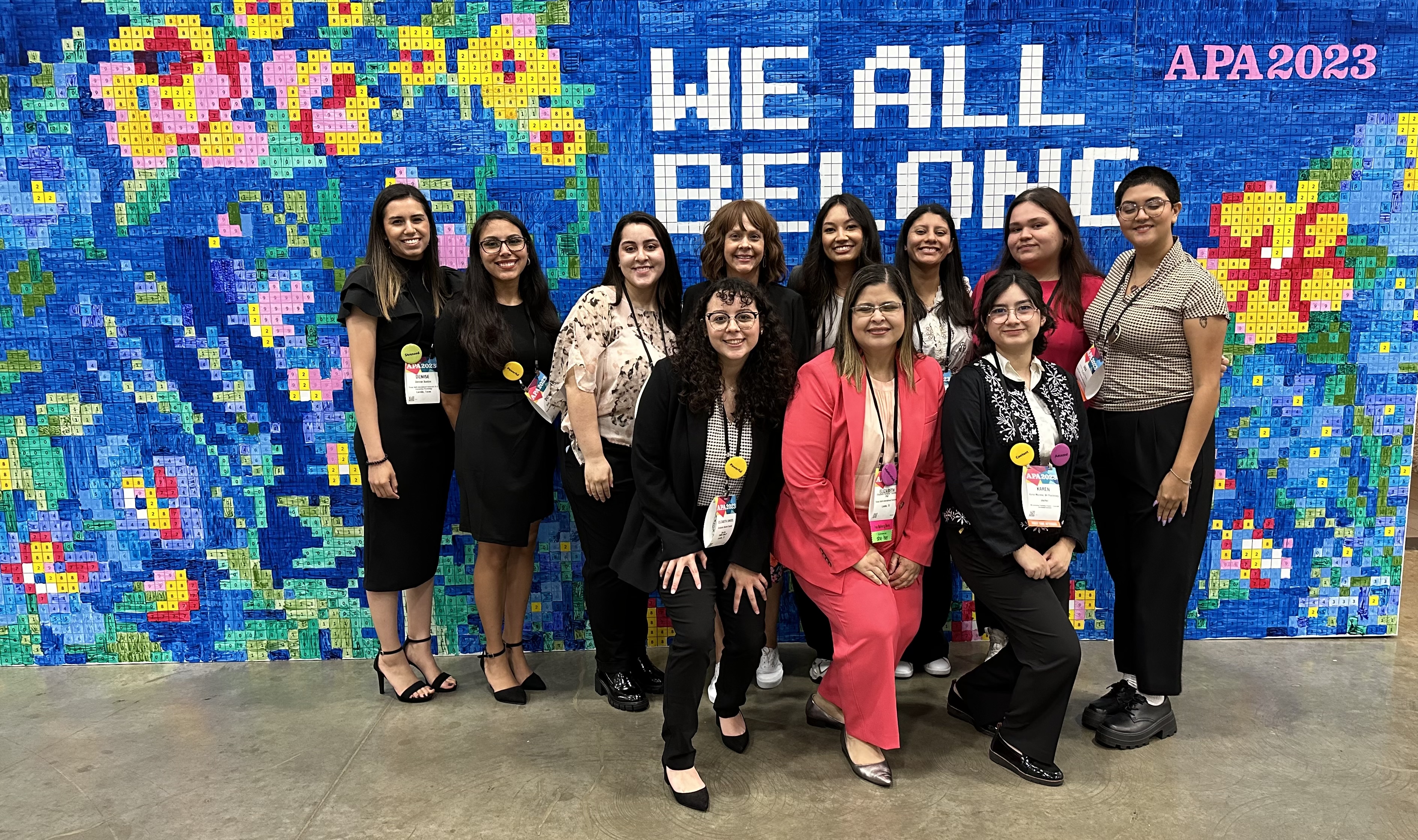 Pictured, from l-r, are (first row): Denise Santos, Dulce Alonzo, Jacqueline Merkley, Dr. Ediza García, Rebecca Perez, Samantha González, Bridget Holguin and Ana Silva; (second row): Elizabeth Sandel, Dr. Elizabeth Terrazas-Carrillo, and Karen Morales.