About the Center
The TAMIU Small Business Development Center (SBDC) provides consulting and technical assistance to the small business community. Our goal is simple — to help small businesses start and grow. The SBDC supports the growth and development of the tri-county (Jim Hogg, Webb, and Zapata) economy by assisting in job creation, economic diversification, and business expansion
We offer professional, no-cost confidential one-on-one advising to business owners looking to start or expand their business. The center provides management advising in a variety of areas including accounting, financing and loan packaging, capital acquisition, business planning, marketing, human resources, economic development, strategic planning, and financial analysis.
Our Network
The South-West Texas Border SBDC Network stretches for 79 counties across South, Central, West and Gulf Coast Texas. This vast and diverse territory encompasses 108,000 square miles including our state's capital.
Through the Institute for Economic Development, UTSA's South-West Texas Border SBDC Network operates 10 field centers, four specialty centers and one research center to provide services and training to aspiring and experienced entrepreneurs. Each center matches clients and expertise, ultimately helping to create jobs and grow the economy. The SBDC is funded in partnership with the U.S. Small Business Administration (SBA), The University of Texas at San Antonio, as well as colleges and universities throughout our territory. Our confidential business advising services are offered at no cost to SBDC clients.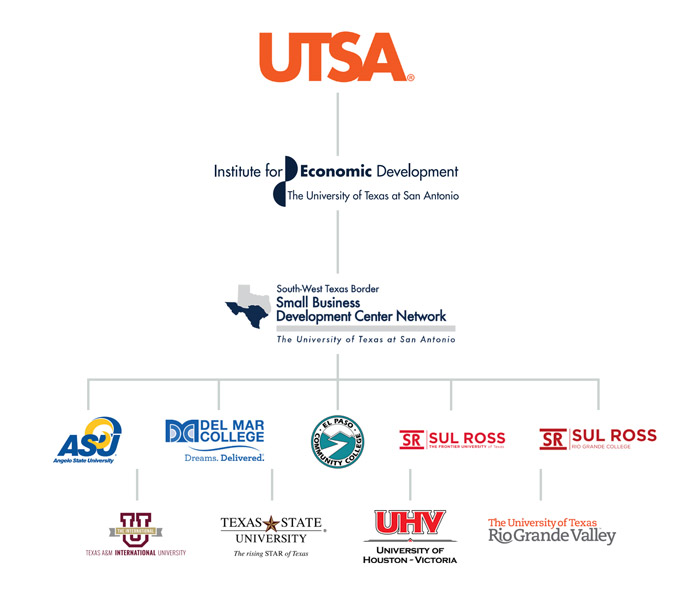 Contact Us
Small Business Development Center
956-326-2827
Sue and Radcliffe Killam Library, Room 321
5201 University Boulevard, Laredo, TX 78041