The Quality Matters Program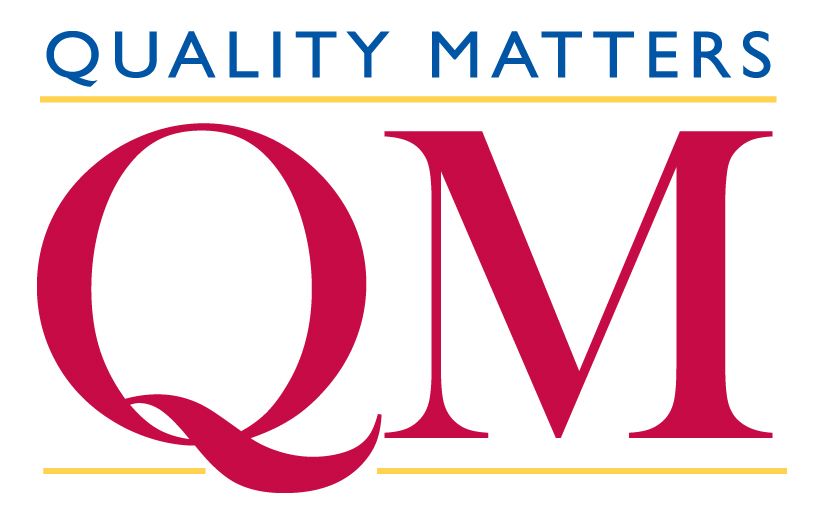 Quality Matters (QM) is a faculty-centered, peer review process that is designed to certify the quality of online and blended courses. QM is a leader in quality assurance for online education and has received national recognition for its peer-based approach and continuous improvement in online education and student learning. Quality Matters began as an initiative organized by a group of experienced online educators at MarylandOnline, Inc. supported by a FIPSE grant from the U.S. Department of Education.
For more information about the program, visit the Quality Matters website at https://www.qualitymatters.org/.
Quality Matters Subscribers
Quality Matters subscribers include an array of community and technical colleges, colleges and universities, K-12 schools and systems, and other academic institutions. Over 870 institutions nationwide use QM to certify the quality of their online courses, including: Texas A&M University, Texas A&M University - Central Texas, Texas A&M University Health Science Center School of Rural Health, Texas A&M University-Commerce, and Texas A&M University-Kingsville.
For a full list of current subscribers with Quality Matters, click here.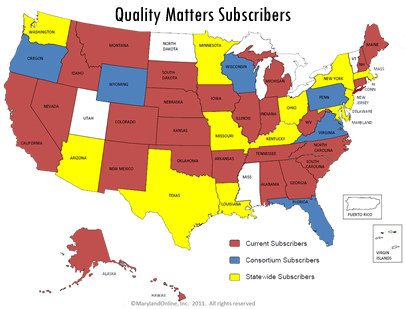 Click the thumbnail above to view full image.
Benefits for TAMIU
Quality Matters benefit both individual faculty and their institutions in the following ways:
Improved student learning outcomes and retention
Adoption of a systematic and comprehensive continuous quality assurance process that includes faculty training, course development, and course revisions that are aligned with accreditation standards
Incorporation of new technologies and research findings
Ongoing faculty professional development
Increased flexibility, creativity, and divergent thinking
Increased efficiency in using institutional resources
Faculty Benefits
A course that meets QM standards provides the faculty member with a course whose principal components are in "alignment" with each other (objectives, activities, resources, and assessments) and which is supported by best practices as identified in the literature. Faculty members will have an opportunity to participate in professional development workshops on how to apply the QM rubric and build or improve their online course. The course developer will be an integral part of the internal review process with shared responsibility and ownership. QM influence to hybrid and blended courses is also likely to occur.
Student Benefits
A course that meets QM standards provides the online student with assurance that the course has been planned, developed, and designed with all components to make his learning experience a success. As more courses meet QM standards, the student will become more confident and will become motivated to enroll in more online courses.
Office of Information Technology
Instructional Technology & Distance Education Services
Killam Library, Room 259
Phone: (956) 326-2792
Fax: (956) 326-2299
E-mail: elearning@tamiu.edu