Quality Matters at TAMIU
Menu
Peer Reviewers at TAMIU
Role of QM Peer Reviewers
Faculty members designated to become peer reviewers at TAMIU will obtain the following duties in a course review:
Assist in bringing a course to meet and achieve QM expectations
Assume a mentorship role for Faculty Online Course Developers
Dedicate at least three weeks for course review:

Convene with Peer Review Team
Independently review a course(s)
Make decisions regarding modifications and revisions
Write constructive feedback and make appropriate suggestions

Benefits of a QM Peer Reviewer
As a peer reviewer, the following benefits will be incurred with the faculty member's participation:
Become an integral part of the improvement of the quality of our online courses
Receive national QM certification recognition
Become part of a prestigious QM Peer Reviewer database

QM Peer Reviews at TAMIU
Faculty members have been chosen to be peer reviewers by their respective deans. Currently, our peer reviewers include:
Dr. Whitney Bischoff - Associate Professor, Canseco School of Nursing
Dr. James Norris - Associate Professor/Director of Political Science & Sociology, College of Arts and Sciences
Dr. Claudia San Miguel - Assistant Professor/Chair for Department of Public Affairs & Social Research, College of Arts and Sciences
Dr. Miroslava Vargas - Associate Professor, College of Education
Mr. Roberto Vela - Adjunct Faculty, College of Arts and Sciences
Dr. Carol Waters - Retired, Formerly in College of Arts and Sciences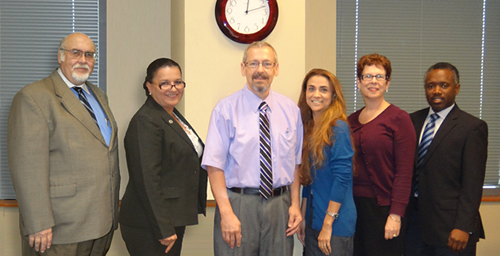 (From left to right: Dr. Pablo Arenaz, Dr. Patricia Abrego, Dr. James Norris,
Dr. Claudia San Miguel, Dr. Whitney Bischoff, Dr. Leebrian Gaskins)
Quality Matters promotes a peer review process and provides a database of trained QM Peer Reviews eligible for assignment to a peer review team.
Interested in becoming a QM Peer Reviewer at TAMIU?
To become a peer reviewer, the following pre-requisites are required:
Must be appointed by the dean of their college
Must be an experienced online instructor having taught within the past eighteen months, either full-time faculty or adjunct
Must attend and successfully complete the Applying the QM Rubric Workshop and the Peer Reviewer Course
A peer reviewer application and current Memo of Understanding must be on file with QM.
For more information, please contact eLearning at elearning@tamiu.edu or at 956.326.2972.

---
Instructional Technology & Distance Education Services
Killam Library 259 •
Regular Hours
: Monday thru Friday from 8:00 a.m. to 5:00 p.m.
TEL
956.326.2310
•
FAX
956.326.2299 •
elearning@tamiu.edu