Events
September 2020 - Calendar of Events
| | | | | |
| --- | --- | --- | --- | --- |
|        Workshop |         Date |       Time |     Presenter |      Location |
|  Coffee House Wednesday |  September 9 |  10:30 A.M. |  Enrique Villarreal '19  Engineer | Student Center Room 114 |
|  Coffee House Wednesday |  September 16 |  10:30 A.M. | Gab Acosta, U.S. Border Customs | Student Center Room 114 |
|  Resume Building |  September 21 |  11:30 A.M. | Director Yelitza Howard '11 | Online |
|  Coffee House Wednesday |  September 23 |  10:30 A.M. | Lupita Canales, Customs Broker | Student Center Room 114 |
|  Oracle Networking Workshop |  September 22 |  11 A.M.-4 P.M. | Presenter from Oracle | Student Center Room 114 |
|  Dress for Success |  September 25 |  3:00 P.M. | Michelle Begwin | Online |
|  How to Nail a Virtual Interview |  September 28 |  1:00 P.M. | Director Yelitza Howard '11 | Online |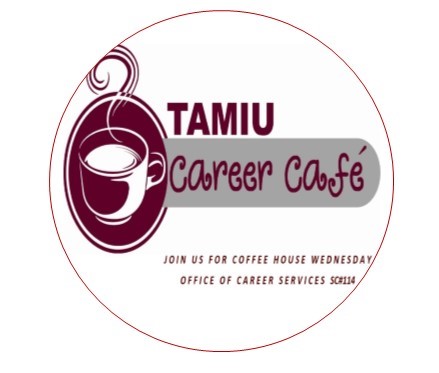 COMING THIS FALL
The Career Cafe has something to offer you.
Join us every Wednesday throughout the fall/spring semester for:
*Quick and informative career presentations/discussions
Upcoming Fall 2020 Events
Dusty Works - Virtual Workshops

Presenter: David Pina '19
 Monday & Thursday: August 24 & 27 at 3PM

Student will learn how to apply for on-campus jobs through the Dusty Works site.
Undecided & Undeclared Majors

Presenter: Yelitza Howard '11
 Wednesday & Friday August 26 & 28 at 11:30AM

Student will be guided on making a decision on their field of interest and job opportunities available.
Resume - Virtual Workshop

Presenter: Yelitza Howard '11
 Wednesdays August 12 & 19 at 3PM

Students will learn new powerful vocabulary, how to build and polish their resume to get the job!
The Office of Career Services organizes several fairs throughout the academic school year for students, alumni, and the surrounding community. This summer, take advantage of the virtual events we have to offer. Stay prepared even during the summer months with our Resume workshop, How to Dress for Success and Elevator Pitch,
---
Fall 2019 & Spring 2020 events
Follow us on social media for more events!
---
Office of Career Services
Student Center 114 • Monday - Friday 8 a.m. - 5 p.m.
956.326.4473 • careerservices@tamiu.edu