---
The Lamar Bruni Vergara Planetarium will be presenting our exciting, family-friendly public shows on Tuesday and Thursday afternoons, Thursday and Friday evenings, and one Saturday afternoon each month. Visit the 'Now Playing' page of this website for info about the public shows currently scheduled and the times that they are offered. Watch fascinating previews of these shows on the 'All Shows' page of this website.
Come enjoy fascinating public shows not only about astronomy and science, but also on a wide variety of topics like dinosaurs, humpback whales, extreme weather, and many others to expand your mind and fire your imagination. Tickets can be purchased at our ticket booth on the west end of Lamar Bruni Vergara Science building near the glass pyramid.
The planetarium has a state-of-the-art projection system that projects a video image on our whole dome immersing the audience in the scene like virtual reality. We invite you to come and treat yourself to a fun and spectacular surround experience.
Make a reservation for one of our thrilling and engaging shows for all ages for your private or business group. Fun hands-on activity sessions available for school groups extend and apply concepts learned during our shows. Want to plan an amazing, kid-pleasing, out-of-this-world Birthday Party? Simply schedule a Birthday show with snacks and drinks included at special pricing for your large or small party. See our Group Visits webpage for details and click on the Reservation Form link to request a group show. Monitor our website and our Facebook page for the latest information on the public shows offered and the dates and times.
Visit the 'On-Demand' page of our website and take a virtual guided tour of constellations, planets, and other magnificent objects in the current sky. You can also request an emailed link to view a currently posted full-length free planetarium show and watch fascinating virtual presentations about astronomy and other topics of interest at your convenience. We look forward to welcoming you to the Lamar Bruni Vergara Planetarium soon. - Planetarium Director

Director's Message
The Lamar Bruni Vergara Planetarium is a community outreach of Texas A&M International University serving the students and public of south Texas.  We live in an extraordinary age of exploration of our universe.  Our goal is to fire the imaginations of young people about discovering the wonders of life on our earth, the wonders of our universe, and the fascinating journey of scientific discovery, encouraging them to pursue careers in STEM areas. We also endeavor to inform and entertain the public with shows featuring many of the fascinating places in our universe that are being discovered every day.  We do this with our state-of-art projection system that immerses our audience, surrounding them completely with a spectacular audio-visual extravaganza.  Come explore the universe with us at the speed of imagination!
DID YOU MISS THE TOTAL LUNAR ECLIPSE ON NOVEMBER 8, 2022?
Don't miss seeing this awesome natural spectacle! Watch a video of the livestream view of the total lunar eclipse which occurred on November 8th at the following link: https://www.youtube.com/watch?v=BjKUlaGmE2g. During a total lunar eclipse, the Moon travels though the shadow of the Earth, causing the Moon to appear to be an orange to red color. In ancient times they called it a "Blood Moon" because the red color was associated with blood. Lasting over an hour and a half while the Moon is in the deepest shadow, called the umbra, this was the last total lunar eclipse that will be visible in much of the U.S. until 2025. The photo below shows how the Moon appeared through a telescope during totality.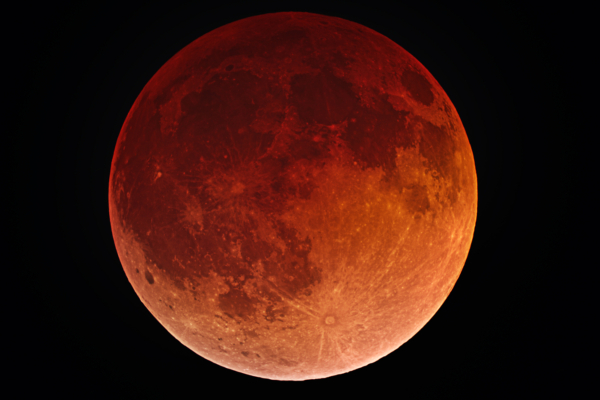 TAMIU's Amazing Planetarium: A Virtual Tour
Enjoy an exciting behind-the-scenes virtual tour of TAMIU's Lamar Bruni Vergara Planetarium. Get a close-up look at the planetarium's state-of-the-art Digistar 5 projection system and the impressive digital technology utilized to project stunning 360-degree immersive video on its large dome, which is housed in an eye-catching glass pyramid with a gold pinnacle. Experience this fascinating video tour!
---
About Us
The Lamar Bruni Vergara Planetarium, named after a Laredo philanthropist, opened to public in April 2005. At that time, it was one of only 14 new-generation Digistar 3 digital projectors in the United States. The 40 foot dome of the planetarium is inside a four-sided glass pyramid topped with a gold leaf pinnacle. The glass pyramid planetarium building is a shining beacon at Texas A&M International University, and is one of the foremost attractions of Laredo. The Planetarium was upgraded in 2014 to a state-of-the-art Digistar 5 projection system from one of the leading planetarium manufacturing companies in the world which can show the view from any part of the known universe.  One of the most sophisticated planetariums in the State of Texas, this system has two 4K digital projectors that display a 360˚ video image on our 40 foot dome that is 8 times the resolution of 1080i HD television. Eight to ten times brighter than the previous projection system, this system immerses the audience in a truly spectacular visual environment with great depth of field and rich colors which has to be seen to be appreciated!  The upgraded 5.1 surround sound system provides an immersive auditory experience, truly making you feel that you are there, whether on an alien planet, deep in space, or somewhere here on earth.
To get an idea what it is like to be immersed in a video show extravaganza at the Lamar Bruni Vergara Planetarium please click on our planetarium commercial link below. 
Contact
Lamar Bruni Vergara Planetarium and Science Center
5201 University Boulevard, Lamar Bruni Vergara Science Center 373A, Laredo, TX 78041-1900
Phone: 956.326.3128 | Fax: 956.326.2459 | E-mail: planetarium@tamiu.edu