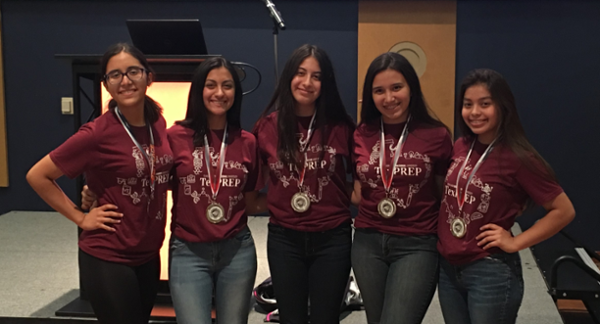 Fourteen Texas A&M International University (TAMIU) PREP fourth-year students were awarded top accolades at the recent TexPREP Fourth Year Symposium, held at the University of Texas at San Antonio (UTSA).   
The annual Symposium invites participants who have a strong interest in Science, Technology, Engineering, and Math (STEM) to present independent group projects that encourage real-world problem-solving. 
Out of 19 projects submitted, the top three projects were recognized. TAMIU's PREP project, "Bring Me the Microplastics," a prototype developed to help solve the issue of microplastics in oceans, placed second.  
The project was made up of student team members Miranda Beltran, Paulina Canche, Karla Freyre, Alessandra Hernández, and Luisa Ramírez. 
The students presented their projects to judges made up of university faculty and STEM professionals. Students competed against other PREP sites, including UTSA, South Texas College, and University of Texas Rio Grande Valley. 
The Symposium encourages student collaboration, communication, critical thinking, creativity and working across disciplines. 
The Texas Prefreshman Engineering program is a seven-week enrichment summer program that prepares students for careers in the STEM fields.
Middle and high school students interested in applying for PREP 2020 can begin the application process Nov. 4, 2019. 
The University's PREP Program efforts are made possible with the support of The Guadalupe and Lilia Martínez Foundation, the Texas Department of Transportation, Laredo Independent School District and the Board of Directors for Gateway Chapter of TSPE.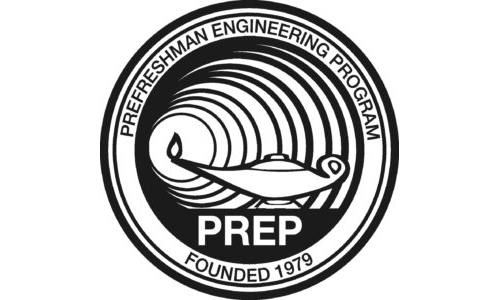 TexPREP is an opportunity for high-quality local and area middle and high school students to be exposed to college-level mathematics, science and engineering studies. Our program aims to increase the number of competently prepared underrepresented minority and female students from the TexPREP area who will ultimately pursue science, mathematics, engineering and technology studies in college; to reinforce the mathematics preparation of these students in the pursuit of mathematics, science and engineering at the pre-college and college levels; to increase the retention rate of these student in college; and to acquaint students with professional opportunities in science, mathematics, engineering and technology. 
As is to be expected in a program of this caliber, space is limited to 100 participants and entrance is highly competitive. Students will need to take the TexPREP entrance exam . The teacher reference, report card and/or transcript, and pre-test scores will be used to determine selection into the program. All needed documents must be uploaded in the online application. 
If you have any questions or concerns please feel free to email us at texPREP@tamiu.edu or call the Office of Outreach and Pre-College Programs at (956)-326-2700.  
TAMIU PREP 2022 Updates Comming Soon!

TAMIU PREP Process
Submit online application: (including payment and documents)
Take Pre-test Exam from March 10th to March 17th. (Email will be sent to students with complete application)
Submit $100 program fee, if admitted into the program.
Student Requirements:
6th to 10th grade 
80 or higher course average in Math, Science, and English
Must be in good academic standing in all courses
Satisfactory nomination from one teacher
Satisfactory conduct
Assessment Fee: $30.00 
Program Fee: $100 (Admitted participants only)
Payment Methods: • Credit and Debit cards ONLY
                          (American Express, MasterCard, & Visa) 
All additional documents must be uploaded in the online application. 
Payment of Assessment fee DOES NOT constitute acceptance into TexPREP, selection is based on Pre-Test Scores, Grades, and Nomination Form.
Application Checklist: Click Here
Application Instructions:  Click Here
If admitted, student must submit the following,
$100 program fee
Student Contract
Health Form
Model Release Form
Student Requirements for PREP are the following: 
6th to 10th grader who is not currently enrolled in, or has not previously taken Algebra I'
80 or higher course average in Math, Science, and English
Must be in good academic standing in all courses
Satisfactory nomination from one teacher
Mirian Granados, Program Director
Contact Us:
Phone: (956) 326-2700      
Email: texprep@tamiu.edu
Fax: (956) 326-2699
Office of Outreach and Pre-College Programs
5201 University Blvd, Laredo, TX 78041
Zaffirini Success Center 138