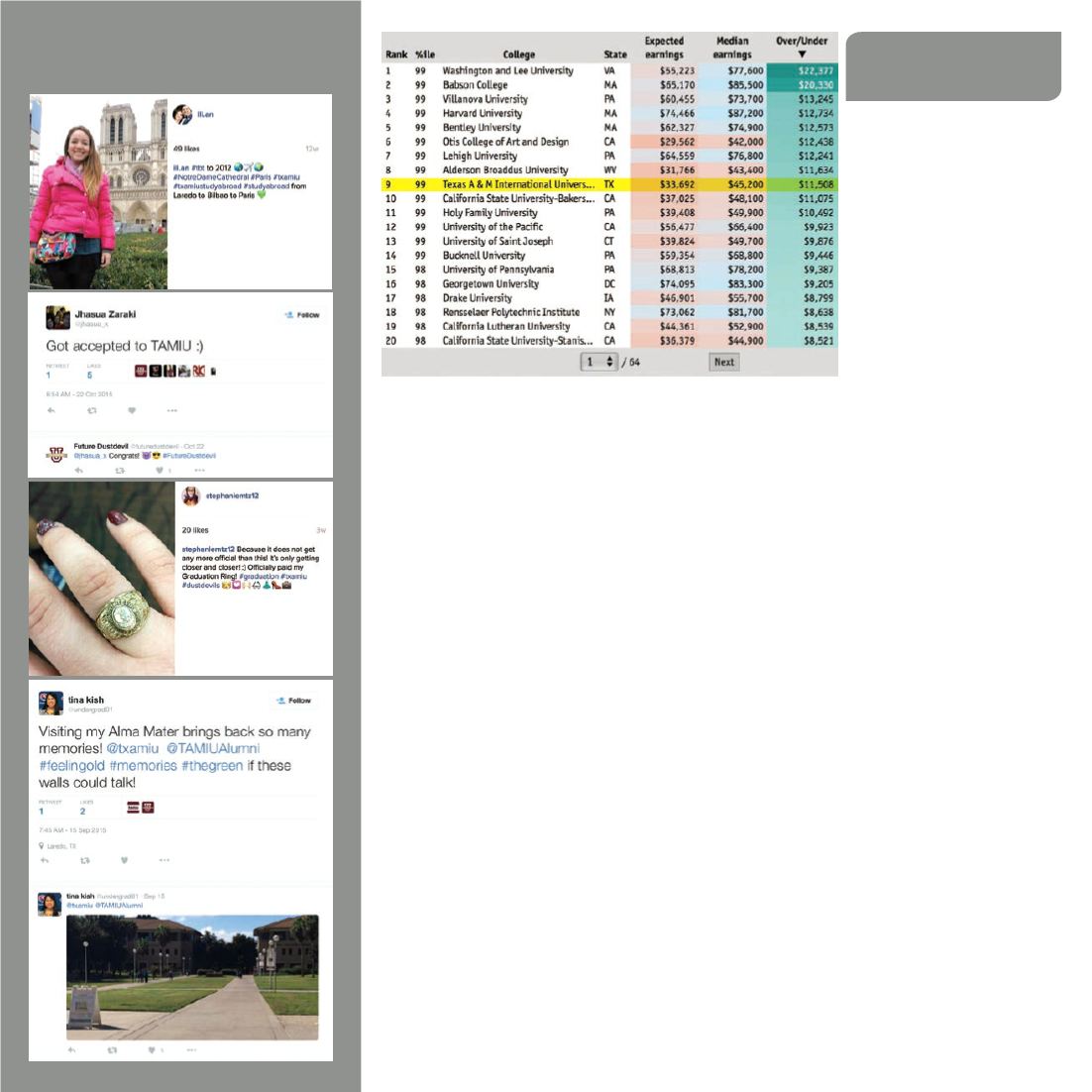 In its first-ever college rankings, one of the world's most prestigious
The Economist
, ranked TAMIU ninth among the nation's Top 20
Colleges and Universities. It is the only Texas institution in the Top 20.
The new college ranking looks at colleges or universities that boost graduates'
salaries. They are ranked based on alumni earnings above expectation.
The Economist
noted projected earnings for bachelors degree graduates
would be $33,692 based on Scorecard data, but actual median earnings for TAMIU
graduates was $45,200, an $11,508 increase.
The Economist's
editors used the U.S. Department of Education's Scorecard to
establish what graduates earned and, to determine what they might have earned,
used a multiple regression analysis measuring relationships between variables.
Authors placed TAMIU among "institutions that lift disadvantaged students
into the middle class." They noted, "State governments could make few better
investments than expanding these over performing public universities.That would
put even more of their students on the path to upward mobility."
TAMIU president Dr. Ray Keck said the ranking is a powerful affirmation.
"Having such an august publication known for its outstanding reporting and
economic analysis say this about TAMIU is impressive. Our mission is delivered
daily: lifting students to their full potential…but this ranking offers an amazing
affirmation that it is realized in the marketplace. Potential students and parents will
find this insightful ranking worthy of review," Dr. Keck said.
Texas institutes listed include TAMIU at ninth,TAMU-Kingsville, 423;TAMU-
Corpus Christi, 428; UTSA, 630; UT-Austin, 876 and Texas A&M University, 996.