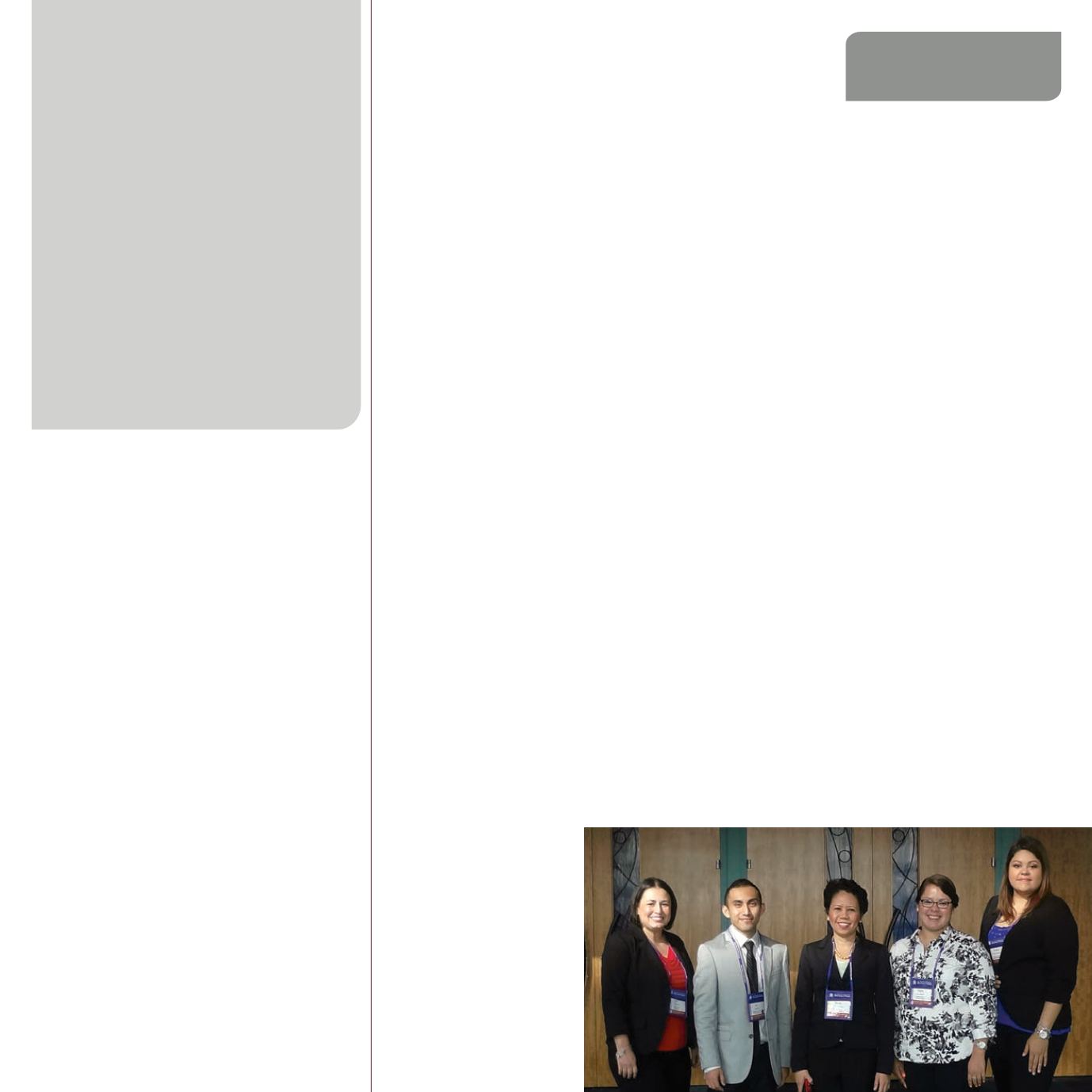 Students Present at International
Conference in Puerto Rico
What did you do with your summer?
A group of TAMIU graduate nursing students and their professor presented
nursing research at an international conference in San Juan, Puerto Rico this July.
Assistant professor and coordinator of the Family Nurse Practitioner Program
for TAMIU's College of Nursing and Health Sciences' Dr. F. M. Canseco School of
Nursing, Dr. Marivic Torregosa, joined graduate nursing students Claudia Carolina
Beltran, Crystal Botello, Jesse Coe, Amy Lorraine Guerra, Juan Lira andVictor
Ramos in presenting research at the 26th International Nursing Research Congress
sponsored by Sigma Theta Tau International,The Honor Society of Nursing. TAMIU
was the only Texas A&M University System campus represented at Congress.
The Congress was attended by over 900 participants representing over 40
countries, providing remarkable opportunities for participants, Dr.Torregosa said.
"This prestigious and peer-reviewed international nursing research Congress
provides a great opportunity for our students to network with nurses from
around the globe.We can exchange ideas, and share our work with other nurse
researchers," Dr.Torregosa explained.
TAMIU Dean of the College of Nursing and Health Sciences, Dr. Glenda
Walker, said the Canseco School of Nursing is enormously proud of the student
and faculty researchers and is firmly committed to providing strong research
experiences and presentation opportunities.
"This is one of our cherished core values and these students performed
remarkably. To be able to present at an international Congress as a graduate
student is a rare accomplishment and we are enormously proud of them and the
Weitman, C. J.
From the
Reviewers' Side: A Manual for Reviewers.
Little Rock: Southern Early Childhood
Shepherd, T.L., & Linn, D.
Behavior and Classroom
Management in the Multicultural
Classroom: Proactive, Active, and
Reactive Strategies
This past year,TAMIU's Office
of Public Relations, Marketing
and Information Services was
honored with 19 state, national and
international awards recognizing
strengths in advertising, marketing,
photography and public relations.
The Office received awards from
the 2015 International AVA Digital
Awards Competition; the National
30th Annual Educational Advertising
Awards and American Advertising
Awards (known as ADDYs) from the
American Advertising Federation. It
also received awards from the Public
Relations Society of America's Del
videographer Rolando Santos also
received three national awards.
From left to right:Amy Lorraine Guerra, Juan Lira, Dr. Marivic Torregosa,
Crystal Botello, and Claudia Carolina Beltrán.