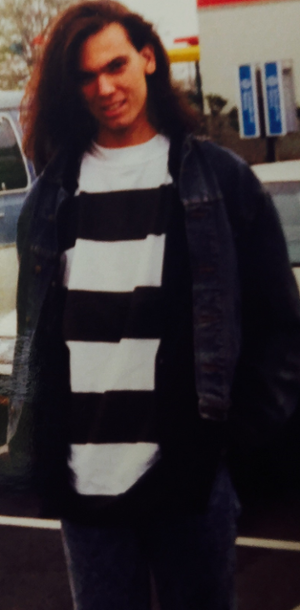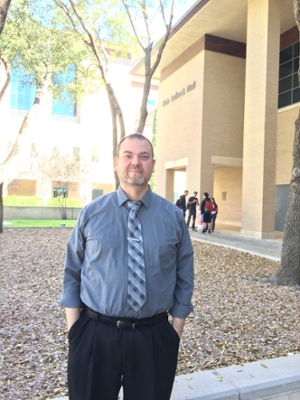 Professor Nolen "Before" and "After" Philosophy and Literature
Mr. William Nolen
Instructor of English and Philosophy
Mr. William Nolen is a TAMIU MA graduate in English and a Boston College MA graduate in Continental Philosophy. He is currently working on his doctorate in Literature and Criticism at the Indiana University of Pennsylvania. At TAMIU, he teaches courses in composition, literature, and philosophy.

1. What are you researching/writing currently? How does this project relate to your teaching? Why did you choose it?
I am working on studying for my PhD comprehensive exams in preparation for my dissertation research on dystopian and apocalyptic elements as an encroaching dialectic across genres and media in artistic, literary, philosophical, and popular cultures.
I incorporate much of my research for this in certain upper division courses I teach such as this year's Great Books I and II WIN courses where we read utopian political philosophy in the Fall and are now reading dystopian/apocalyptic texts in the Spring like Brave New World, Camus' The Rebel, short stories by Ursula LeGuin and Shirley Jackson, and Alan Moore's The Watchmen. 
I am working on these ideas not only because of our current political landscape, but because of where we as a nation have been headed for the last century (and even earlier if we were honest).  I believe that our cultural tastes reflect the assumptions and worldviews underlying in our economic, political, and technological trajectories…and they need to be confronted.


2.   What courses are you teaching next semester (Fall 2017)?
 Philosophy of literature (WIN ENGL/PHIL cross listed) is looking at the history of the relationship between word and image in Western culture from the hieroglyph and cuneiform to the comic book and the meme.
  Philosophy of religion (WIN) is looking at Eastern Asiatic religions like Hinduism, Buddhism, Taoism, and Shinto.