Services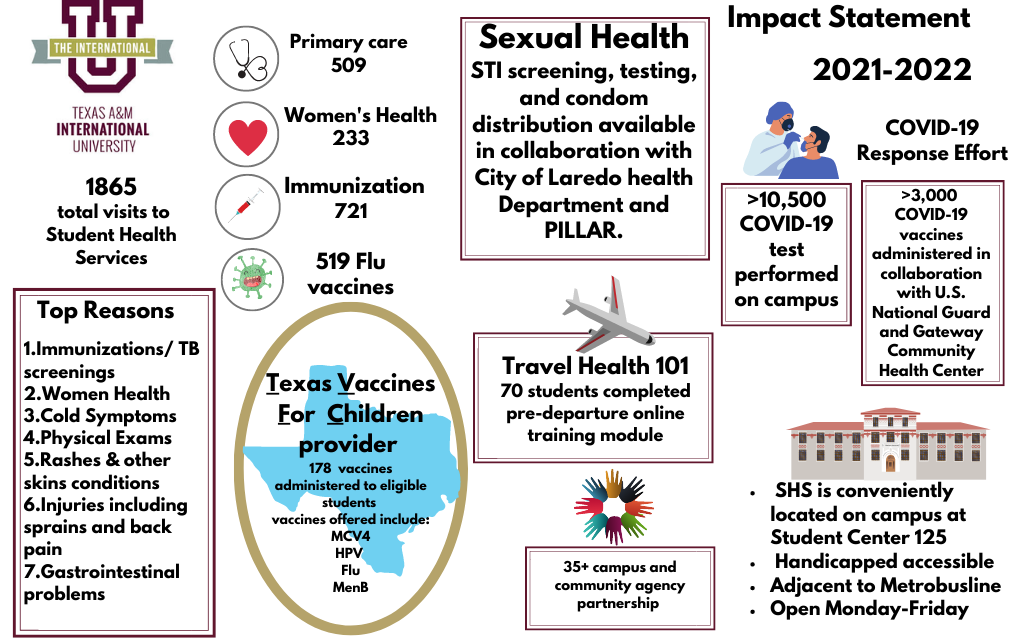 Services available at Student Health include:   
First aid for illness and injury
Referral to medical facilities or services
Consultation with Physician by appointment, subject to availability
Immunizations; Texas Vaccine for Children (TVFC) provider
Tuberculosis (TB) screening available Monday, Tuesday and Wednesday, by appointment
Blood pressure screening and monitoring
Physical exams for program requirement (CSON, ROTC, Athletics, ISA Study Abroad)
Sexual health education and birth control
Health promotion and disease prevention for individuals and groups
Condom distribution site
Confidential Chlamydia, Gonorrhea, HIV and Syphilis testing by appointment second Wednesday of each month
Free and Confidential HIV/Syphilis/Hepatitis testing by appointment first Tuesday and Wednesday of each month
Medication and laboratory prescriptions, as ordered by Physician
Women Health Services by appointment every Wednesday with Women's Health Nurse Practitioner
Travel health appointments and online training using Travel Health 101 for study abroad programs
Individual appointments to meet TAMIU Trailblazers requirement  
Electronic Medical Records
Student Health Services is available to all students registered for the current term. Additional fees for service may apply. 
Contact us at (956) 326-2235 for more information or to schedule an appointment.
Texas A&M International University - Student Health Services
Student Center 125 | Phone: (956) 326-2235 | Fax: (956) 326-2234